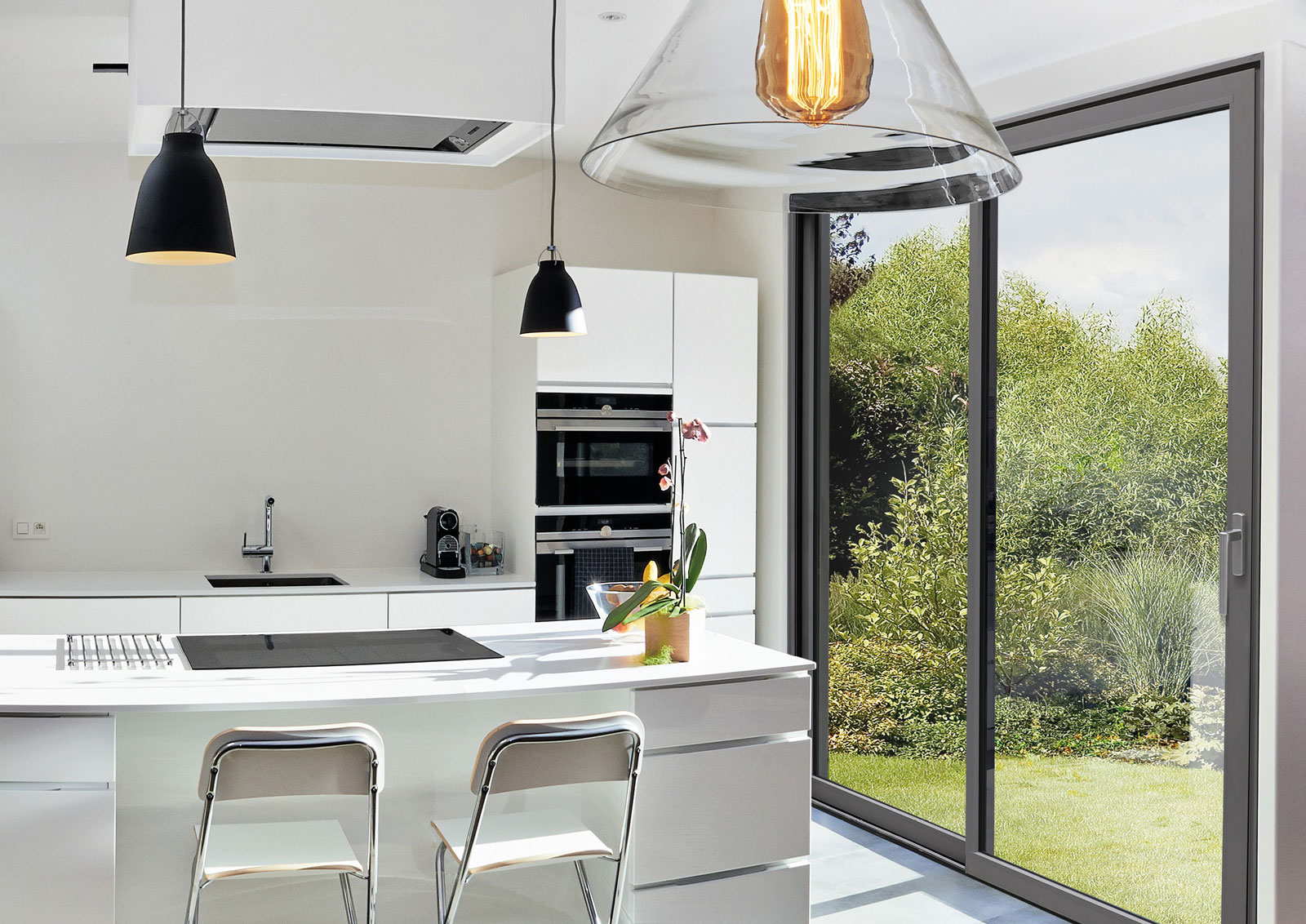 Contemporary Door Performance
Aluminium Sliding Doors Birmingham
We manufacture a superb range of aluminium sliding doors for properties in Birmingham. Take a read about our high-quality doors and find your local installer.
Modern & Insulating Door Solution
There is no better way to transform your Birmingham home than with an aluminium sliding door. We put our Deceuninck twist on the classic sliding doors. We wanted to give homeowners the option to add a modern feel to their property.
Aluminium is an extremely strong material and has become popular for Birmingham installers and homeowners alike. We have created an aluminium sliding door that will protect homes against adverse weather conditions and unwanted intruders.
Available in 2, 3 or 4 panes, our aluminium sliding doors can be customised to meet your needs. We offer 16 trendy colours which can work very well with existing windows and doors. That is why Deceuninck is best in colour.
We continue to innovate and develop our aluminium sliding doors, making us the perfect choice. Find your local fabricator to start selling these doors. If you are a homeowner, you can find your local installer today to get started.
Key Features

Sound Insulation
For A Quieter Home

Glazing Options
Double or Triple Glazed Units

Endless Views
Enjoy Your Surroundings

Invisible Drainage
Discrete Design

16 Colour Options
Bespoke Sliding Doors

PAS 24 Certified
Advanced Security Systems
Sell Aluminium Sliding Doors
Provide your Birmingham customers with aluminium sliding doors that boast longevity. Find your nearest Deceuninck fabricator today.
Find a Fabricator
Diverse Colours For Your Birmingham Home
Modern & Traditional Finishes
As we take care of manufacturing our aluminium sliding doors, you can have control of the colours. We are extremely proud of our diverse colour offering here at Deceuninck. Aluminium has a modern and sleek feel to it. However, we are able to provide you with traditional finishes if you prefer. We can all work together to find a solution for any Birmingham property.
With the rise of the popularity of aluminium, grey has become the most chosen colour for both doors and windows. Grey makes up around 40% of our sales, so it would only make sense to provide you with different shades. We recommend grey for Birmingham homeowners that want that contemporary feel. Take a look at our brilliant colour range with your local installer today.
2 Pane
3 Pane
3 Pane
4 Pane
Secure Aluminium Profile
Aluminium can be the superior choice when it comes to sliding doors. Its longevity allows homeowners in Birmingham to feel comfortable for years. Due to its strength, we manufacture slimmer frames to hold wider glass panes. Because of this, we allow an installation depth of 97mm.
Double glazing and triple glazing can be fitted within our aluminium sliding doors. The combination of these high-quality materials allows the doors to protect Birmingham home's against temperamental weather conditions. These doors also are low maintenance, giving homeowners one less thing to worry about.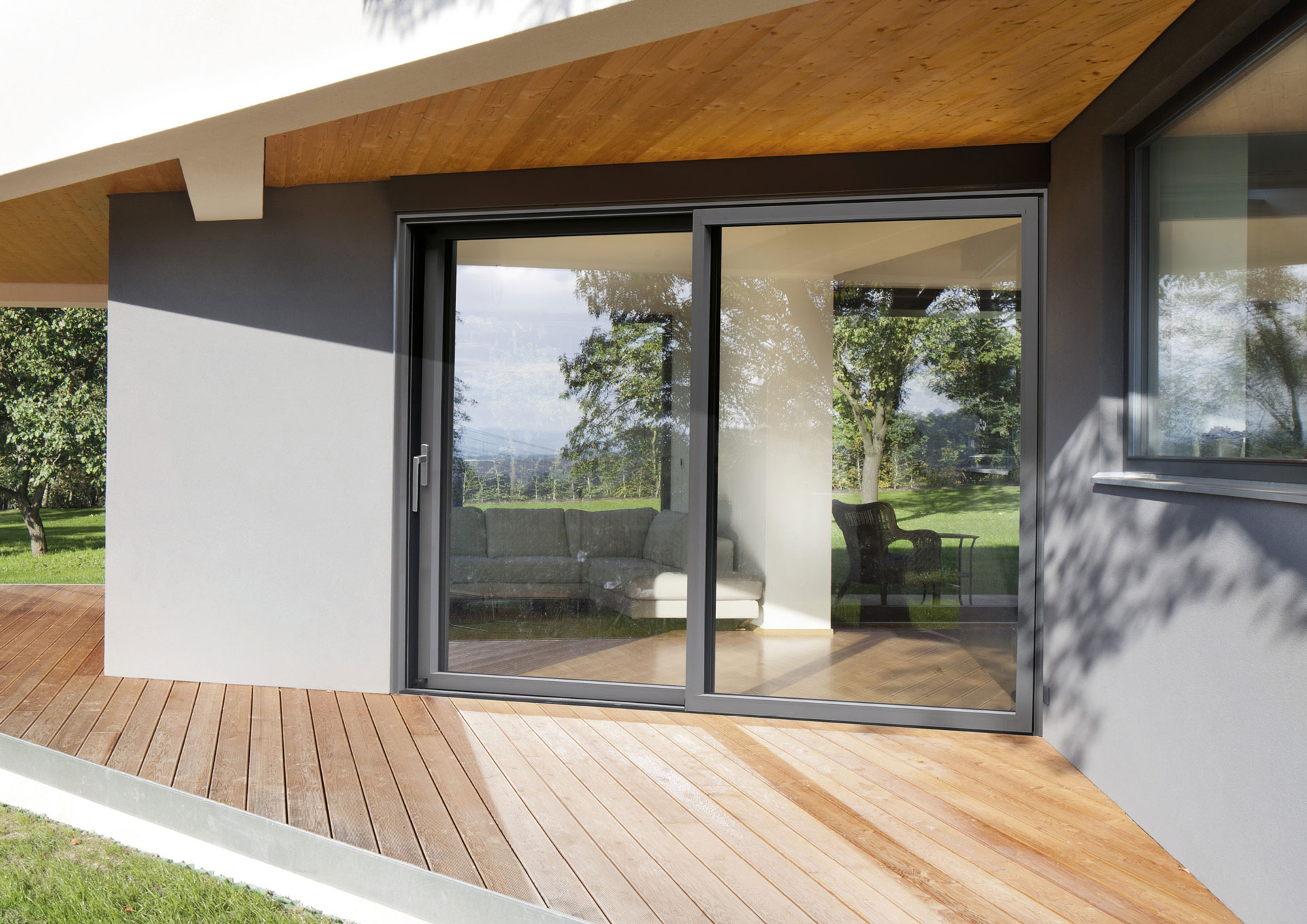 Eco-Friendly Doors
Our aluminium sliding doors are 100% recyclable. We have a strong passion for the environment and strive to make our products as eco-friendly as possible. Aluminium already has a long shelf life, and once it's completed, it can be reused. Birmingham homeowners can be happy when choosing our aluminium sliding doors.
Our aluminium sliding doors don't just help the environment at the end of their life cycle. Due to their excellent insulation properties, homeowners can rely less on using their central heating. Over time, they can reduce their heating bills and lower their carbon footprint—a sustainable approach for all.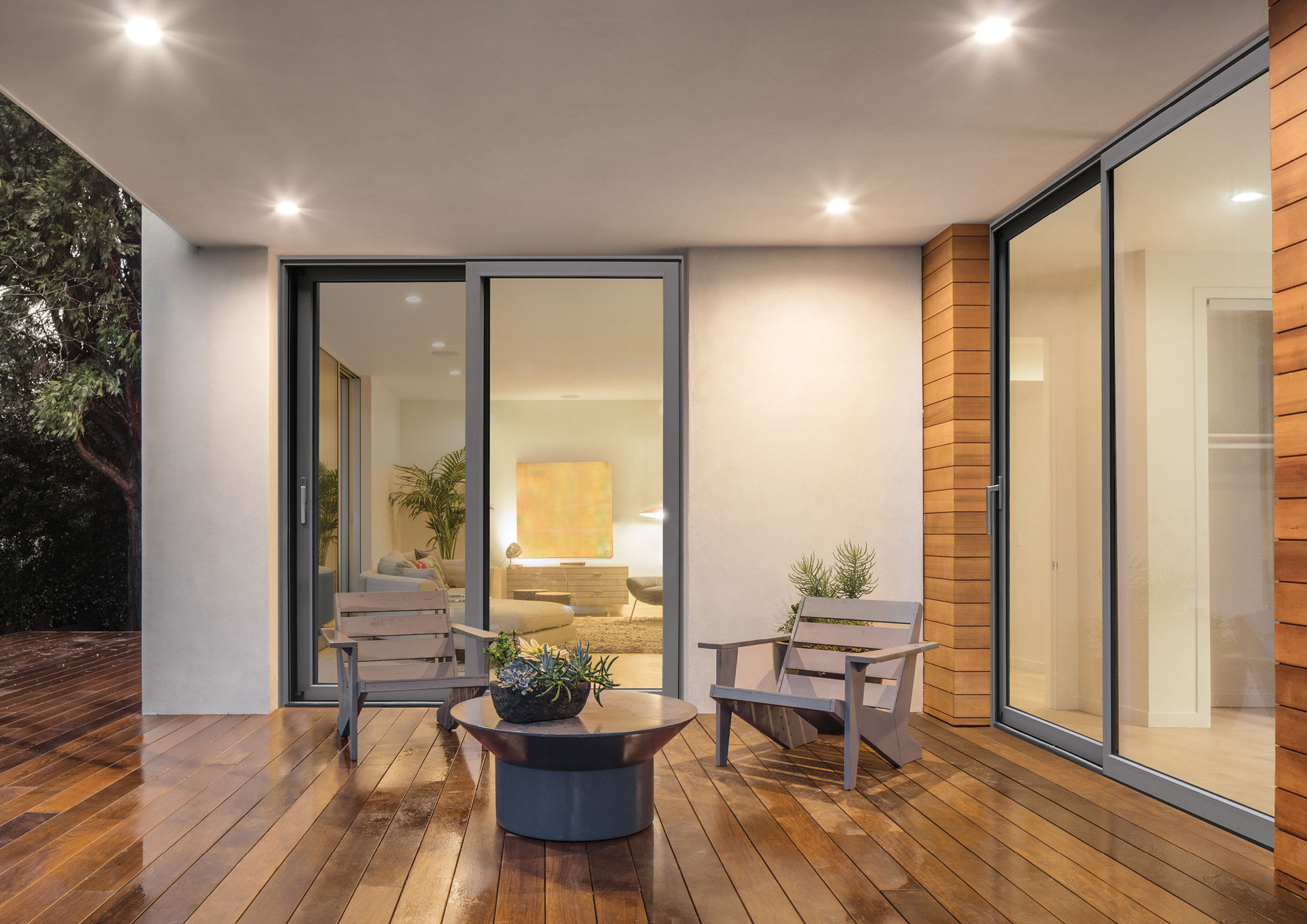 Enhanced Thermal Performance
Energy efficiency is one of the core benefits of our aluminium sliding doors. With double glazing, they can achieve U-values as low as 1.11W/m2K. For Birmingham homeowners that want optimal insulation, we recommend triple glazing. With this inclusion, our doors can achieve a 0.81/m2K.
Within the frame itself, numerous insulating features help the glazing keep Birmingham homes warm. These things combined create a thermal blanket between homes and the outside. Our aluminium sliding doors will retain your home's natural heat and prevent the entry of cold winds.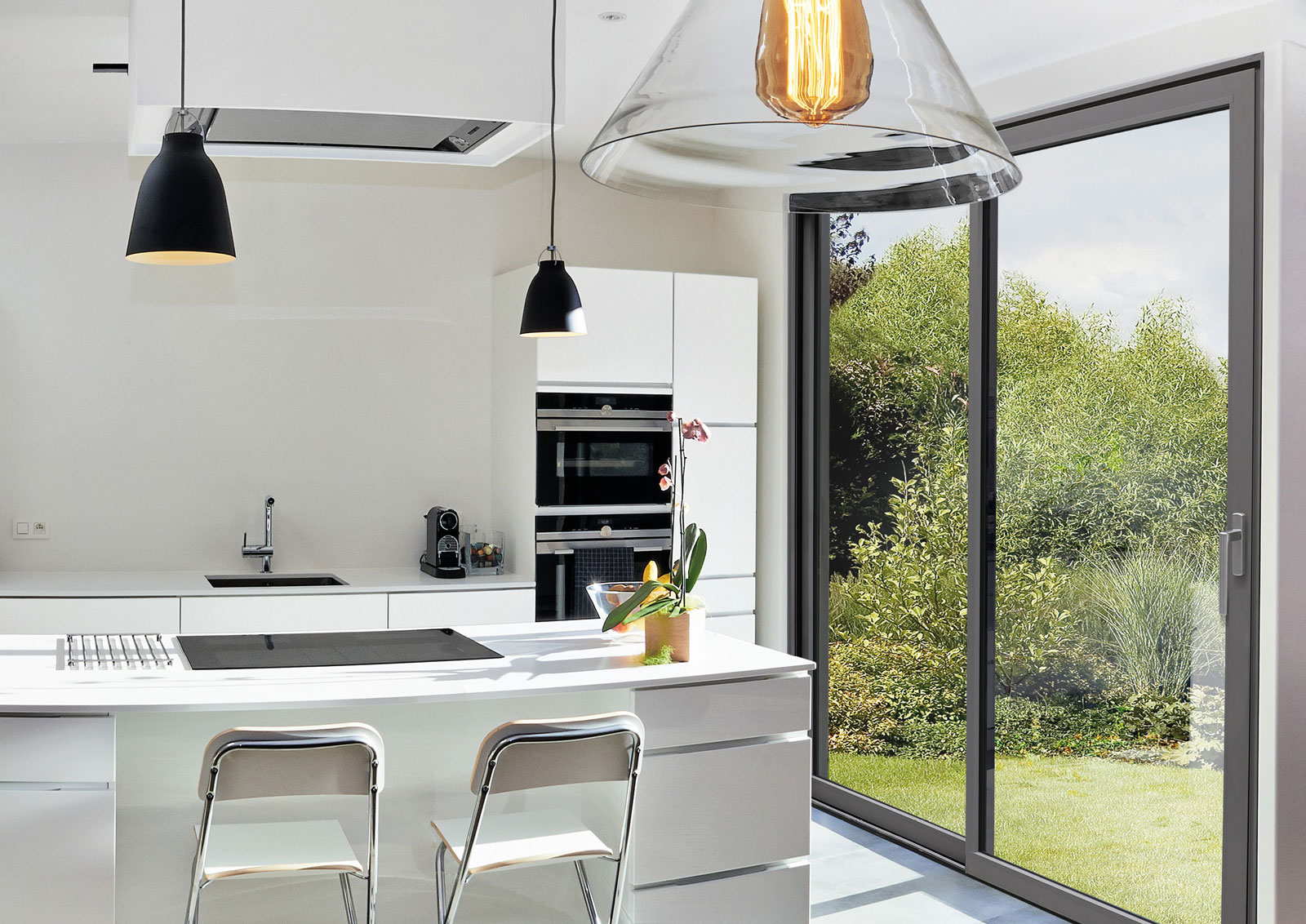 Versatile Aluminium Sliding Doors
Our aluminium sliding doors are designed to work well within any Birmingham home. Due to the strength of aluminium, our doors boast slim sightlines. Our doors will give homeowners stunning views of their gardens throughout the year. They will also fill their room with natural light.
We want our aluminium sliding doors to enhance any home in Birmingham. We offer our doors with low thresholds. This improves the accessibility between your home and the garden. This is also the perfect solution if you require a wheelchair or pushchair access. Get in touch with our team to find out more.
Aluminium Sliding Door Prices Birmingham
It couldn't be easier to design your aluminium sliding doors for your home in Birmingham. Simply enter your postcode and find your nearest installer.
Find an Installer
Why Choose Patio Sliders by Deceuninck?
Patio Sliders by Deceuninck offers innovative design and energy efficiency to guarantee long-life performance. We provide the greatest variety for every home with our wide spectrum of colours. With lasting designs and easily customisable doors, we create the best aesthetic choice for patio sliders. Plus, with extra security and configurations, we think you'll love our stunning sliding doors as much as we do.
There are many reasons to choose Patio Sliders by Deceuninck. One of which is that we believe in creating an ethical brand and responsible company. It's part of why we've won the RoSPA Award and earned the Investors In People Silver accreditation. We invest in our workers to ensure that they have learning opportunities so that we're creating an environment of constant innovation.
That innovation shows. 2020 saw the construction industry faced with unprecedented circumstances, and our solution was investing in our new Luna R. This state of the art lamination machine makes it even easier for us to get the colours that you want. With lower lead times than ever before, Patio Sliders by Deceuninck overcame obstacles with flying colours. Nothing outperforms Deceuninck's sliding doors.
FAQs
Explore More
Are your aluminium sliding doors safe?
Yes, they are! We use advanced locking systems within our doors that comply with PAS 24.
Why choose your aluminium sliding doors?
We are the leading manufacturer of aluminium sliding doors. Every detail is considered with our products.
Is there a guarantee with your doors?
Yes, there is a ten-year guarantee with all of our aluminium sliding doors.
You can learn more about our aluminium sliding doors by downloading our brochures. You can also get in touch with our team to find out more or find your local installer.
Explore More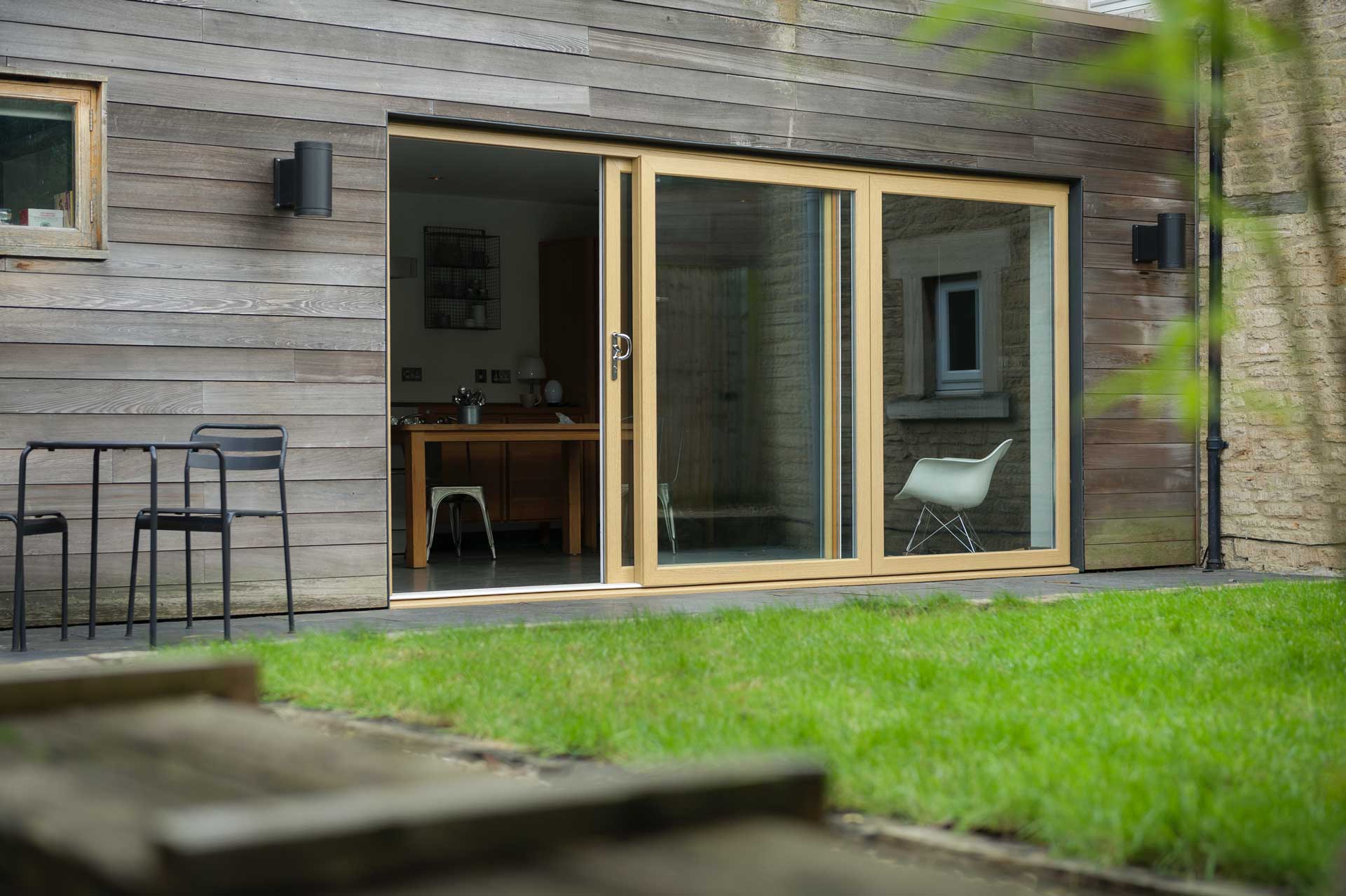 uPVC Sliding Doors
Slider24