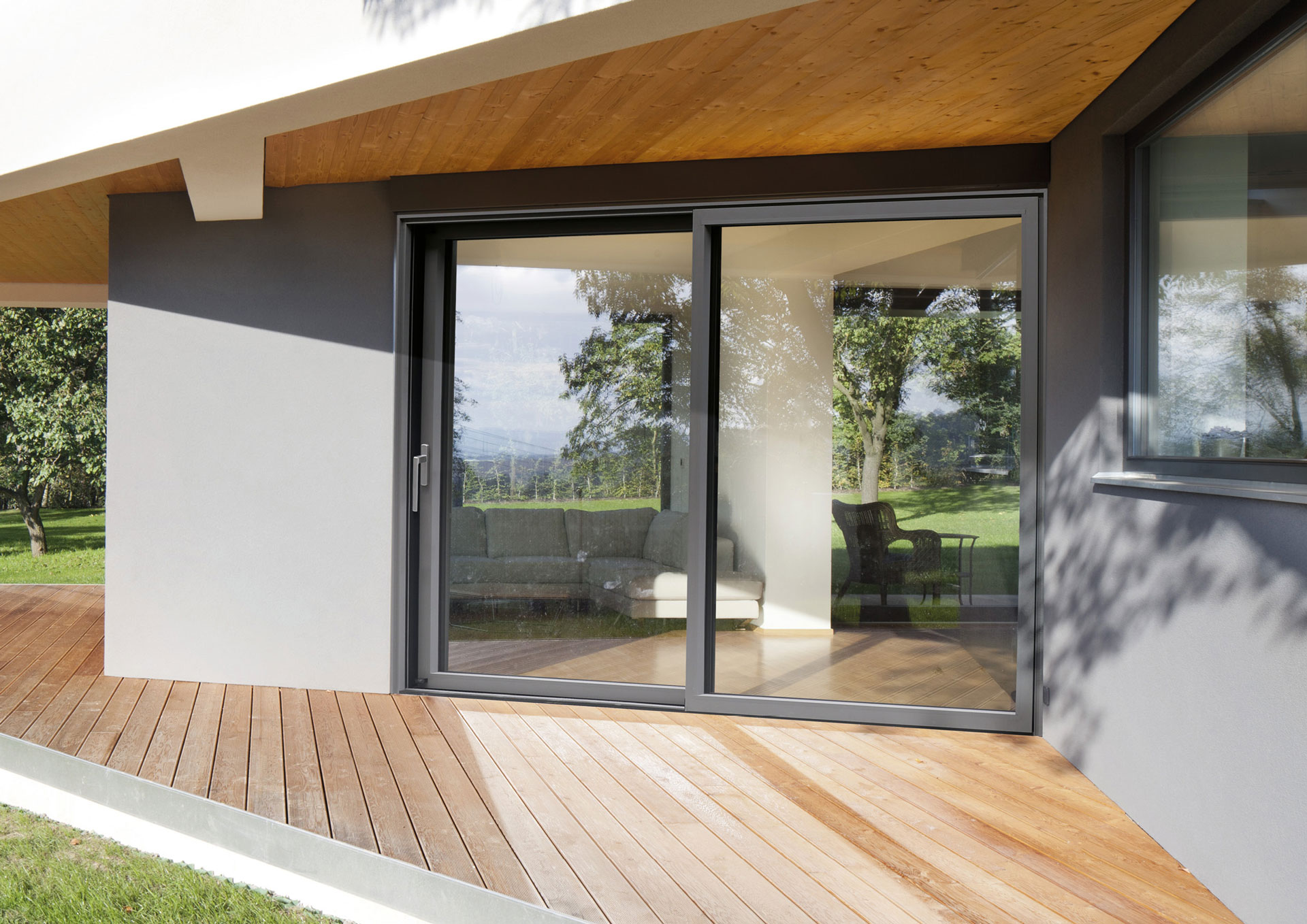 Stunning Aluminium Sliding Doors
Aluminium Sliding Doors Bradford
Here at Deceuninck, we are one of the leading manufacturers of aluminium sliding doors for homes in Bradford. Find your local installer to book your next fitting.
High-Quality Aluminium Sliding Doors
Every detail is considered when it comes to our aluminium sliding doors. From the design to the practical benefits, we think of everything. We invest in innovative manufacturing to ensure our customers get the best products.
We offer 16 gorgeous finishes from stock for our aluminium sliding doors. Each will work perfectly for both residential and commercial properties in Bradford. There are many ways to customise your new doors.
We manufacture our aluminium sliding doors so that they offer long-term performance. From PAS 24 compliant security systems to double glazing, you can't go wrong by choosing our doors for your home.
There is no hesitation when choosing Deceuninck for your new aluminium sliding doors. We work with certified installers across Bradford so that their customers get the best service possible.
Key Features

100% Recyclable
Sustainable Sliding Doors

PAS 24 Compliant
Advanced Security Systems

Trendy Colours
Bespoke Style Options

Slim Sightlines
Better Garden Views

Robust Frame
Secure At All Times

Low Thresholds
For Wheelchair and Pushchair Access
Sell Aluminium Sliding Doors
Add our high-quality aluminium sliding doors to your portfolio. Give Bradford customers the premium choice.
Find a Fabricator
Gorgeous Sliding Door Colours
Modern & Traditional Finish
We understand the importance of finding the right colour for your aluminium sliding doors. We offer 16 attractive colours from stock that go perfectly with our products. Whether you are looking for something more modern or authentic, we have the solution for your Bradford home.
Grey makes up around 40% of our sales, which is a great amount. With this in mind, we offer several grey colours for you to choose from. Grey works perfectly well with aluminium products and enhances the modern look. Work with your local installer to find the right colour that meets your needs.
2 Pane
3 Pane
3 Pane
4 Pane
Long-Lasting Aluminium
Aluminium has been the superior choice within the home improvements industry for a while. It adds a unique twist to the classic garden door and boasts incredible performance levels. It is extremely secure and can hold large glass panes. With this in mind, we have allowed for an installation depth of 97mm.
Earlier models of sliding doors often fall victim to wear and tear. Bradford homeowners may have felt that it was hard to move the doors. However, with our aluminium sliding doors, that is not the case. There is clever technology which means that you can move the door panes with ease.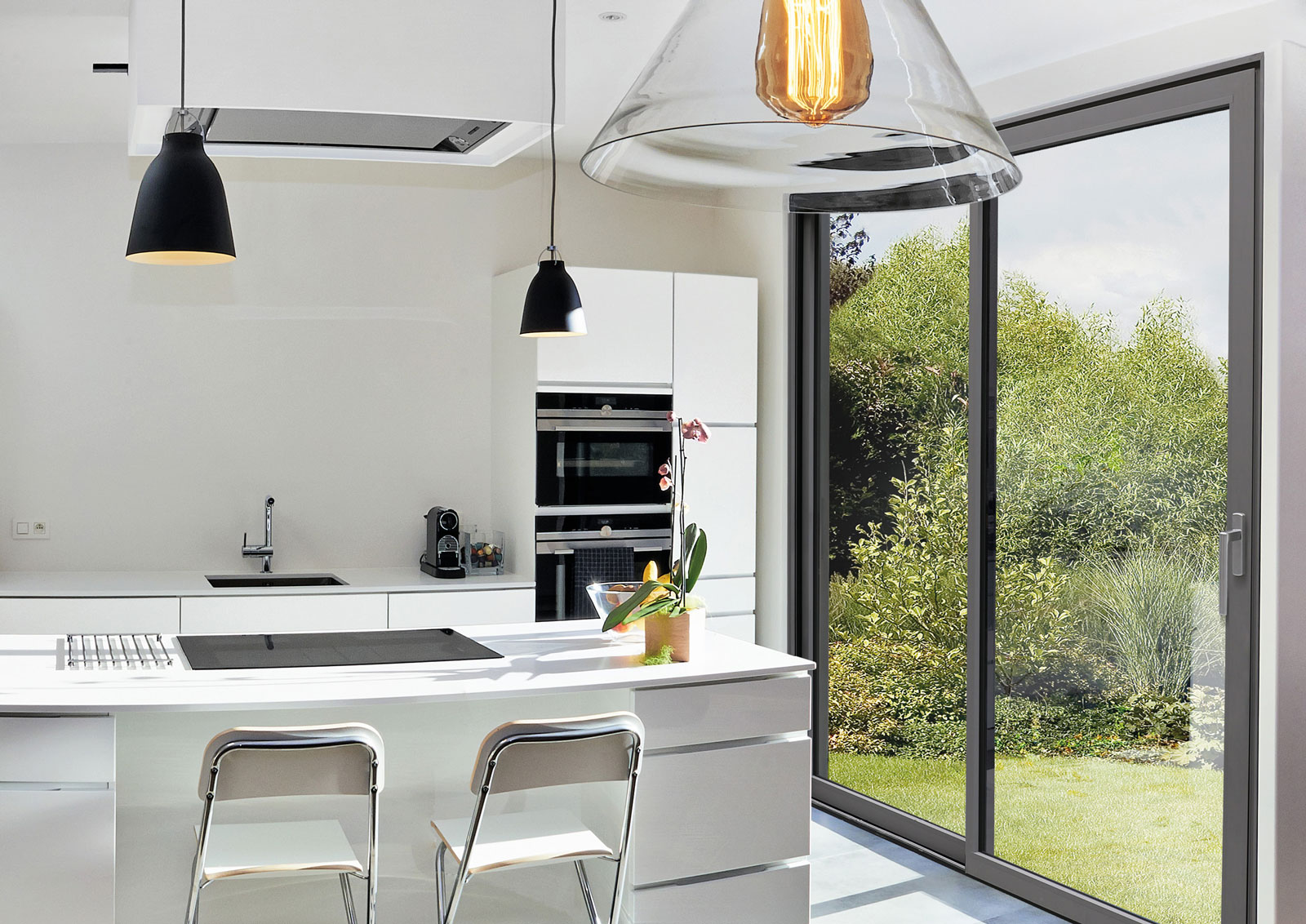 A Well-Insulated Home
Each of our aluminium sliding doors is designed to keep you warm within your Bradford home for years to come. Both double and triple glazing can be fitted within the frames. Double glazing is a great investment for any homeowner. However, triple glazing can achieve U-values as low as 0.81W/m2K.
Alongside the glazing, our aluminium frame is extremely insulating. These two features will work to retain your home's natural heat whilst preventing the ingress of cold wind. You will notice a well-regulated temperature within your Bradford home. You will rely less on your heating and lower your energy bills.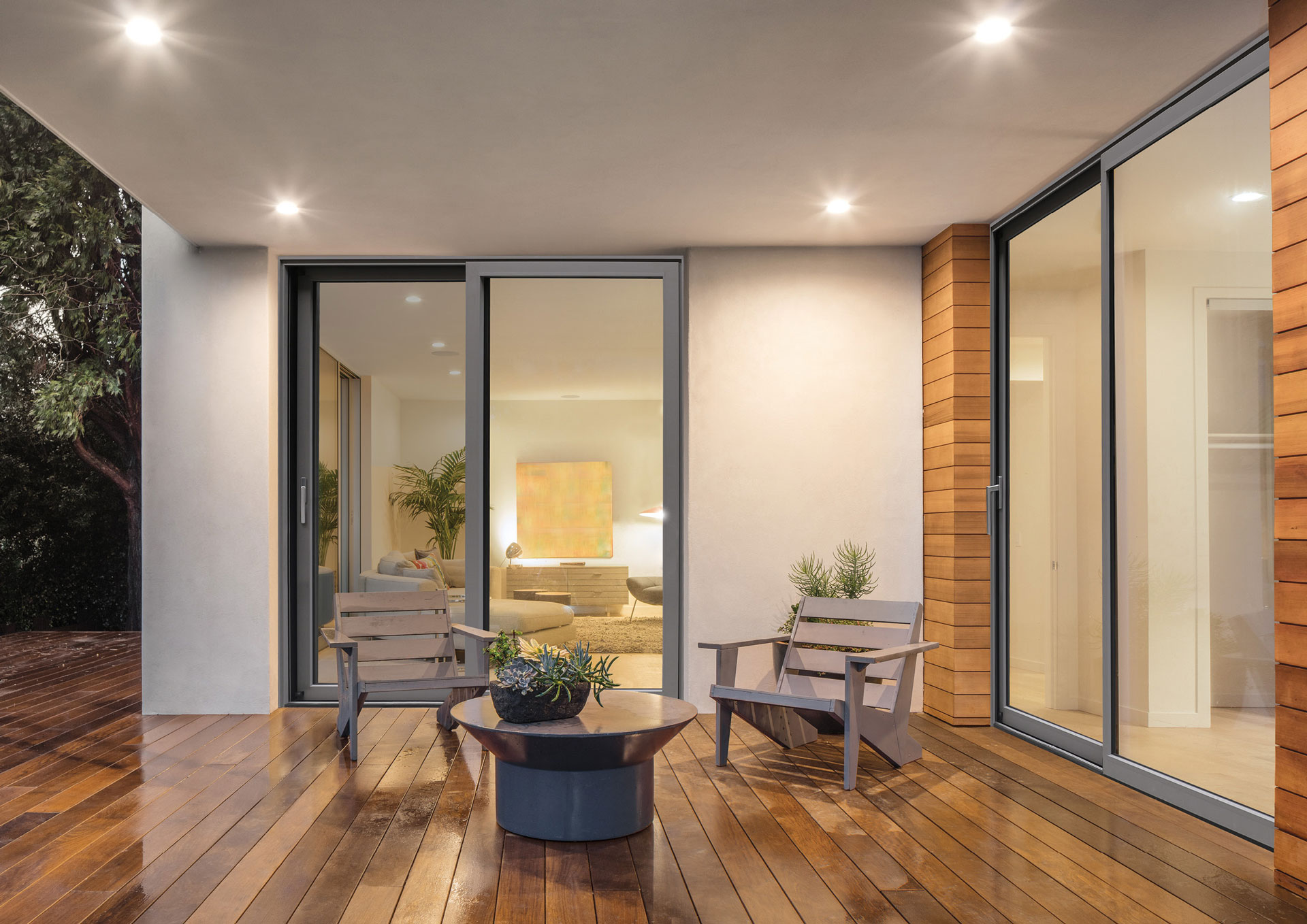 Sustainable Aluminium Sliding Doors
We are extremely passionate about the environment and strive to be as eco-friendly as possible. This is why we are very proud to announce that our aluminium sliding doors are 100% recyclable. Even after their long lifecycle, they can be remade for other use, whether its doors or something else.
We want to encourage our fabricators, installers, and customers to be as environmentally friendly as possible. With increasing energy costs, we need to provide sustainable products. As Bradford homeowners spend less on heating, they will reduce their carbon footprint.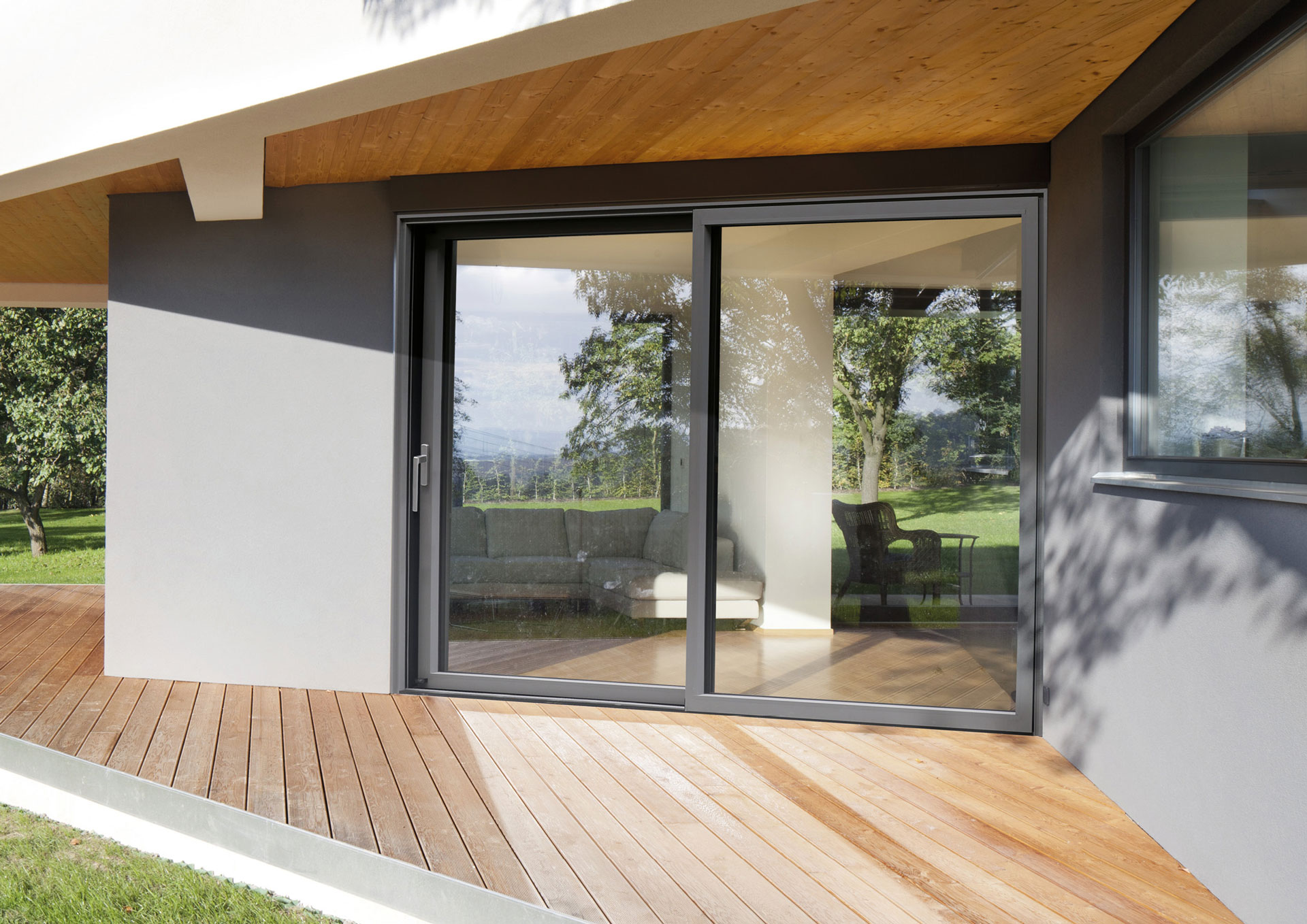 Slim Sightlines
Due to the incredible strength of aluminium, our sliding doors have slimmer frames. This allows us to fit wider glass panes. Throughout the year, you can appreciate the views of your Bradford garden through our aluminium sliding doors. You will never get bored of your surroundings.
Another way to save money on your energy bills is not to use your lights as much. How do our aluminium sliding doors help with this? They will fill your Bradford home with natural light. It can create a much brighter and cosier space. There are many ways that our doors help your home.
Aluminium Sliding Door Prices Bradford
Start your next Bradford project with our aluminium sliding doors. Find your local installer to get started.
Find an Installer
Why Choose Patio Sliders by Deceuninck?
Patio Sliders by Deceuninck offers innovative design and energy efficiency to guarantee long-life performance. We provide the greatest variety for every home with our wide spectrum of colours. With lasting designs and easily customisable doors, we create the best aesthetic choice for patio sliders. Plus, with extra security and configurations, we think you'll love our stunning sliding doors as much as we do.
There are many reasons to choose Patio Sliders by Deceuninck. One of which is that we believe in creating an ethical brand and responsible company. It's part of why we've won the RoSPA Award and earned the Investors In People Silver accreditation. We invest in our workers to ensure that they have learning opportunities so that we're creating an environment of constant innovation.
That innovation shows. 2020 saw the construction industry faced with unprecedented circumstances, and our solution was investing in our new Luna R. This state of the art lamination machine makes it even easier for us to get the colours that you want. With lower lead times than ever before, Patio Sliders by Deceuninck overcame obstacles with flying colours. Nothing outperforms Deceuninck's sliding doors.
FAQs
Explore More
Of course! Our aluminium sliding doors are robust locks and meet the latest requirements.
What other benefits are there?
There are so many benefits we will be here explaining for years. However, you can also enjoy improved sound insulation in your Bradford home.
Aluminium is one of the strongest materials and can provide you with incredible performance for years to come.
Explore More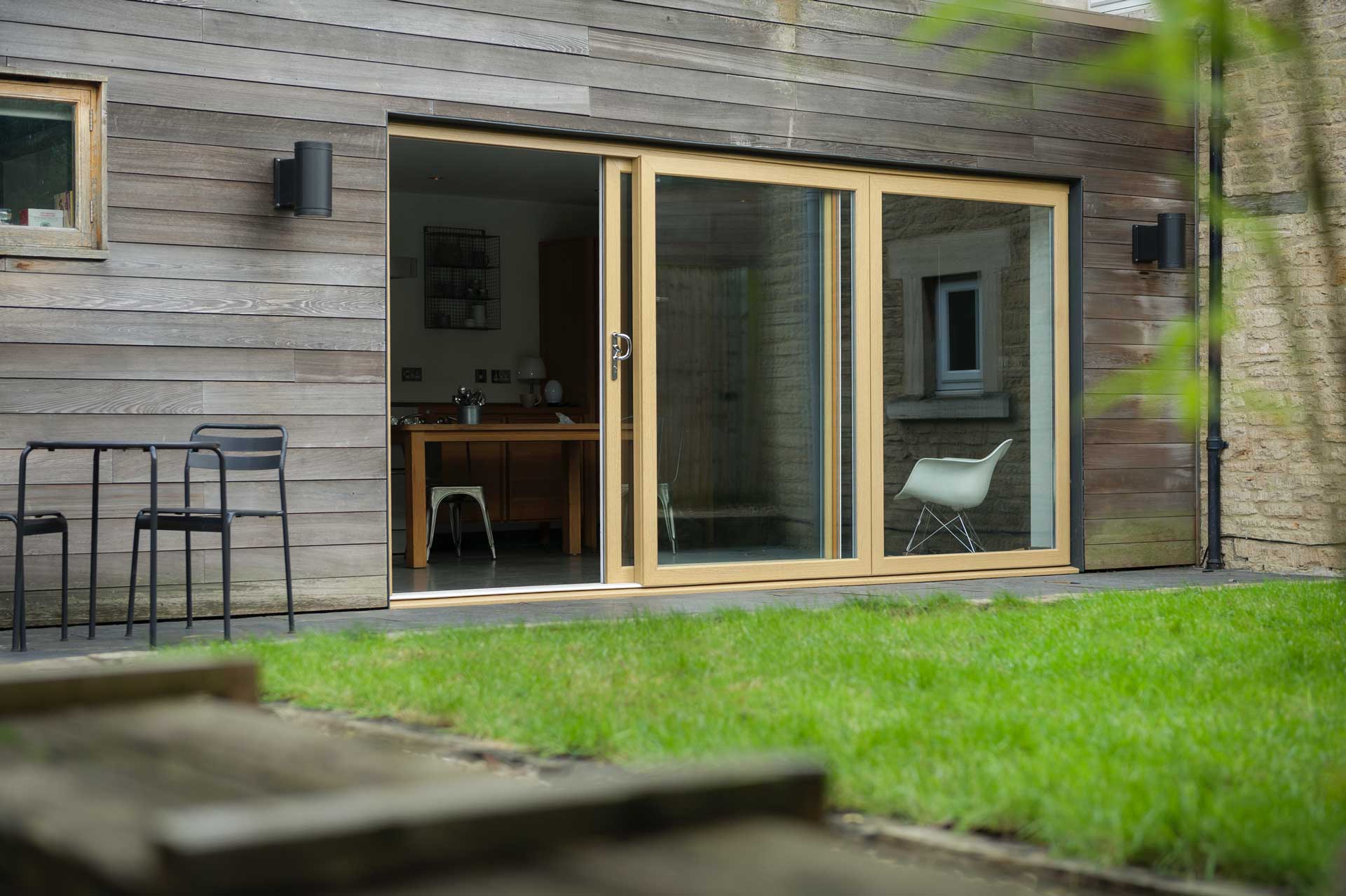 uPVC Sliding Doors
Slider24