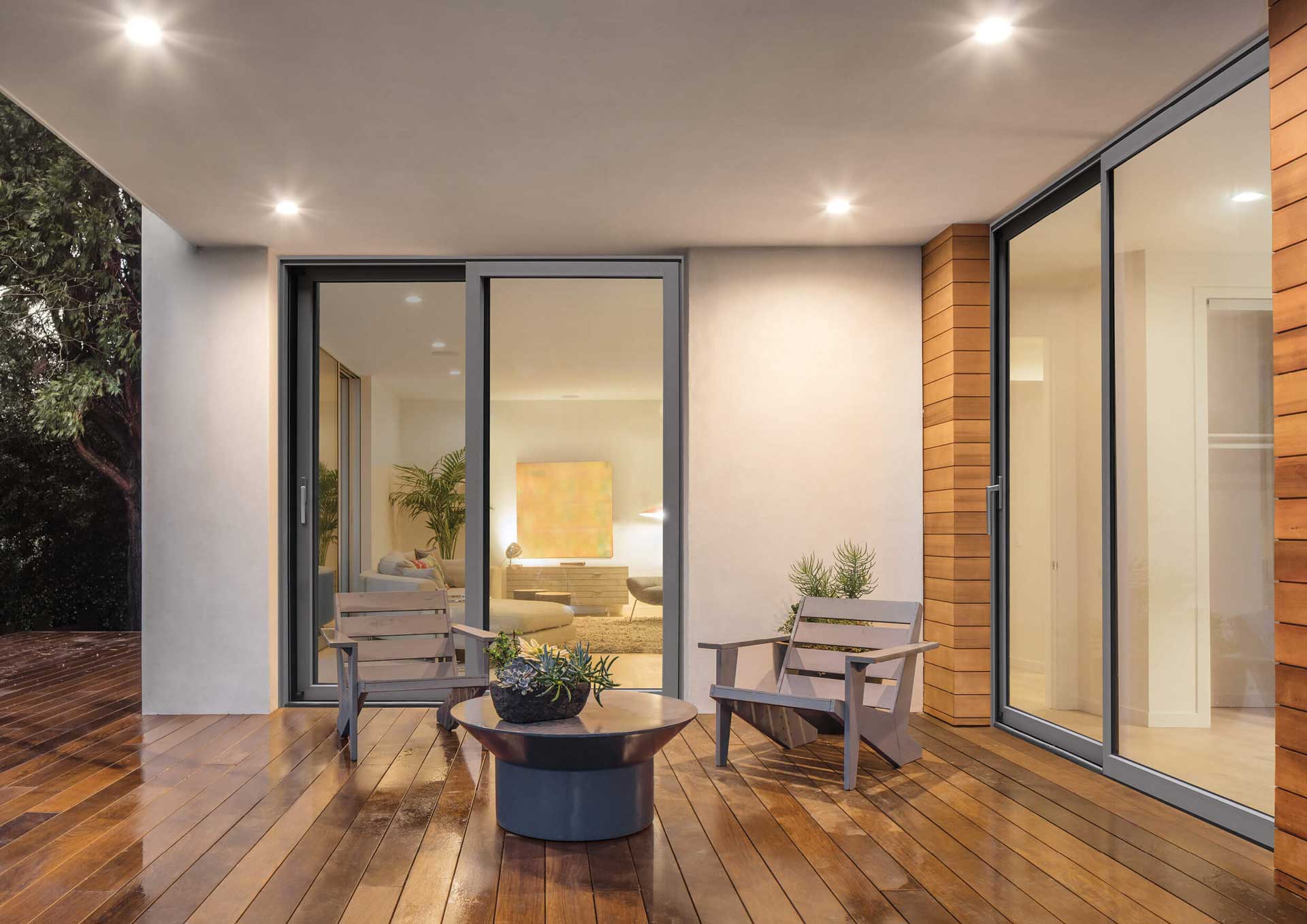 Aluminium Sliding Doors Derby
Aluminium Sliding Doors Derby
Transform a Derby home's patio or garden entrance with our high performance aluminium sliding doors.
Modern & Secure Door Solution
Any Derby property can benefit from a modern entrance to its patio or garden, and our aluminium sliding doors can be customised to suit almost any style. Our colourways have been designed to offer an expansive range of aesthetics while remaining durable and fade resistant.
These aluminium sliding doors can come with various panes and hardware types to suit your next project easily. Any property can be expanded with an illusion of extra space and gorgeous amounts of natural light.
Aluminium is a durable material that can resist unwanted intrusions. Plus, all our aluminium sliding doors are tested and approved by PAS 24 standards to give homeowners total peace of mind.
Get in touch with a member of our team today at 01249 816 969, or find your local fabricator using our free online tool! All it takes is your postcode to get started.
Key Features

Noise Reduction
For increased privacy

Subtle Drainage
Invisible construction

Glazing Variety
Double and triple-glazing units

16 Colour Options
Bespoke customisation

Slim Sightlines
Unobstructed views

PAS 24 Approved
Industry-leading security
Sell Aluminium Sliding Doors
Do you need a reliable supply of aluminium sliding doors? Contact your local fabricator using our bespoke fabricator finder tool! All it takes is your postcode to get in contact.
Find a Fabricator
Customise The Colour Of your Derby Home
Modern & Traditional Finishes
Our aluminium sliding doors are available in more than just standard black and white! Choose from our excellent and carefully curated colourways to get the perfect finish for your doors. All our colours have been designed to resist fading without high maintenance requirements, so the sliding doors can look their best for years to come.
Many of our colours are available from stock and can be provided with expedient lead times so that you can get started on your Derby project without delay.
Start customising your doors today and find your local fabricator to get started.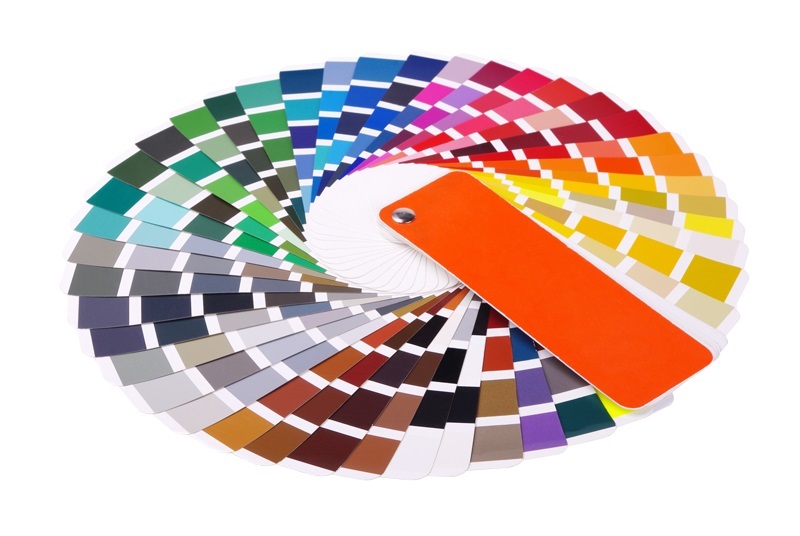 2 Pane
3 Pane
3 Pane
4 Pane
Thermally Efficient
Double glazing and triple glazing are both available for these aluminium sliding doors. We understand that stylish doors are only as good as the performance they provide. Our bespoke glazing can reach impressively low U-values, helping homeowners stay warm and comfortable all year round without relying on central heating systems as often. The double glazed variant can reach U-values of 1.11 W/m2K, and the triple glazed version can reach 0.81 W/m2K.
Because of the aluminium profile and intelligently designed steel rollers, even the triple glazed version of our doors can remain lightweight and easy to handle, offering smooth performance for potentially decades of use.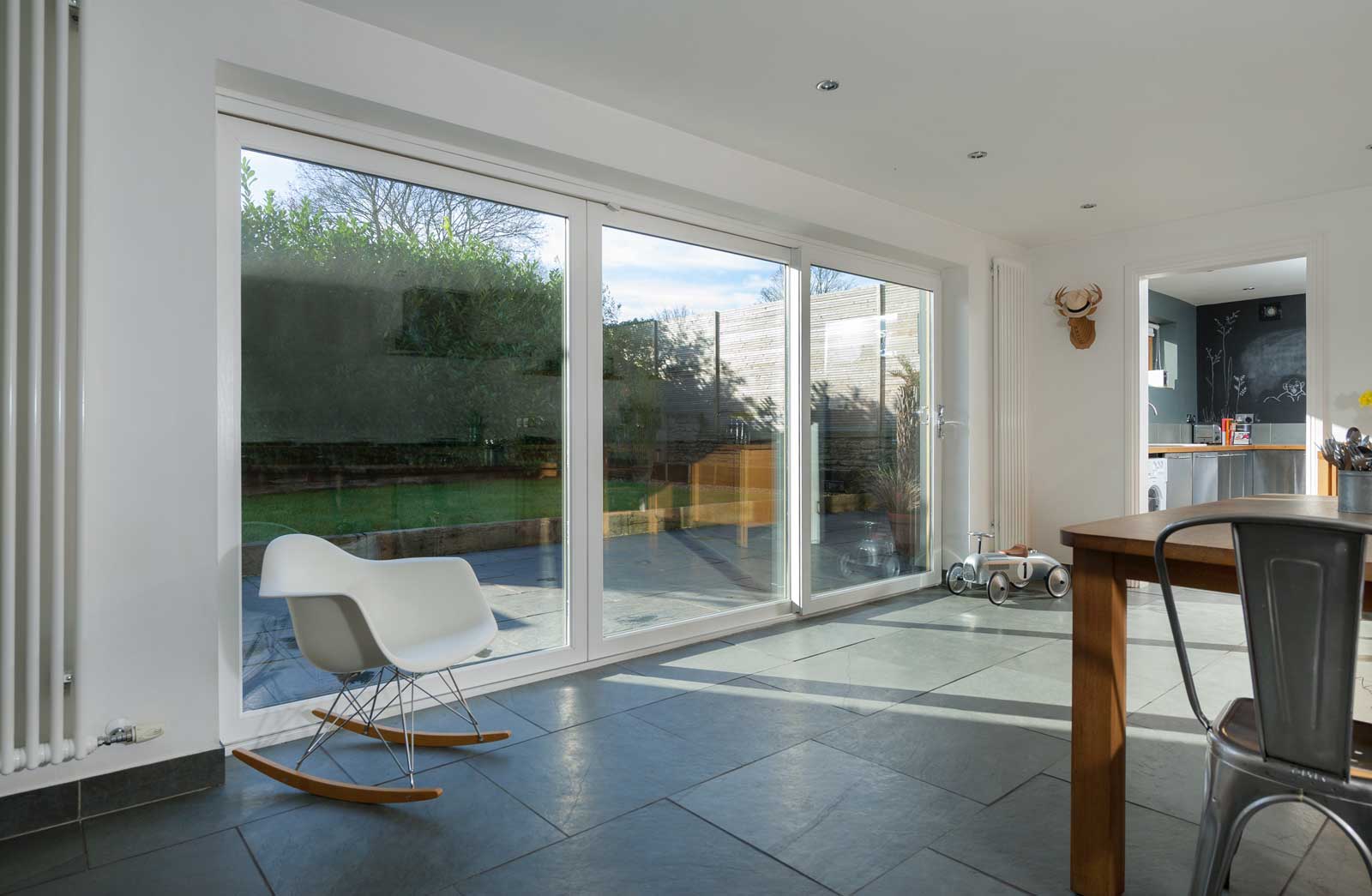 Durable & Safe
Our aluminium sliding doors are crafted using high quality aluminium and robust glazing that is capable of withstanding all sorts of intense weather conditions. Unlike other materials, aluminium is lightweight yet incredibly durable and can easily hold its shape even after solid blows or modern intrusion attempts.
Aluminium sliding doors are also simple to maintain, only needing to be cleaned with a sponge or wet cloth to avoid build up of dirt or grime. The colourways we provide are designed to last without cracking or fading, so Derby homes can look their best without the need for tedious maintenance chores.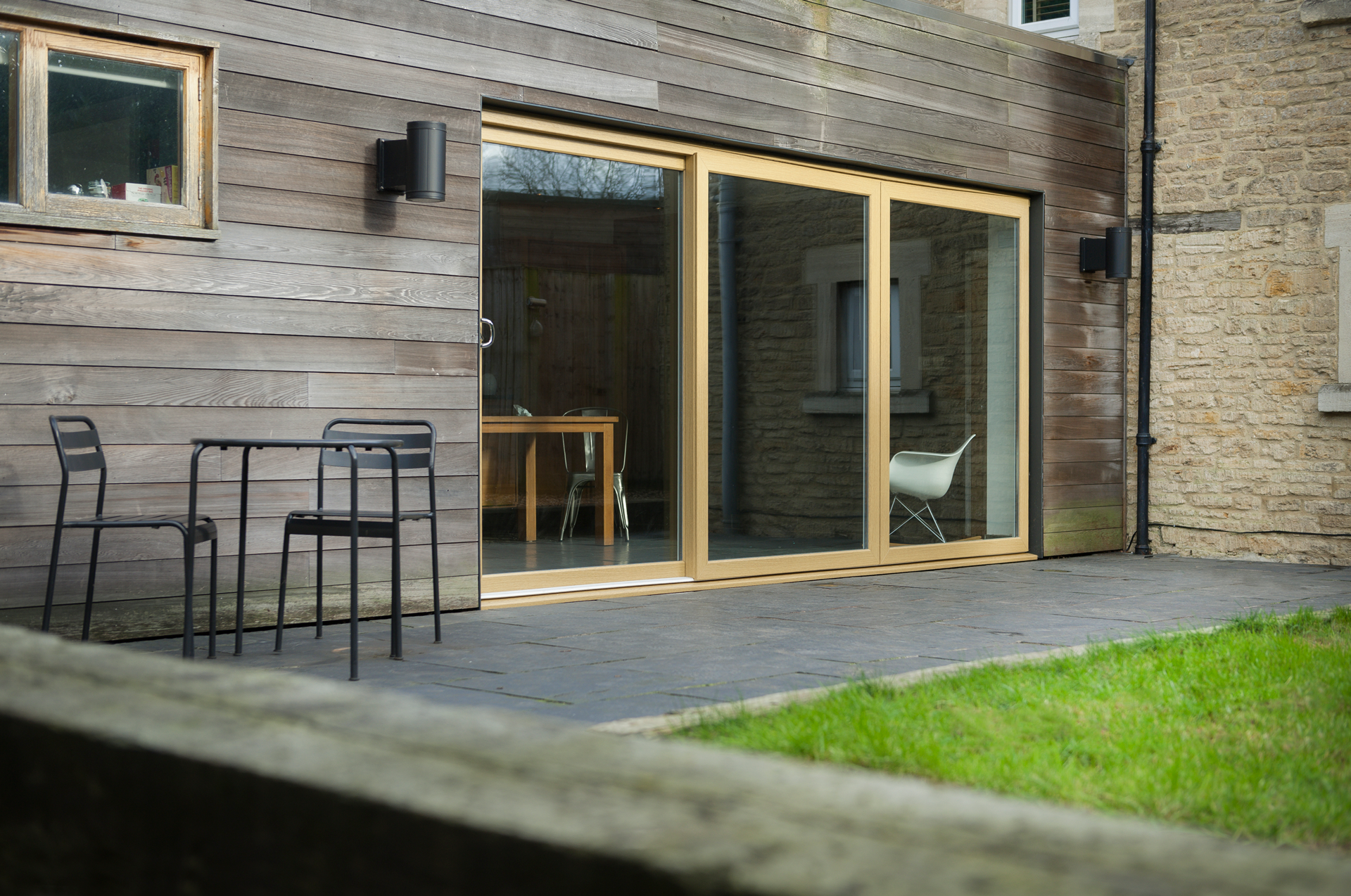 Sound Resistant
While the aluminium sliding doors are closed, the bespoke glazing can suppress noise entering the home, leading to a quieter interior. Derby homeowners can enjoy a peaceful and private environment unbothered by noisy neighbours or loud traffic.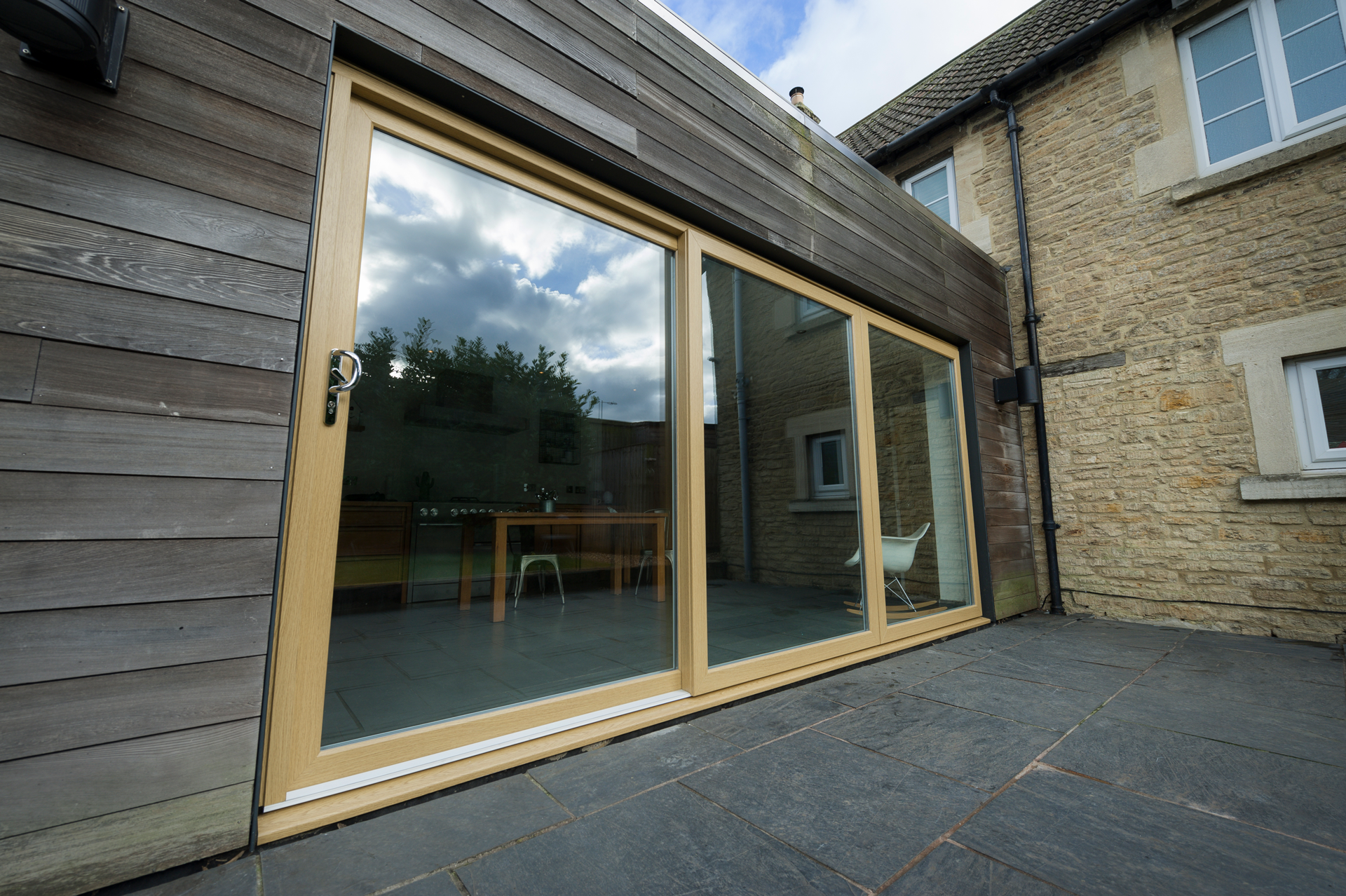 Slim Sightlines
Our aluminium sliding doors flood homes with natural light thanks to their slim and sleek profiles. The aluminium frames are able to be manufactured much slimmer than other materials without compromising any of the strength or longevity of the doors. By having a better glazing to frame ratio, these aluminium sliding doors can create an expansive illusion of extra open or closed space.
We can also manufacture our aluminium sliding doors with a low threshold to make crossing from home to the garden or patio easier. Plus, the lightweight and smooth rolling performance helps make our aluminium sliding doors accessible to any Derby homeowner.
Aluminium Sliding Door Prices Derby
Improve the energy efficiency and safety of a Derby home's patio or garden entrance with the help of our aluminium sliding doors. Customise yours today and find your local fabricator using our free online tool, or call us on 01249 816 969 for more information. Fill out our online contact form, and we'll get back to you as soon as possible.
Find an Installer
FAQs
Explore More
Are your aluminium sliding doors secure?
Yes! Our aluminium sliding doors have undergone intensive and rigorous testing to ensure they are PAS 24 certified. They can even come with an upgrade kit that contains a 12 point locking mechanism and anti lift device for industry leading security.
What accreditations do Deceuninck's doors have?
Deceuninck patio sliding doors have been designed to meet all British standards for weatherproofing, alongside the Belgian Union for Technical Approval in Construction (BUtgb), and ATG approvals, and have KOMO certificates issued by Kiwa and SKG.
Explore More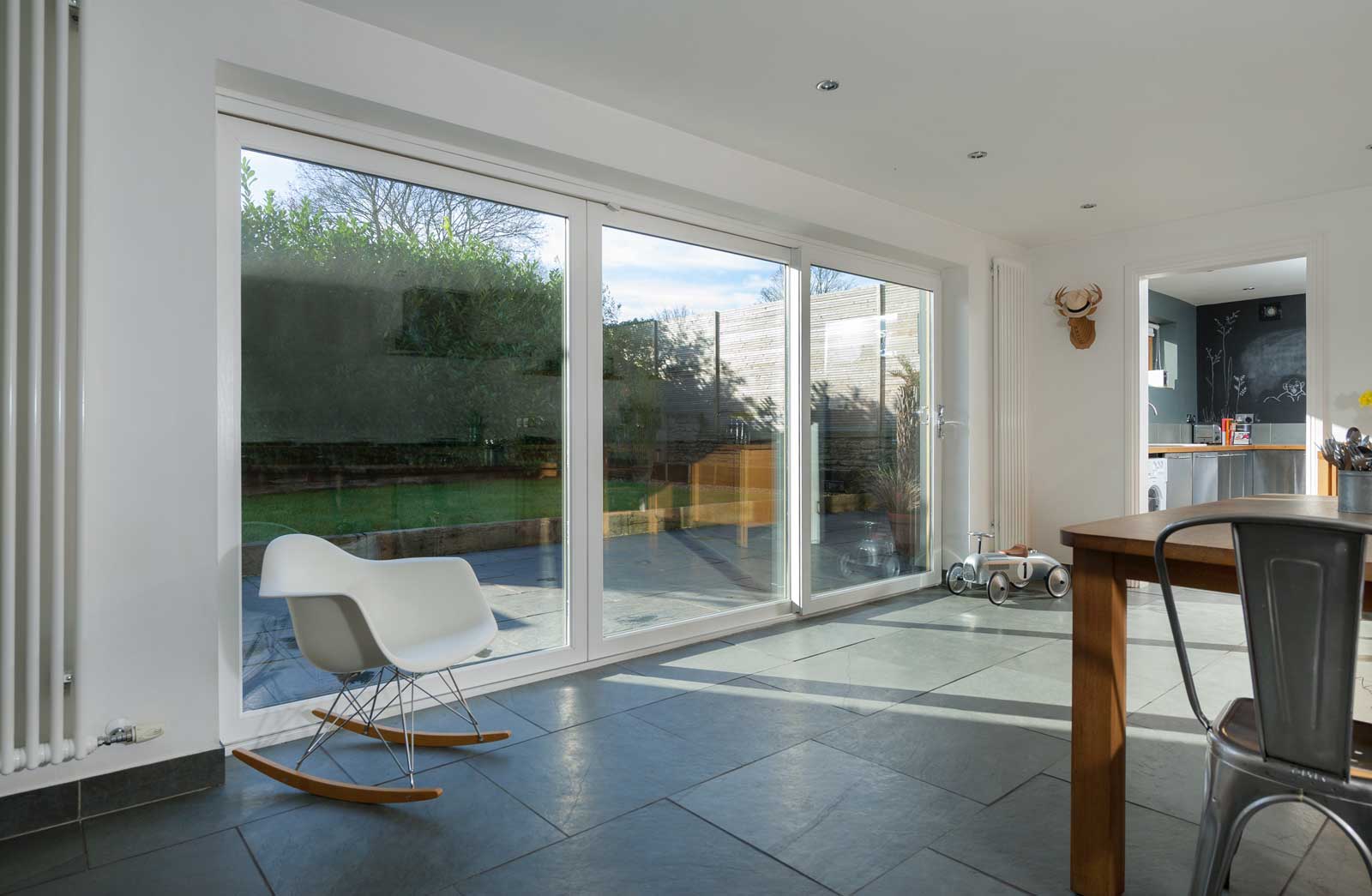 uPVC Sliding Doors
Slider24