Aluminium Sliding Doors Exeter
Aluminium Sliding Doors Exeter
We design and fabricate an industry leading range of aluminium sliding doors for properties in Exeter. Learn more about our high-quality doors and find your local installer.
Modern Door Installations
Update the look and performance of your Exeter home with our aluminium sliding doors. Crafted using premium quality aluminium and modern manufacturing techniques, these doors will create the perfect entrance to your property.
Aluminium is one of the most robust and strong materials in the market, making these sliding doors a long lasting investment for your home. The combination of double or triple glazing with aluminium profiles will help protect your property from unwelcome intruders and adverse weather conditions.
These aluminium sliding doors are entirely made to measure, ensuring they perfectly fit your architecture and lifestyle. These profiles are available in two panes, three panes and four panes, meaning they can be adapted to suit any size of Exeter home.
We use our experience to offer the latest aluminium sliding door technology. Start transforming any home in your area today by finding a local fabricator. If you are a homeowner find a local installer to help you transform your property today.
Key Features

Noise Reduction
For increased privacy

Subtle Drainage
Invisible construction

Glazing Variety
Double and triple-glazing units

16 Colour Options
Bespoke customisation

Slim Sightlines
Unobstructed views

PAS 24 Approved
Industry-leading security
Sell Aluminium Sliding Doors
Are you looking to access premium aluminium sliding doors? Contact your local fabricator using our innovative online fabricator finder tool! Input your postcode to get started.
Find a Fabricator
Bespoke Range of Colours
Modern & Traditional Finishes
We offer a broad array of colours for you to choose from. Aluminium has a naturally sleek aesthetic, but we offer a selection of more traditional finishes for heritage homes. Although grey continues to be one of the most popular colours for aluminium sliding doors, we offer a diverse selection of shades for you to choose from.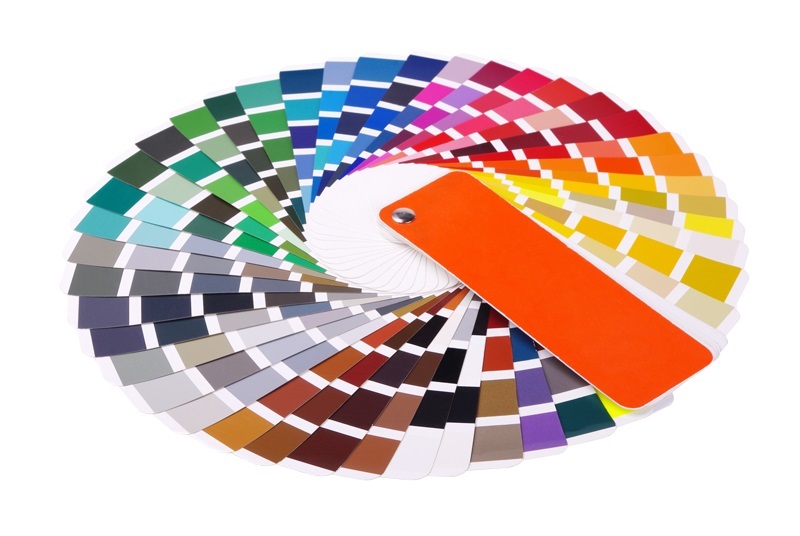 2 Pane
3 Pane
3 Pane
4 Pane
Secure Aluminium Profiles
One of the key benefits to aluminium is how sturdy and robust it is. When fitted in an Exeter property, it will deliver years of performance without being compromised by the elements, wear and tear or modern burglary techniques.
Due to its inherent strength, we can fabricate slim profiles on our aluminium sliding doors. Customers can enjoy minimal sightlines and expansive panes of glazing, brightening up any room in a Exeter home. Choose from double or triple glazing, which will allow a homeowner to brighten up a room without compromising on security or thermal efficiency.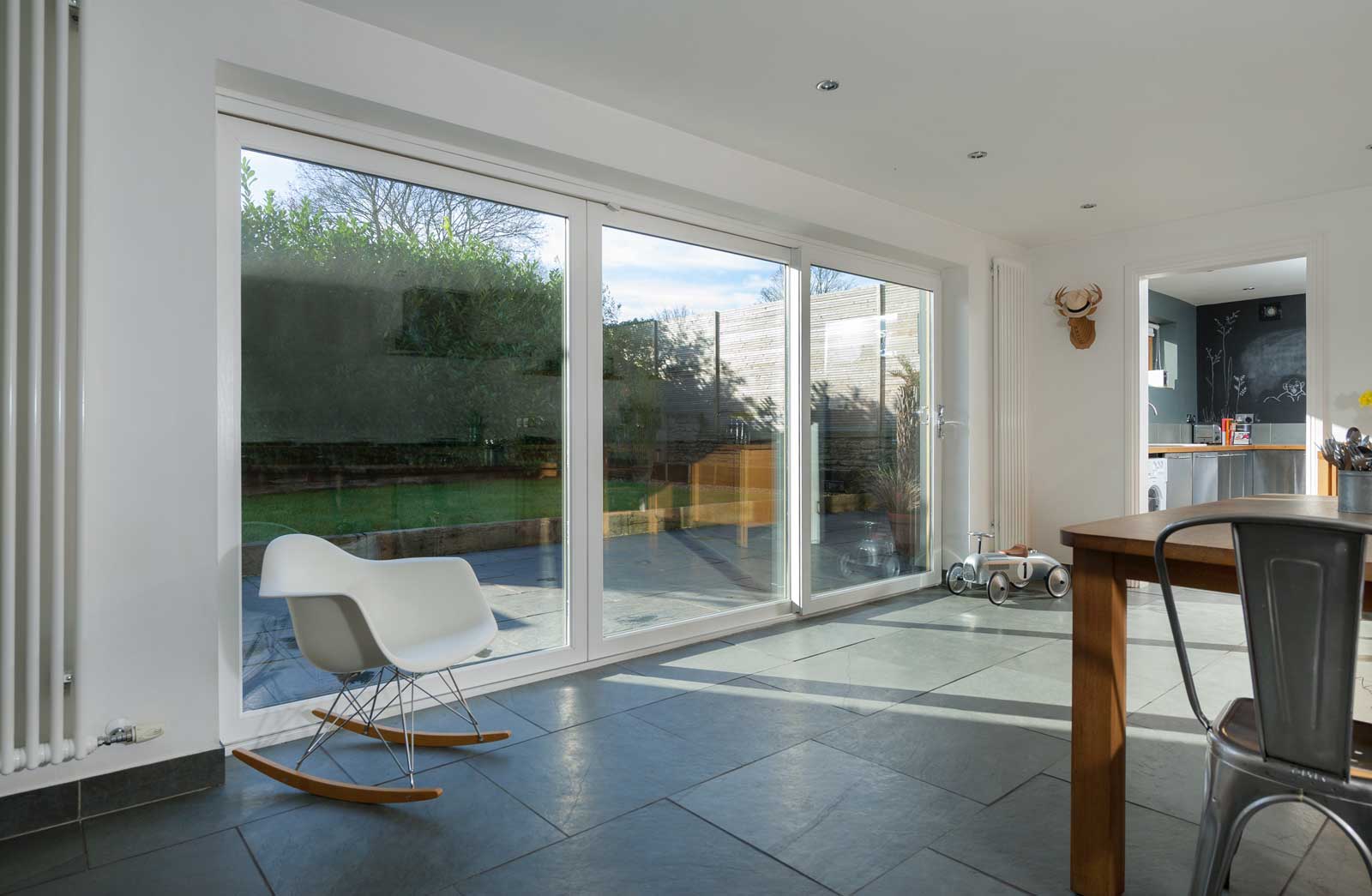 Eco-Friendly Doors
We are proud that our range of aluminium sliding doors are 100% recyclable. We are committed to delivering premium quality installations that will not have a negative impact on the planet. Aluminium sliding doors are hard wearing and once they reach the end of their long life, they won't end in landfill.
Aluminium sliding doors can be melted down and reused to make new products. Recycling aluminium doors helps reduce the need for raw materials and reduces waste in landfills.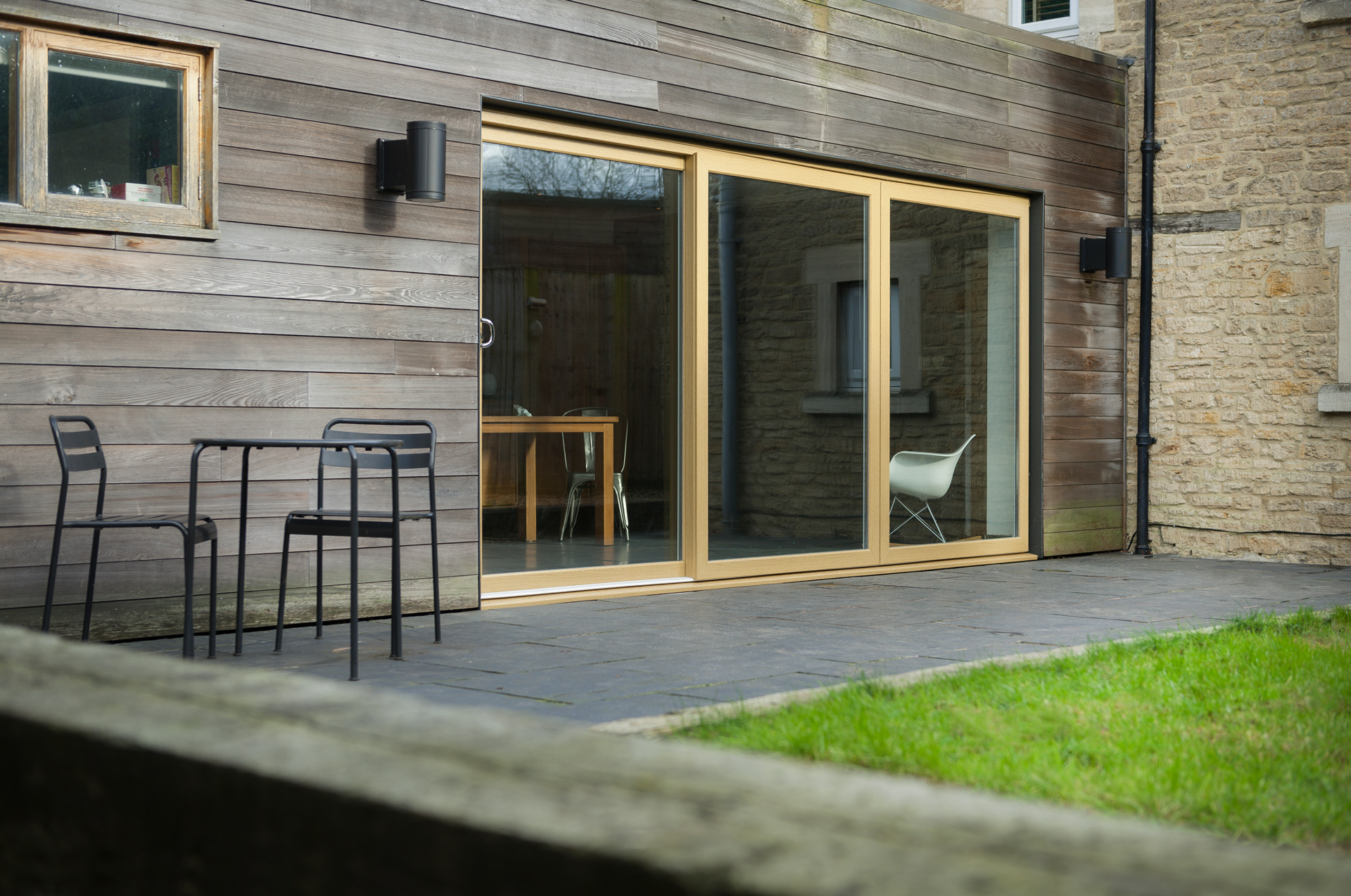 Thermally Efficient
Another benefit of investing in aluminium sliding doors is their market leading levels of thermal efficiency. When double glazed, these modern doors can achieve U-values as low as 1.11W/m2K. For a further improvement on a home's thermal performance, triple glazed doors can achieve a 0.81/m2K.
Once fitted into an Exeter property, aluminium sliding doors will create a thermal barrier between the inside and outside. These modern doors will help a space better retain heat in winter, lowering a property's reliance on artificial heating systems in winter. These sliding profiles can help minimise heating bills and enhance a home's carbon footprint.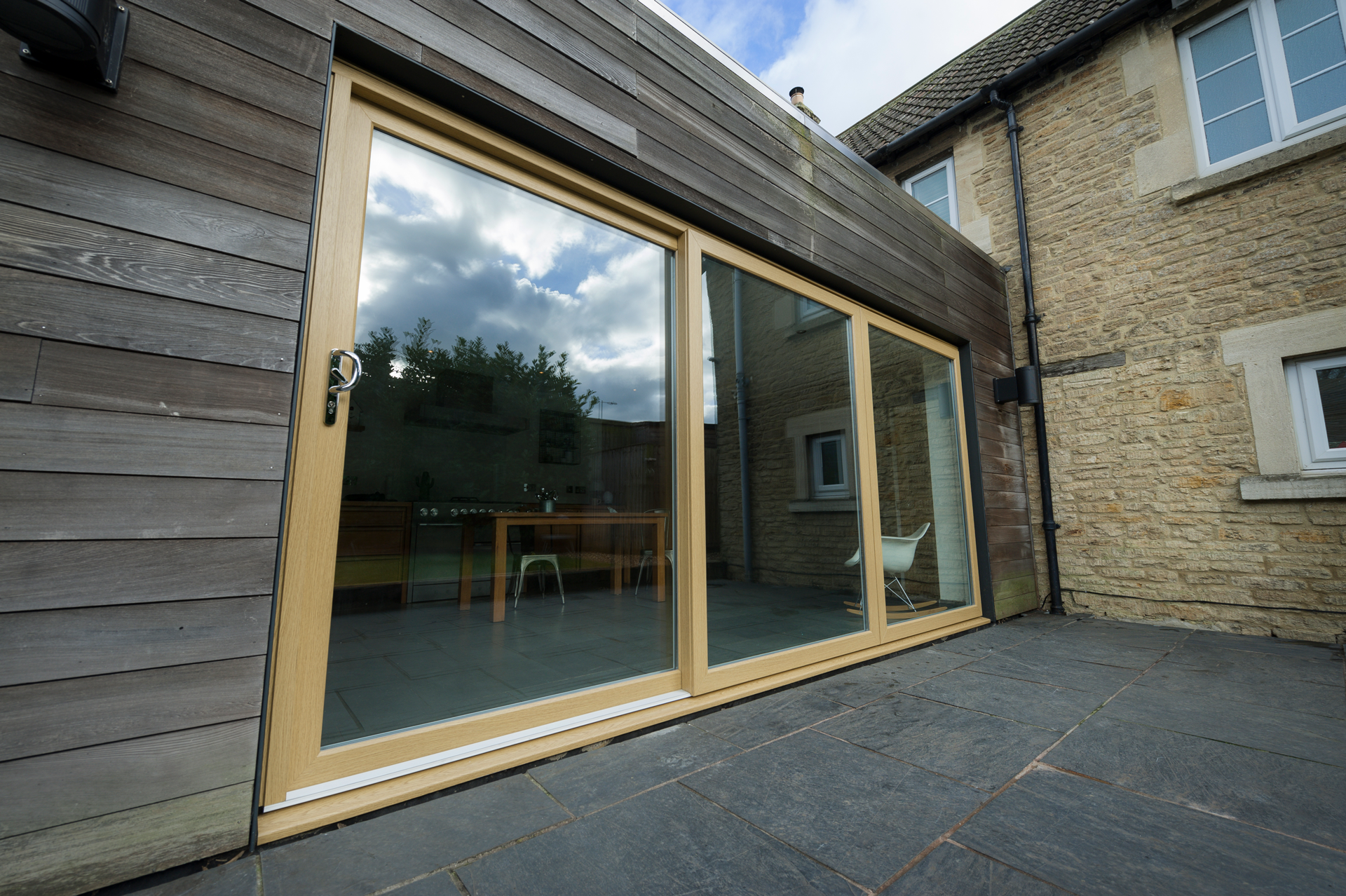 Versatile Aluminium Sliding Doors
We understand there is no one size fits all when it comes to aluminium sliding door installations. That is why we fabricate our entire range around your specifications, measurements and preferences. We can adapt our sliding doors to modern and traditional homes alike.
We offer a range of colours, finishes and hardware for you to choose from. Whether you are working with modern architecture or more heritage inspired homes, we will have the right installation for you.
FAQs
Explore More
Are your aluminium sliding doors secure?
For your peace of mind, all our aluminium sliding doors have undergone rigorous safety tests. They have been PAS 24 certified, keeping an Exeter property protected. Upgrade these doors even further with 12 point locking mechanism and anti lift devices.
Are aluminium sliding doors weatherproof?
Our aluminium sliding doors meet stringent British standards for weatherproofing. We understand how temperamental the British weather conditions can be, which is why our sliding doors are tested to ensure they can handle wind, rain and snow.
We've earned an air permeability rating of Class 4, a watertightness rating of E2250 and a wind resistance rating of Class C5. For confident you are investing in a long lasting installation.
Explore More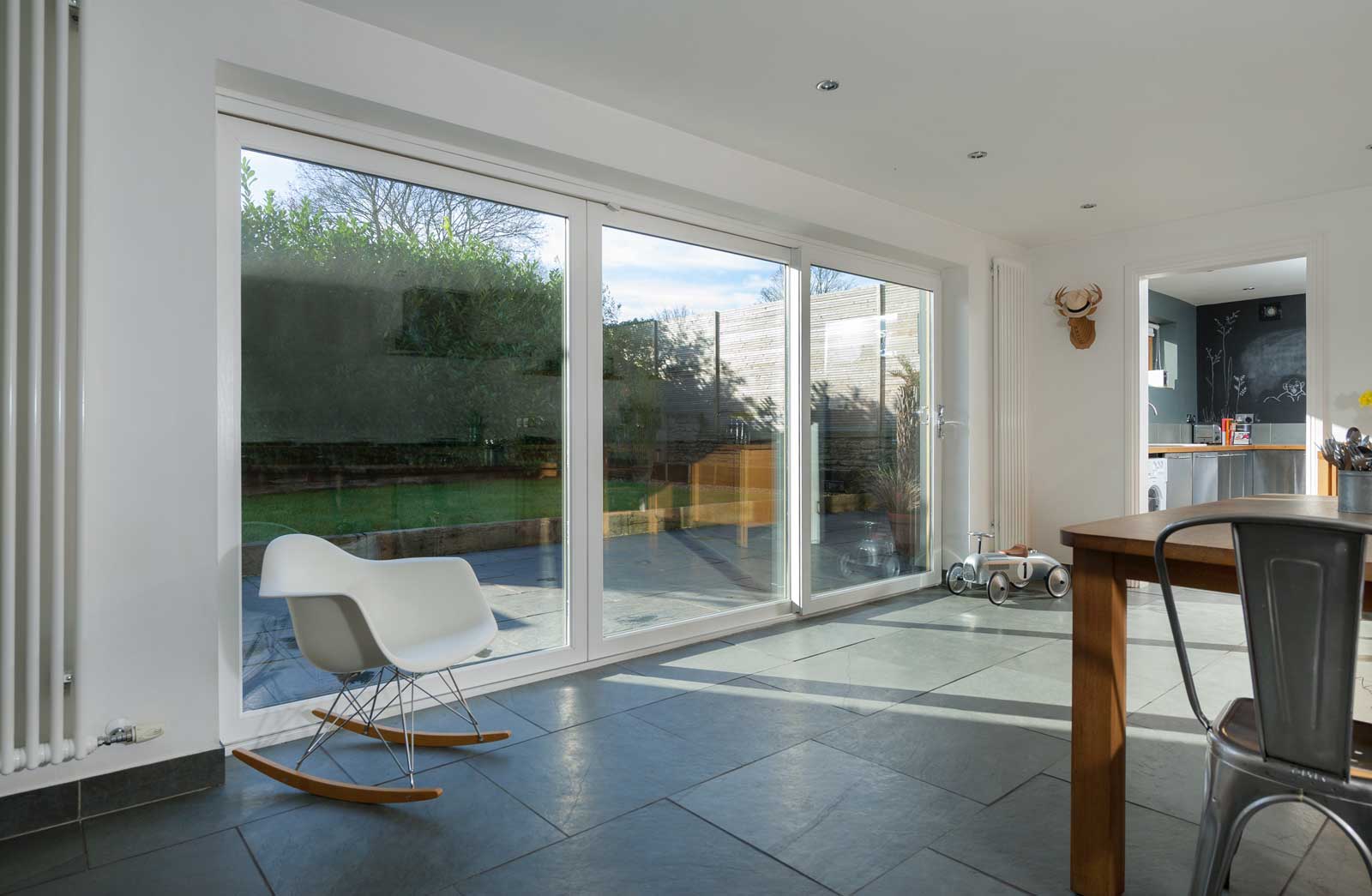 uPVC Sliding Doors
Slider24