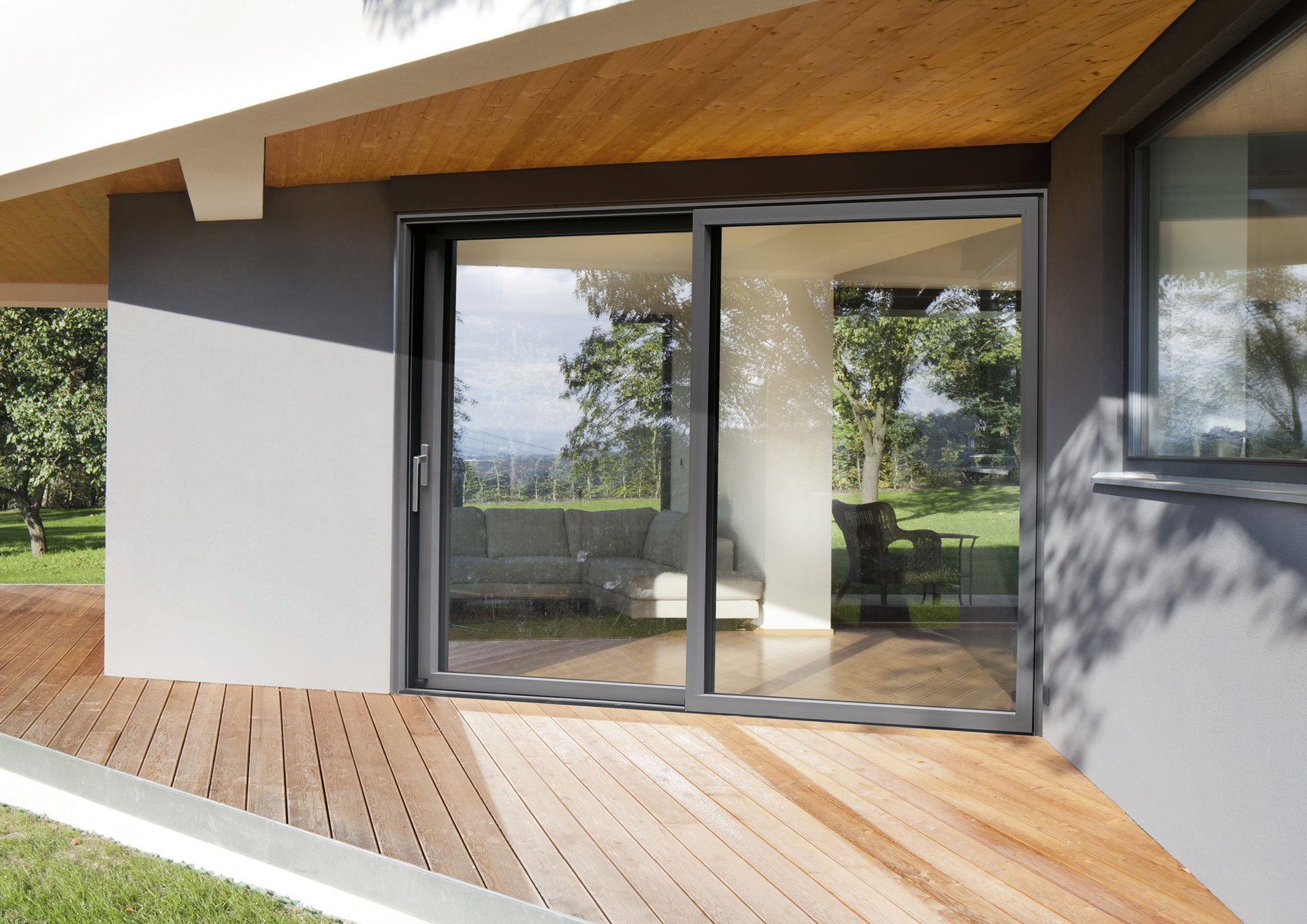 Stunning & High Performing Doors
Aluminium Sliding Doors Kent
Transform a Kent property's patio with our aluminium sliding doors.
Aluminium Sliding Doors Kent
Add a touch of style to a Kent property's patio with our aluminium sliding doors. We work closely with installers and fabricators across Kent to supply our customers with bespoke aluminium sliding doors. Use Patio Sliders by Deceuninck for your next Kent home improvement project.
With an array of customisation options, our customers can create sliding doors that match any style. Whether you want aluminium sliding doors to enhance a traditional home or add value to a modern building, our products are an excellent choice.
Improve a Kent home's U-Values, thermal efficiency, security, style and soundproofing by installing our aluminium sliding doors. Additionally, a property can feel more spacious due to the amount of light the slim frames allow in.
Find the fabricator closest to you with our online tool. The fabricator locator only requires your postcode to connect you with the specialist local to you. To learn more, you can also phone us at 01249 816 969.
Key Features

PAS 24 Compliant
A Secure Home

Glazing Options
Double or Triple Glazed Units

100% Recyclable
Protecting Our Planet

Invisible Drainage
Discrete Design

16 Colour Options
Bespoke Sliding Doors

Low U-Values
Unrivalled Insulation
Find An Aluminium Sliding Doors Fabricator
Do you need assistance locating a qualified fabricator in your neighbourhood? Then click the find a fabricator button on our website. You'll get the details you need to contact a Kent aluminium sliding door fabricator for your upcoming project.
Find a Fabricator
30 Colourways Available To Customise With
Modern & Traditional Finishes
Utilise our selection of colours to add a touch of personalisation to the aluminium sliding doors. Choose from 30 colours that have been carefully chosen to go with current fashions and favourites. The colours that we have are from the distinguished collection by Deceuninck. Since these colours are resistant to fading and won't need frequent touch-ups, maintenance will be simple.
Our clients can choose from various woodgrain foils in addition to our colour options. There is a 10-year guarantee on the colours as well. We are confident that our variety of colours and woodgrain foils could add the perfect finishing touch to any project. Start customising our aluminium sliding doors today.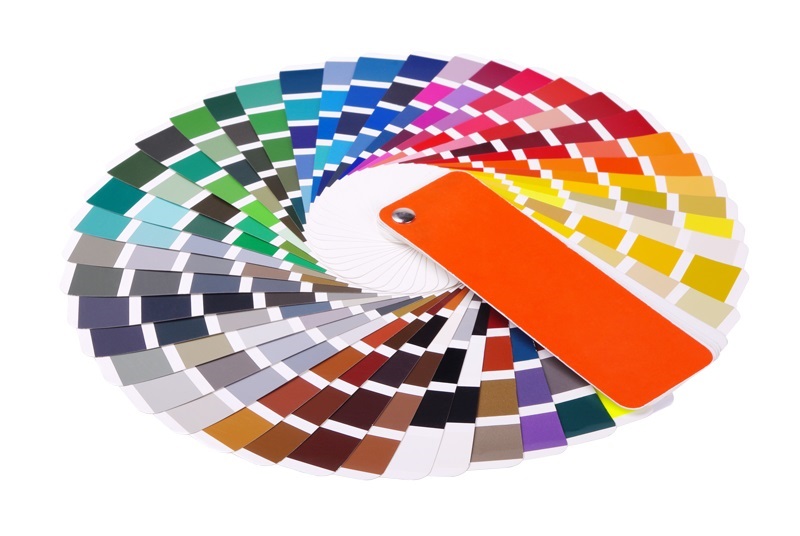 2 Pane
3 Pane
3 Pane
4 Pane
Choice Of Aluminium Frames
We offer a variety of frames, depending on how much or how little space the doors need to occupy. A property's patio could feature aluminium sliding doors that feature two, three, or even four frames, depending on your needs. The frames are composed of aluminium, which has the benefit of being both intrinsically sturdy and durable.
Customers can choose whether they want double or triple glazing in addition to how many frames they want. Either glazing option can significantly improve a home's energy rating and U-Values. A Kent property could benefit from U-Values as low as 1.11W/m2K if double glazing is installed, while triple glazing may offer values as low as 0.81/m2K.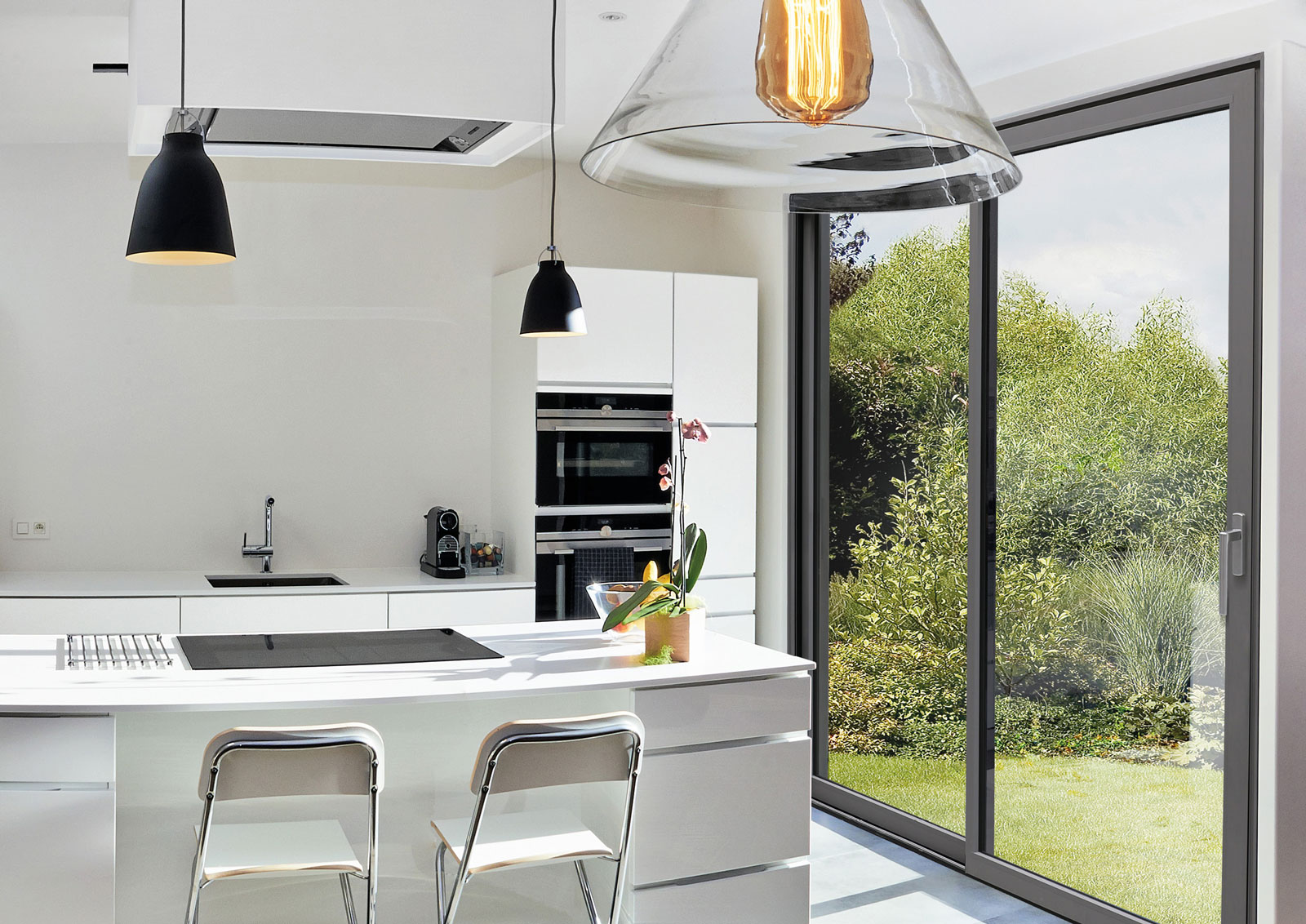 Sustainable and Reusable
At Patio Sliders by Deceuninck, we want to provide our Kent customers with reusable and sustainable products. We use materials that could be recycled in the future. This greatly benefits both our environmentally conscious customers and the planet.
Aluminium doors are easy to recycle in contrast to wooden doors, which can be challenging to recycle due to the quantity of paint and varnish needed to cure and maintain the material. Because aluminium's atomic structure prevents it from changing when melted and recycling it uses little energy, it is both cost- and environmentally efficient.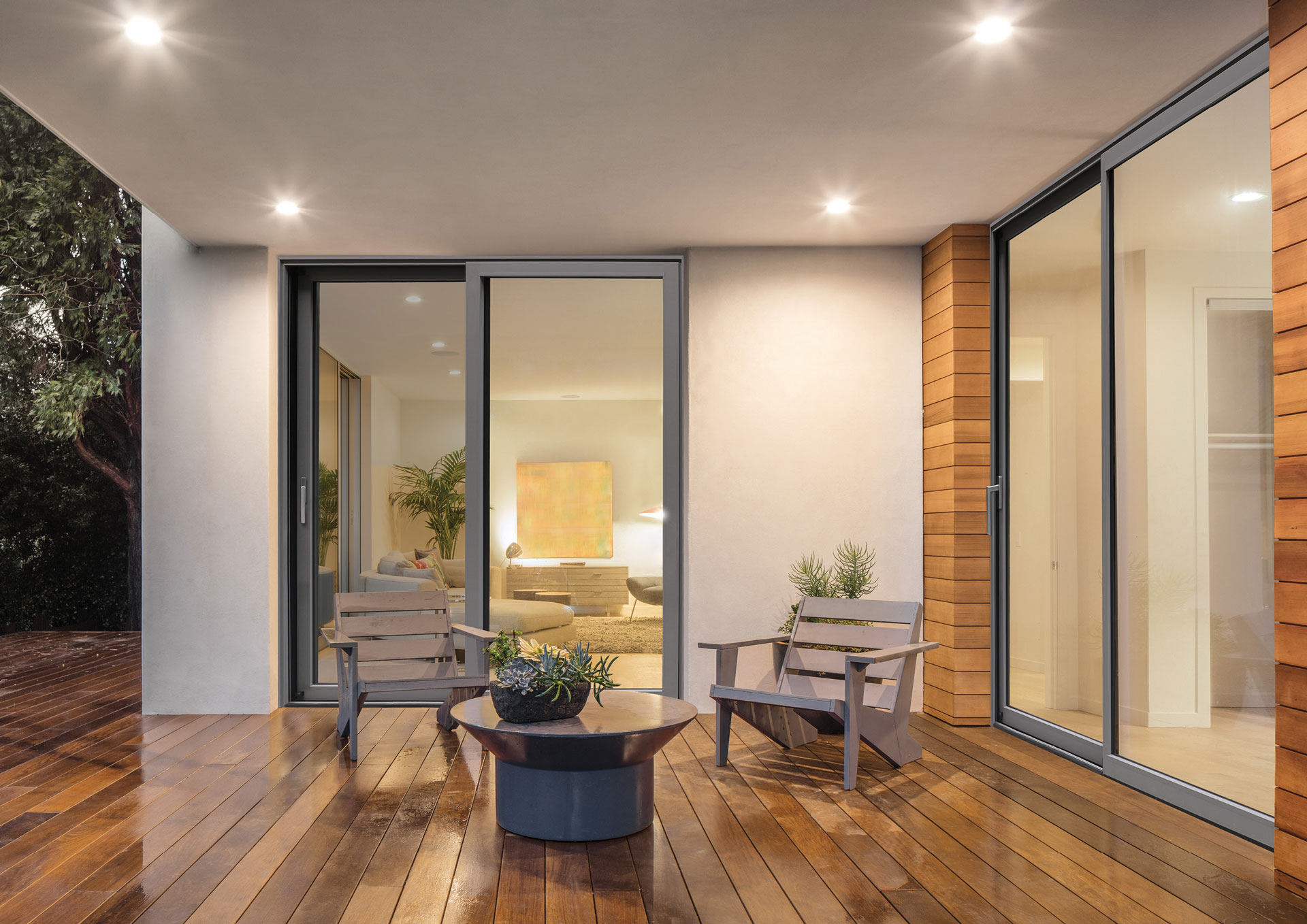 Adaptable and Accessible
Ensure a home is friendly to wheelchair and pushchair users by having a door that offers a low threshold option. Upon request, we are able to have a low threshold added to the door to ensure that it's easy to go in and out of the property.
Additionally, the aluminium sliding doors themselves are easy to operate. Not prone to being difficult to open and close, all our customers can benefit from doors that simply glide open. If you have any questions about the accessibility of our doors, call us at 01249 816 969. We'll be happy to answer your questions.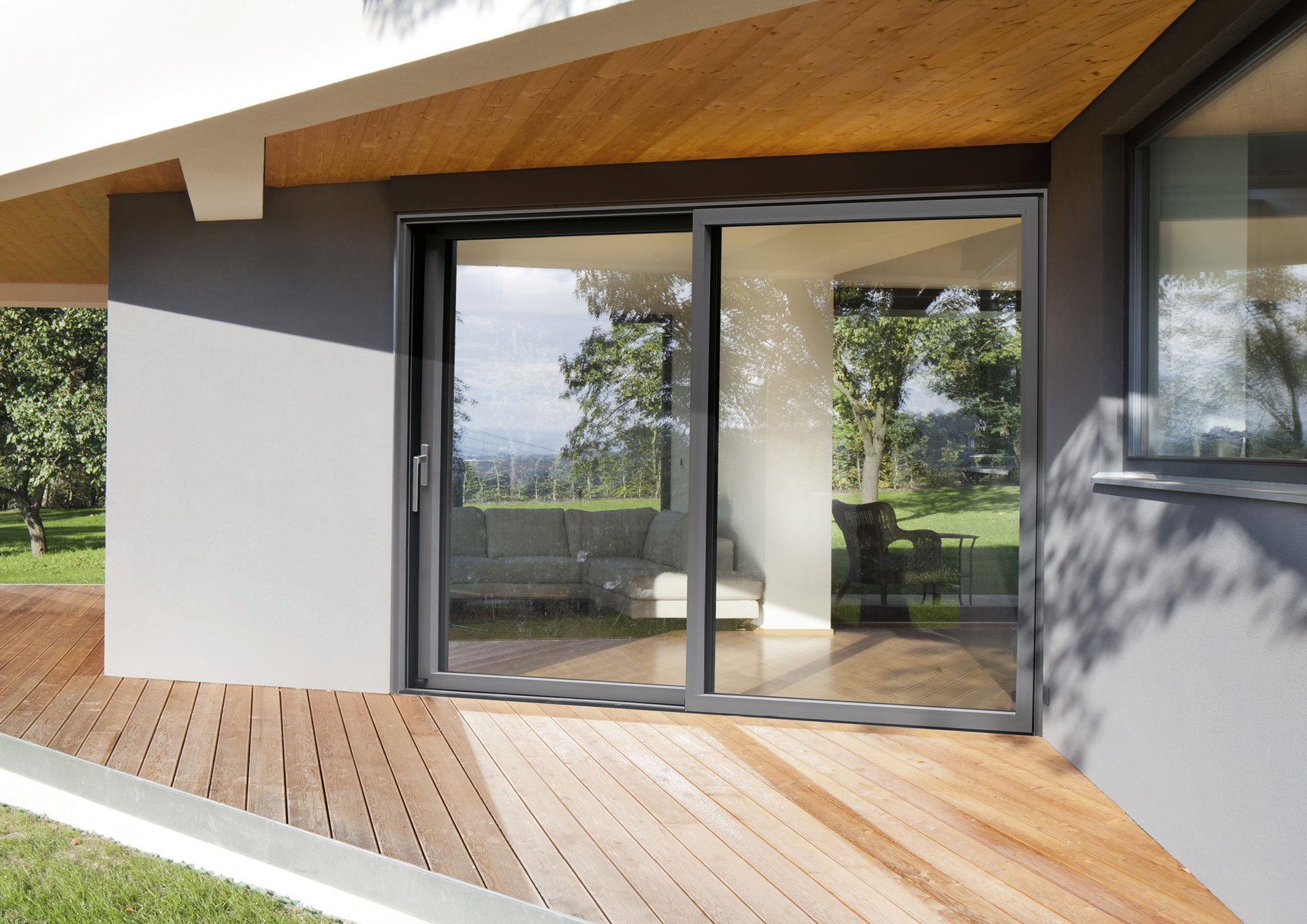 Safe and Secure
Customers in Kent can relax knowing that our aluminium sliding doors are made to provide excellent security. They have a variety of complex locking and security systems to keep trespassers out of the house. These consist of a corner drive, a keep upgrading kit, a full ERA locking system, and a sash interlock. Thanks to the upgrading kit, our products also have a 12-point locking mechanism and anti-lift device.
Our aluminium sliding doors make it simple to give a home outstanding security. An excellent addition to any Kent property, they are PAS24-approved. Only items that have been thoroughly tested against various forces and contemporary break-in techniques can receive PAS24 approval.
Aluminium Sliding Door Prices Kent
Transform the efficiency and style of a Kent property with our aluminium sliding doors. You can find a local registered fabricator in your area with just a click of a button.
Have a question for us regarding our aluminium patio doors? Then use our online contact form. You'll be able to use the form to ask any query you have relating to our doors. We look forward to hearing from you soon.
Find an Installer
Why Choose Patio Sliders by Deceuninck?
Patio Sliders by Deceuninck offers innovative design and energy efficiency to guarantee long-life performance. We provide the greatest variety for every home with our wide spectrum of colours. With lasting designs and easily customisable doors, we create the best aesthetic choice for patio sliders. Plus, with extra security and configurations, we think you'll love our stunning sliding doors as much as we do.
There are many reasons to choose Patio Sliders by Deceuninck. One of which is that we believe in creating an ethical brand and responsible company. It's part of why we've won the RoSPA Award and earned the Investors In People Silver accreditation. We invest in our workers to ensure that they have learning opportunities so that we're creating an environment of constant innovation.
That innovation shows. 2020 saw the construction industry faced with unprecedented circumstances, and our solution was investing in our new Luna R. This state of the art lamination machine makes it even easier for us to get the colours that you want. With lower lead times than ever before, Patio Sliders by Deceuninck overcame obstacles with flying colours. Nothing outperforms Deceuninck's sliding doors.
FAQs
Explore More
PAS24 stands for Product Assessment Specifications 24. This standard ensures that the performance and testing criteria for windows and doors are established.
What are the benefits of aluminium?
We have determined that aluminium is a suitable material as part of our environmental commitment due to its sustainability value. Aluminium frames are sturdy by nature, easy to recycle, and long-lasting.
Can aluminium sliding doors improve a home's thermal efficiency?
Indeed, it could. The double or triple glazing used in aluminium sliding doors provides excellent U-Values. Additionally, by improving a home's thermal efficiency, less energy is needed to maintain the appropriate temperature for the season. As a result, less gas and electricity are required to be used.
Explore More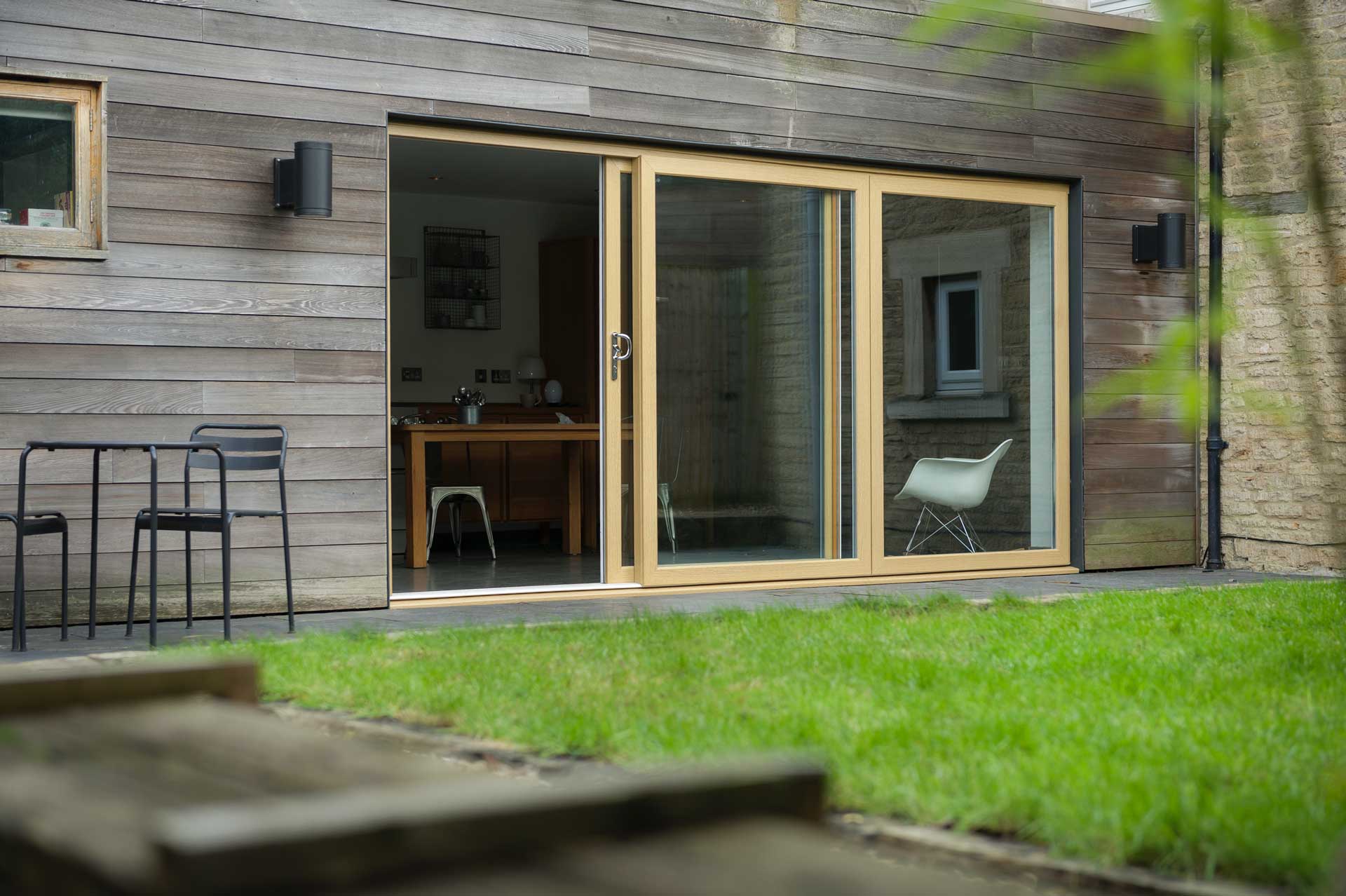 uPVC Sliding Doors
Slider24