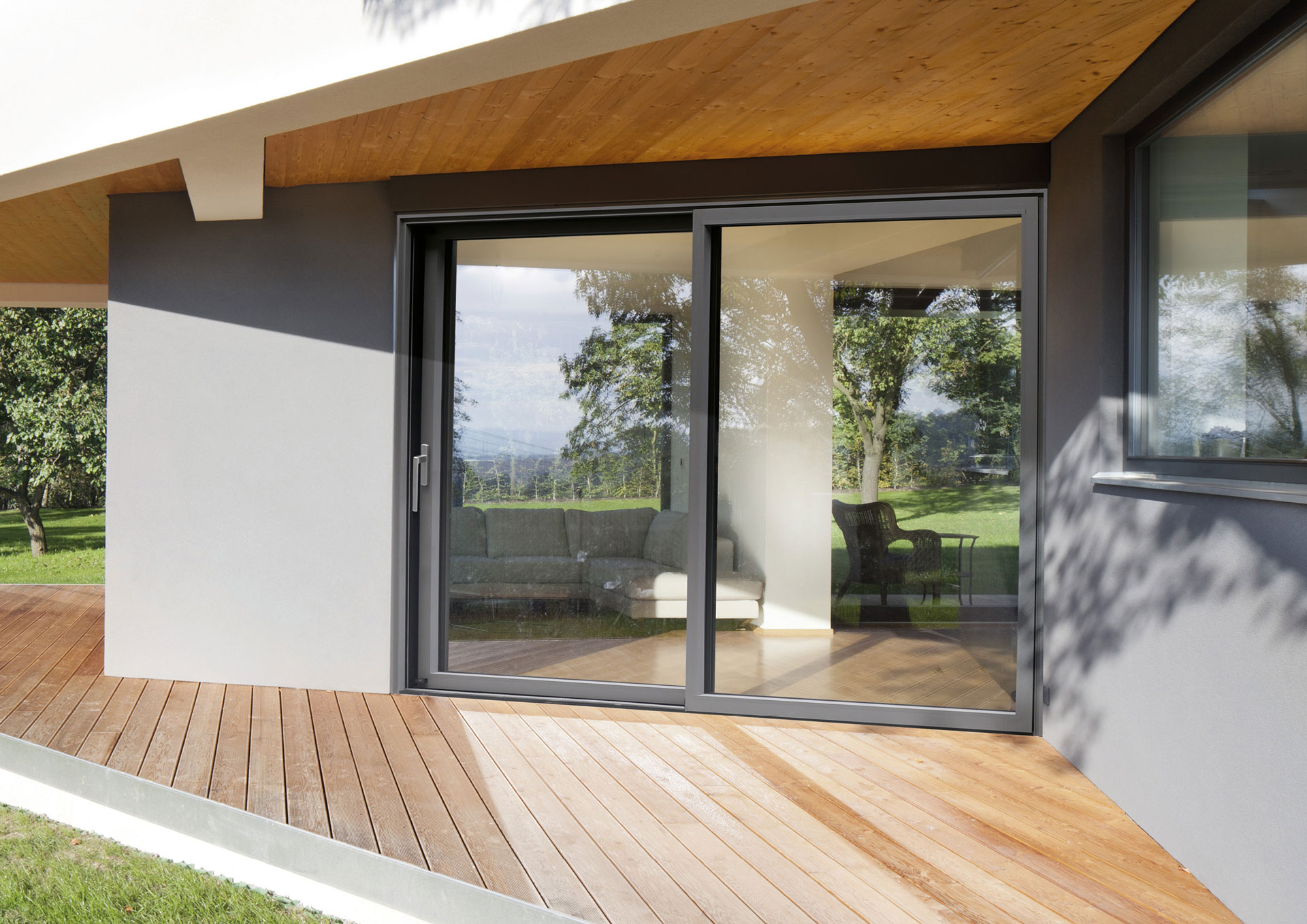 Modern Door Design
Aluminium Sliding Doors London
Here at Deceuninck, we are the leading manufacturers of aluminium sliding doors for homes in London. Read more about this fantastic and innovative design.
Timeless and Modern Solution
We believe in innovation at Deceuninck. That is why we have manufactured the classic sliding doors with a robust aluminium profile. We use our Decalu88 profile to manufacture aluminium sliding doors that will enhance your London home.
The Decalu88 profile is the perfect material for our aluminium sliding doors. It boasts a sleek and slim frame, which will provide London homeowners with endless views of their surroundings. It also allows glazing to fill properties with optimal natural light.
Aluminium is one of the strongest materials on the market and the perfect choice for sliding doors. We manufacture our aluminium sliding doors to be weather-resistant, colour-fast and easy to maintain.
When you choose Deceuninck, you are choosing high-quality aluminium sliding doors. We continue to develop products that are going to boost long-term performance. If you are looking to stock our doors, please get in touch.
Key Features

Low Threshold
For Better Home Access

100% Recyclable
Protecting Our Planet

Invisible Drainage
Discrete Design

16 Colour Options
Bespoke Sliding Doors

Endless Views
Enjoy Your Surroundings

PAS 24 Certified
Advanced Security Systems
Sell Aluminium Sliding Doors
If you want to sell our aluminium sliding doors, you can find a fabricator. Provide your London customers with doors that are going to transform their homes. Benefit from low lead times.
Find a Fabricator
Diverse Colours For Your London Home
Modern & Traditional Foils
We offer 16 fantastic colours for our aluminium sliding doors. We always keep up to date with what will work best with our products. These colours work perfectly for both residential and commercial properties alike. You are guaranteed to find a colour that complements your London home perfectly. Choose a colour that you will enjoy for years to come.
Grey has become an extremely popular colour across various products, including aluminium sliding doors. It emulates a sleek and elegant feel that will look perfect for our products. Grey makes up for around 40% of our sales, so we had to ensure we had a wide choice of grey colours for you to sift through for your London home.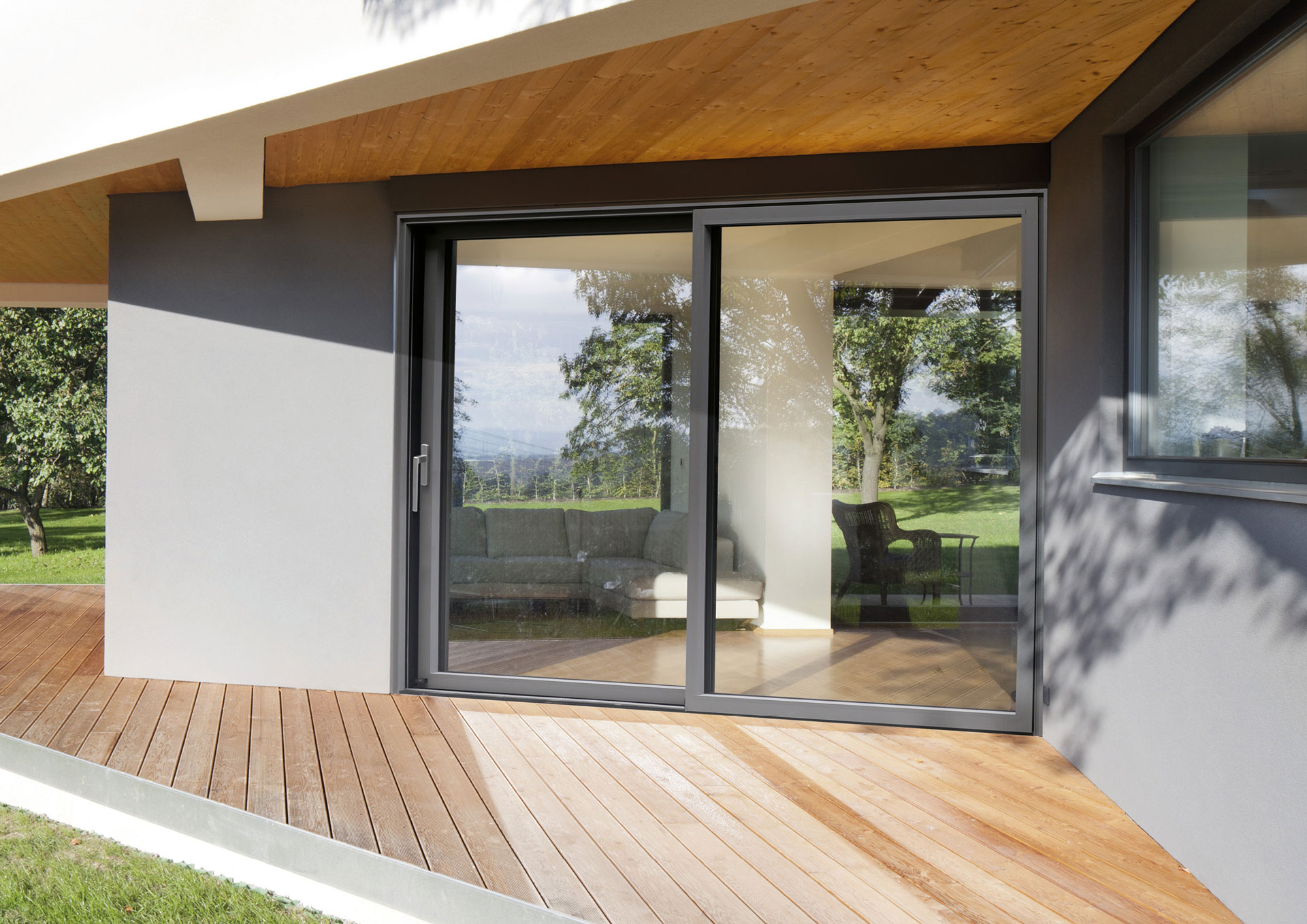 2 Pane
3 Pane
3 Pane
4 Pane
Robust Aluminium Profile
Aluminium is known for its inherent strength and is a superior choice for sliding doors. Its ability to hold larger panes of glass makes it the premium choice for homes in London. Due to the weight of the glass, the installation depth of our aluminium sliding doors is 97mm. Our doors are available between 2-4 panes and will provide you with excellent views.
London homeowners can always feel secure within their properties thanks to our aluminium sliding doors. They hold excellent resistance against adverse weather conditions. With the strong frame and glazing, our aluminium sliding doors will prevent unwelcome draughts and water ingress from entering properties.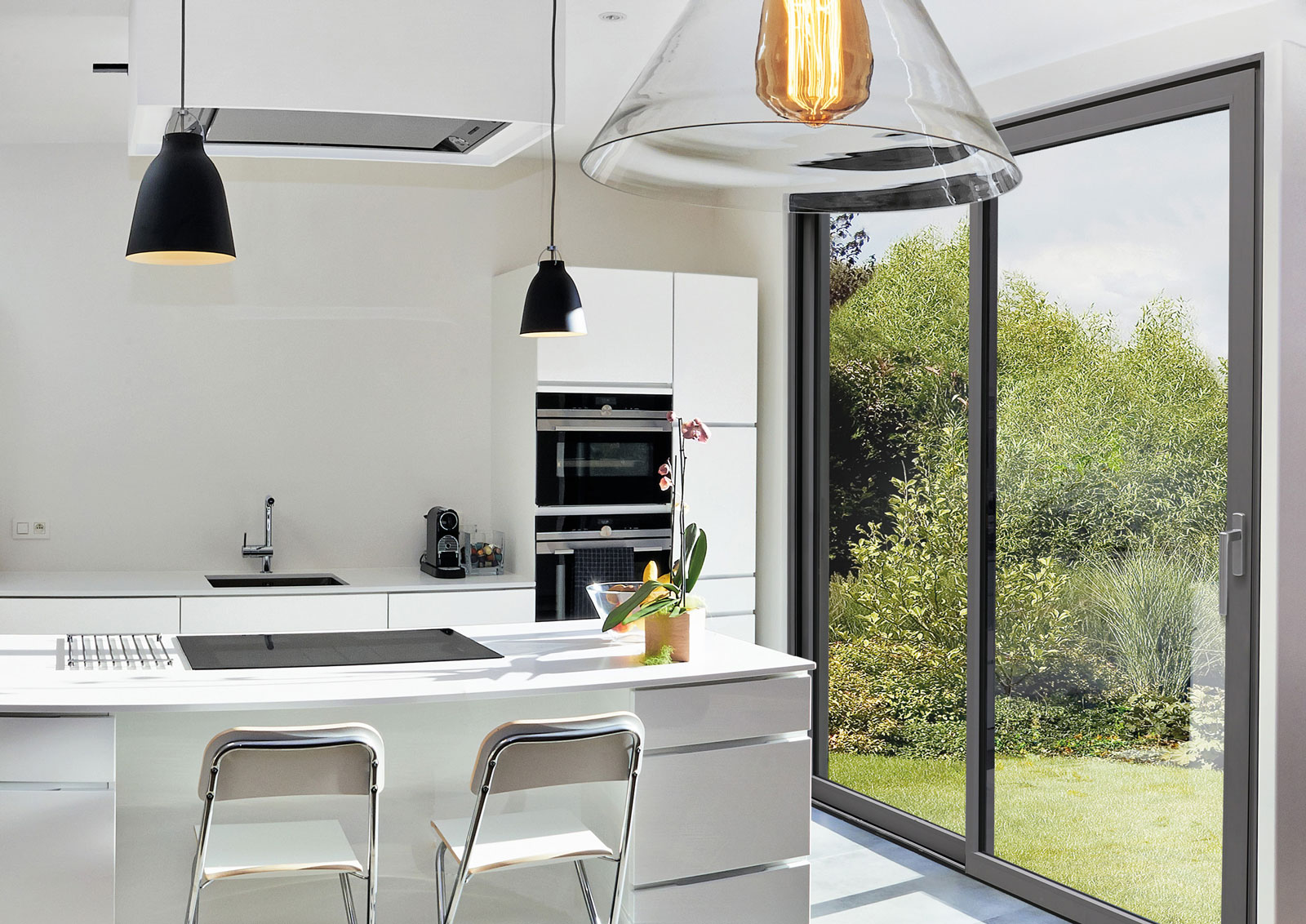 Warmer London Homes
We endeavour to make our aluminium sliding doors as reliable as possible. We know that homeowners are always finding ways to keep their property warm at all times. We see this and have created aluminium sliding doors to help them. With our doors, London homes can enjoy the enhanced thermal performance.
Double glazing can be fitted as standard within our aluminium doors. With the inclusion of triple glazing, homes can appreciate U-values as low as 0.81W/m2K. This exceeds any requirements that are expected from these doors. With a focus on the rising energy prices, you can rely less on your heating and lower your bills.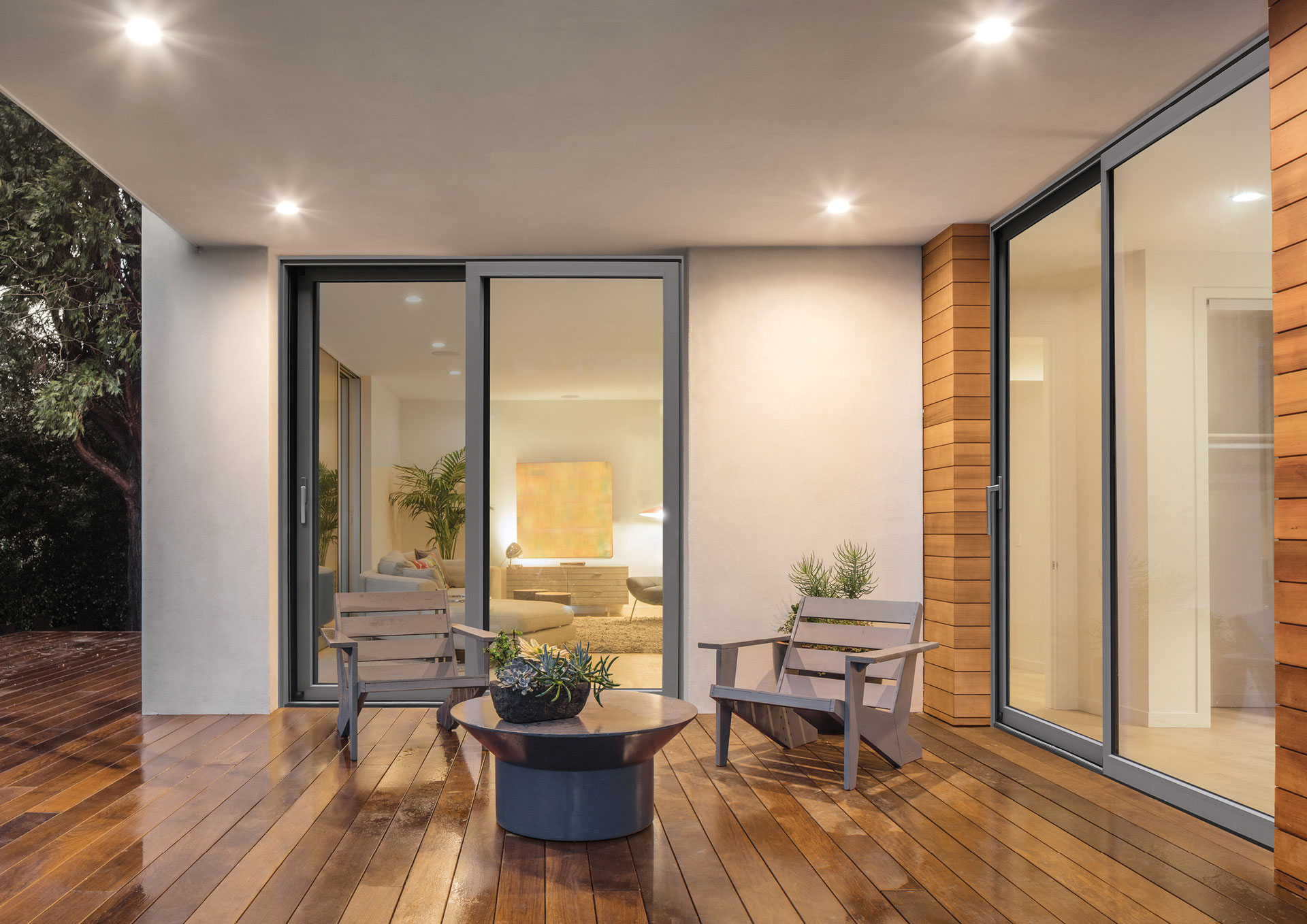 Sustainability
Sustainability is at the heart of what we do here at Deceuninck. It is one of our passions, and we always create products that will help protect our environment. Our aluminium sliding doors are 100% recyclable. Even after their very long life-cycle, they can be reused to make other doors and other products.
There has been more of a push of becoming greener, and we are ahead of the mark. You can provide your London customers with eco-friendly aluminium sliding doors that are sustainable. The improved insulation will also allow homeowners to rely less on their heating. In the long run, we can all reduce our carbon footprint.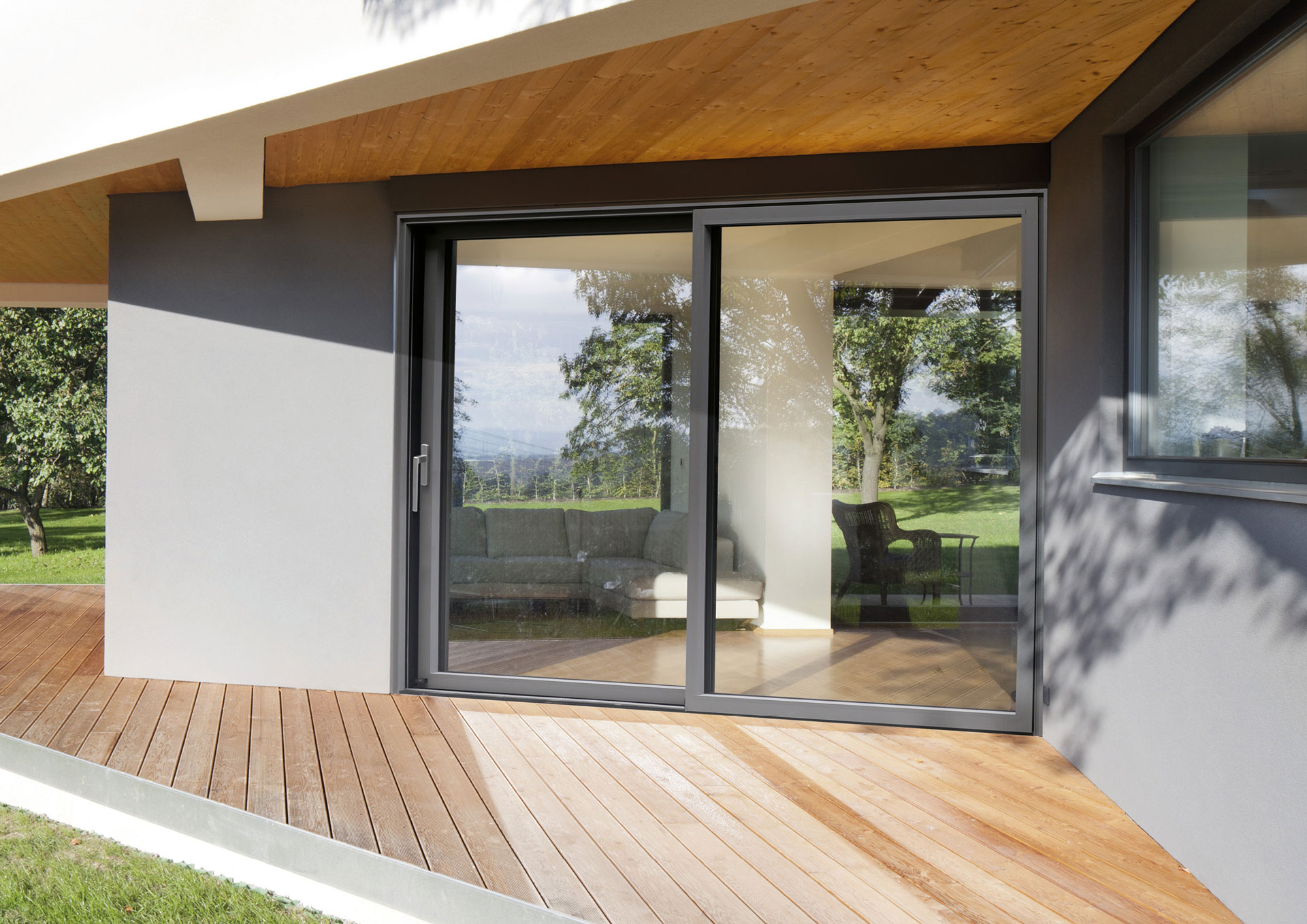 Modern Living
Sliding doors are one of the most traditional garden door designs on the market. We have put our spin on this with our aluminium sliding doors. You can still retain the authentic feel of the doors but enjoy the modern benefits. Throughout the year, you can live comfortably knowing our doors are keeping your London home protected.
We use a combination of locking features to keep out unwelcome intruders. This means that our aluminium sliding doors are PAS 24 compliant. The strength of the frame and the glazing can also significantly reduce any noise you hear from the outside. Enjoy minimal disruption within the confines of your property.
Aluminium Sliding Door Prices London
Are you interested in our aluminium sliding doors for your London home? Find your local installer today to get started.
Find an Installer
Why Choose Patio Sliders by Deceuninck?
Patio Sliders by Deceuninck offers innovative design and energy efficiency to guarantee long-life performance. We provide the greatest variety for every home with our wide spectrum of colours. With lasting designs and easily customisable doors, we create the best aesthetic choice for patio sliders. Plus, with extra security and configurations, we think you'll love our stunning sliding doors as much as we do.
There are many reasons to choose Patio Sliders by Deceuninck. One of which is that we believe in creating an ethical brand and responsible company. It's part of why we've won the RoSPA Award and earned the Investors In People Silver accreditation. We invest in our workers to ensure that they have learning opportunities so that we're creating an environment of constant innovation.
That innovation shows. 2020 saw the construction industry faced with unprecedented circumstances, and our solution was investing in our new Luna R. This state of the art lamination machine makes it even easier for us to get the colours that you want. With lower lead times than ever before, Patio Sliders by Deceuninck overcame obstacles with flying colours. Nothing outperforms Deceuninck's sliding doors.
FAQs
Explore More
You can look at our brochures to find out more information about our aluminium sliding doors.
Why choose your aluminium sliding doors?
We are one of the leading manufacturers of aluminium sliding doors. We are renowned for our range of products. You can always trust us with your next project.
How come you use aluminium?
We offer sliding doors in both a uPVC and aluminium profile. Aluminium is one of the strongest materials and often the preferred choice.
How do I find an installer?
You can find your local installer by entering your postcode through our installer network.
Explore More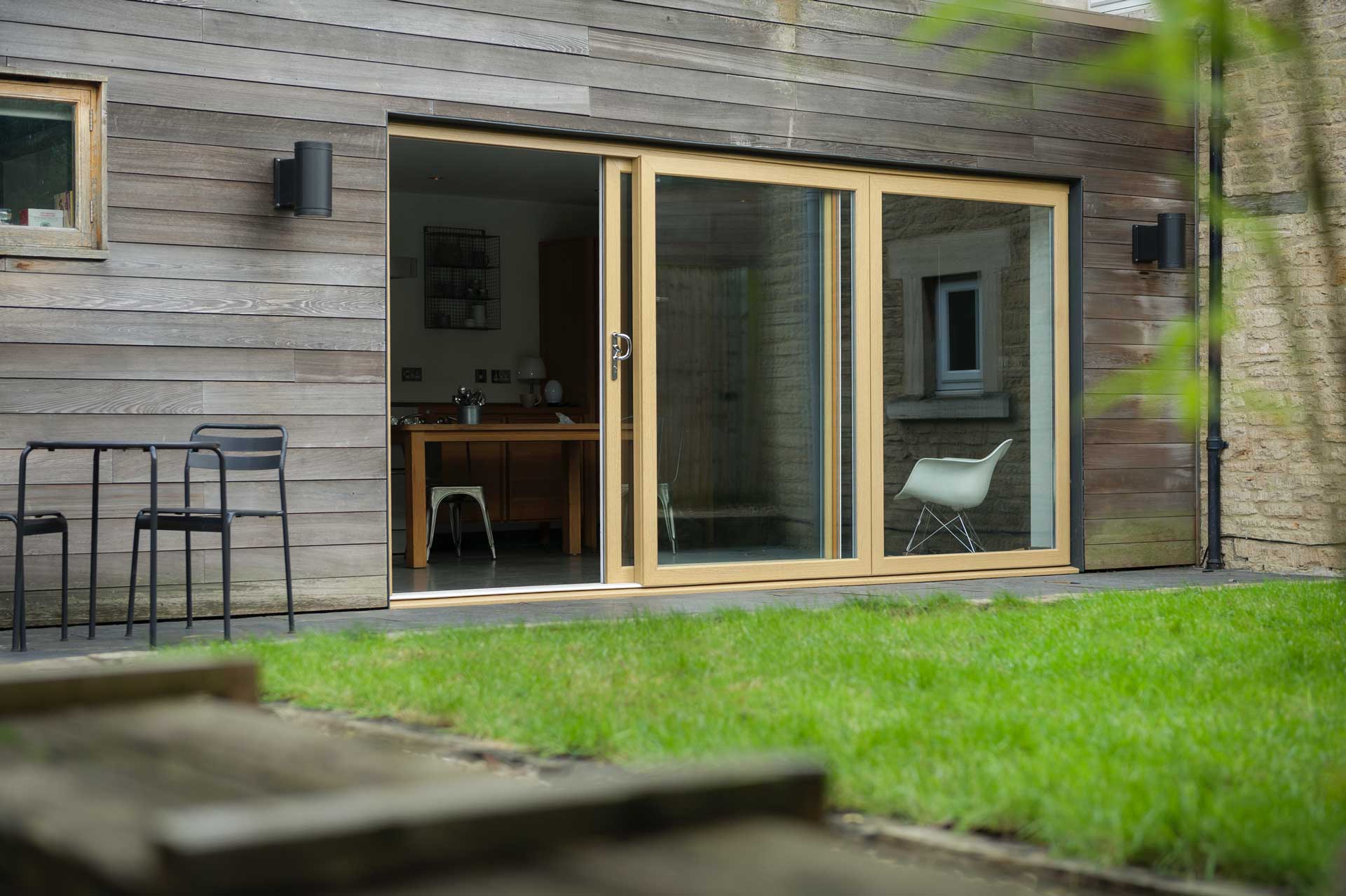 uPVC Sliding Doors
Slider24