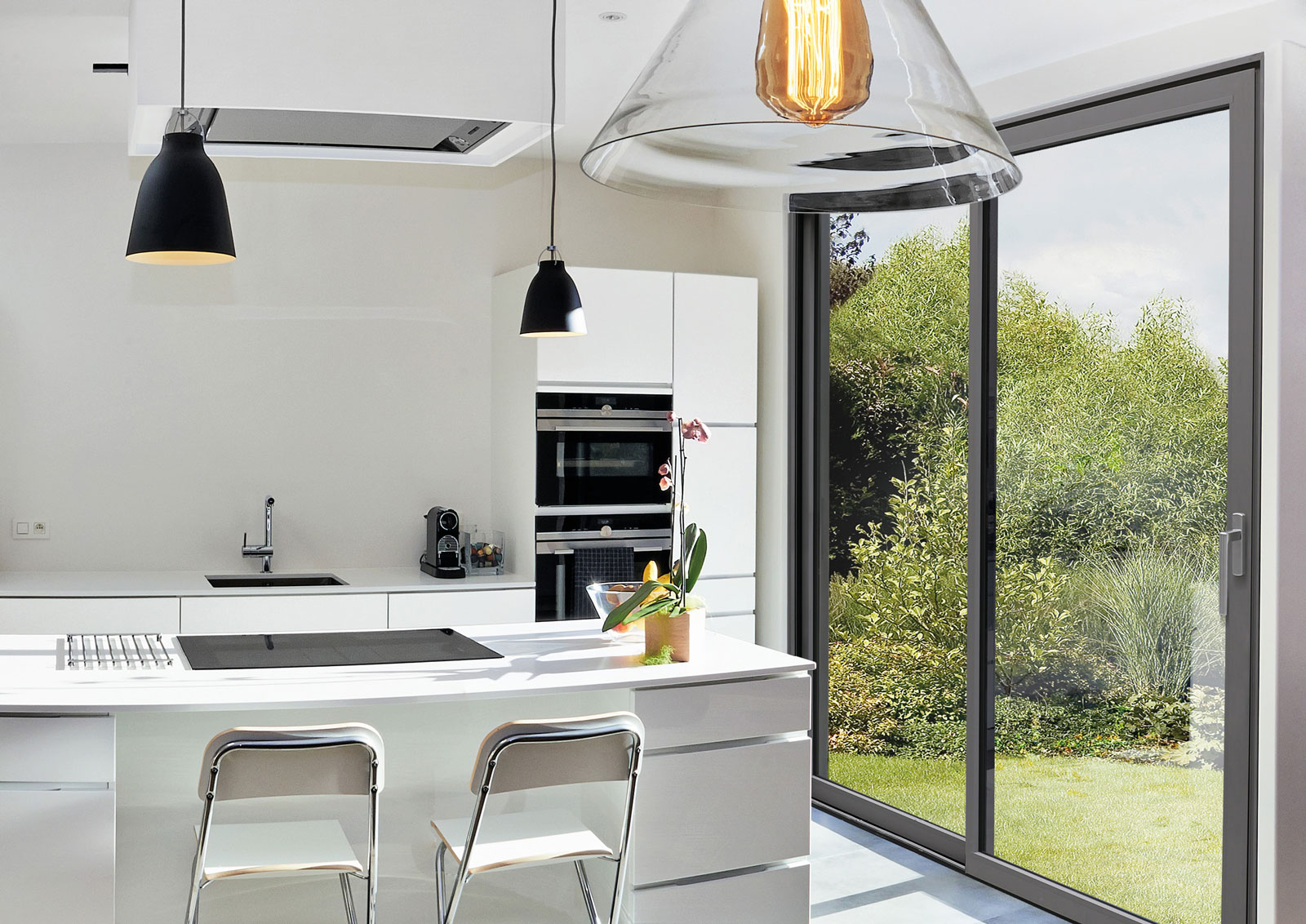 Contemporary Door Performance
Aluminium Sliding Doors Sunderland
Choose from various polished and unique aluminium sliding door styles which will suit the any Sunderland property.
Modern & Insulating Door Solution
Create bespoke aluminium sliding doors for your Sunderland property with Patio Sliders By Deceuninc. All our products are made to the highest standard. With us, you will receive sliding doors which are efficient and stylish. We manufacture aluminium sliding doors because aluminium is a highly versatile material.
We want to ensure you'll always be happy with the products you buy from us. At Patio Sliders By Deceuninck, we make it easy for Sunderland customers to get the sliding doors they want. You will be able to customise them to meet your relevant needs. Our doors offer great wheelchair access.
They are also available in a range of colours. All our sliding doors are tested to ensure they aren't easily broken. We take the safety of our customers very seriously. With us, we'll always put your needs first. Our products are manufactured with a sash interlock and ERA locking system.
And with an additional corner drive and keep upgrade kit, your aluminium sliding doors will keep your Sunderland property safe. Get in contactwith our team today to start on your aluminium sliding doors. Our team will be happy to help you!
Key Features

Sound Insulation
For A Quieter Home

Glazing Options
Double or Triple Glazed Units

Endless Views
Enjoy Your Surroundings

Invisible Drainage
Discrete Design

16 Colour Options
Bespoke Sliding Doors

PAS 24 Certified
Advanced Security Systems
Sell Aluminium Sliding Doors
Are you looking for a local Sunderland fabricator? Then use our helpful online tool today. We will be able to help you find a qualified fabricator for your aluminium sliding doors.
Find a Fabricator
Colourways To Match Your Aesthetic
Modern & Traditional Finishes
We know it's important to have the option of making your Sunderland property unique to the neighbourhood. With our colour selection, you will be able to do just that. At Patio Sliders By Deceuninck, we provide a wide variety of colourway options for you to choose from.
After doing some research, we found variations of grey seemed to be quite popular. This led us to create a wide selection of attractive grey colours you can use for your home. Should grey not be your style, there's no panic. We provide a whole range of colours. You will easily be able to match your Sunderland property's aesthetic.
Use our colours to create the perfect modern look for your home. Or if traditional is more your style, you'll be able to get the timber look with us. Want to find out more about our colour options? Get in contact with our team today. We'll be happy to help you out.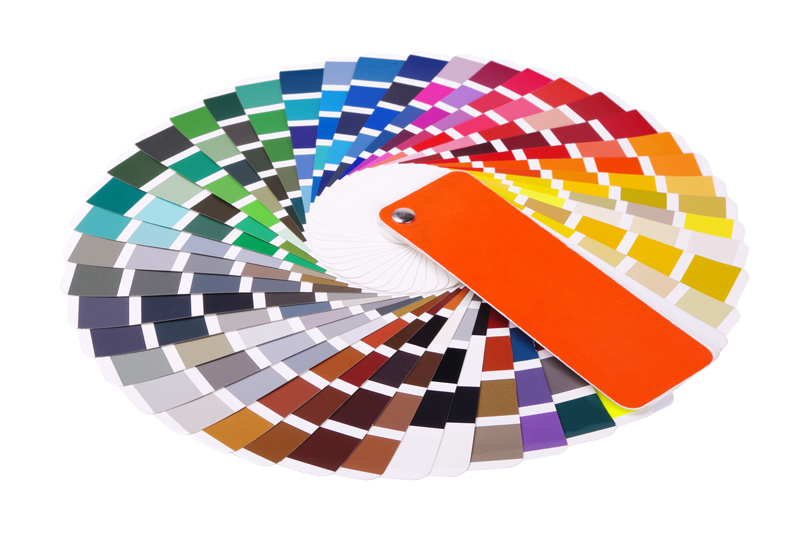 2 Pane
3 Pane
3 Pane
4 Pane
Strong & Stylish Aluminium Frames
Due to aluminium's adaptability and strength, we can offer you sliding doors with slim frames and large glass sashes. Aluminium is a fantastic material. This premium material can hold heavy sashes with less material. The installation depth of our sliding doors is 97mm. This is to compensate for the weight of the glass.
With the slim frames, you will have plenty of natural light. And you can also enjoy the view of your garden without anything obscuring your view. Our aluminium sliding doors also have different pane options available. You can choose between having two, three, or four panes. We also offer the choice of double and triple glazing. You won't be limited in choice with Patio Sliders By Deceuninck.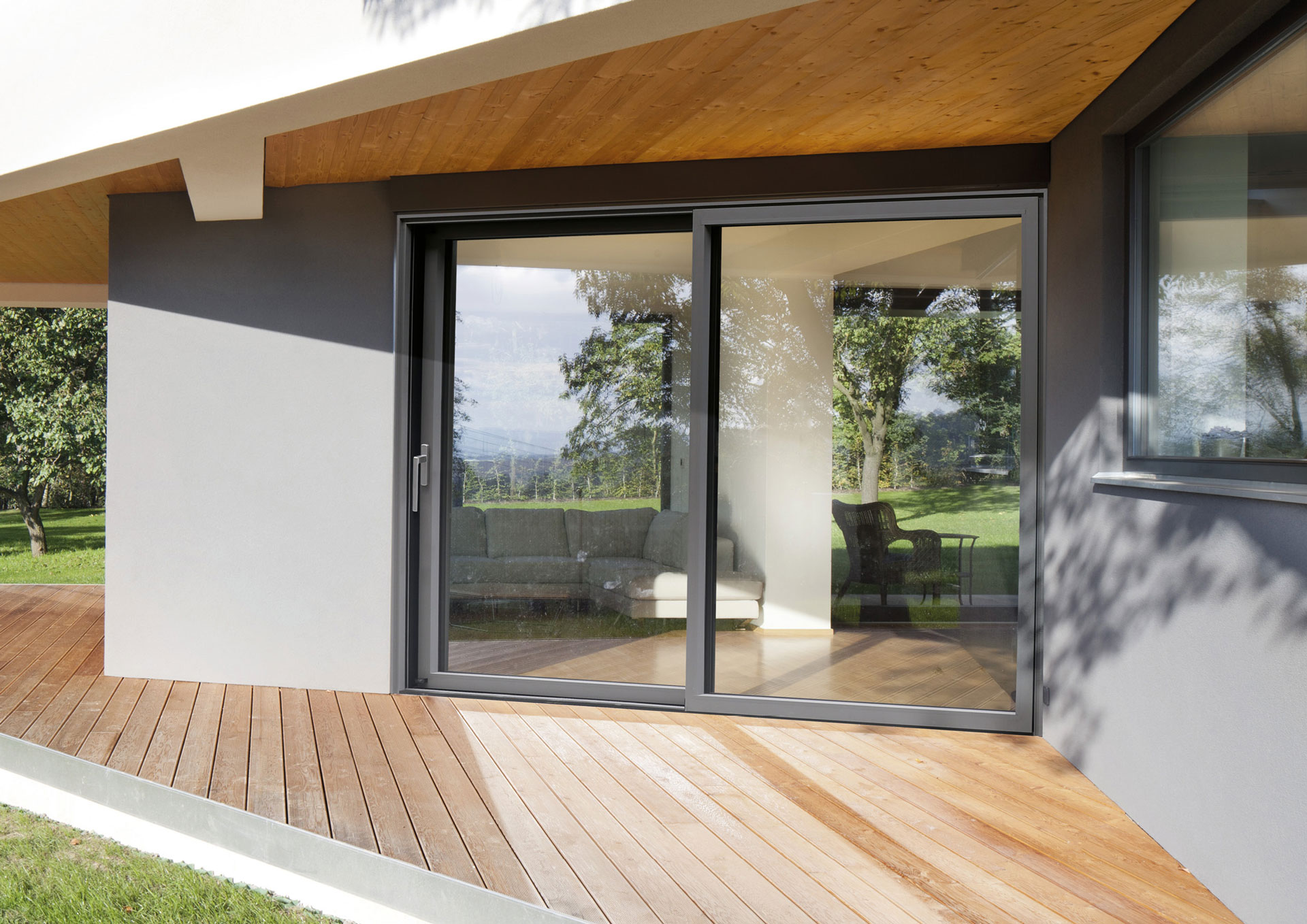 Environmental Efficiency
Our aluminium sliding doors are made out of recyclable material. This means you will be able to have efficient and eco-friendly doors. At Patio Sliders By Deceuninck, we pride ourselves on being sustainable. We don't want to make wasteful products. With aluminium, we can manufacture doors that are efficient and non-wasteful.
Aluminium is an easily reusable material. After many years of use, our aluminium sliding doors will still be reusable. This is because aluminium still maintains almost all of its original properties. By investing in our aluminium sliding doors, you will have cost-effective, stylish, and sustainable doors.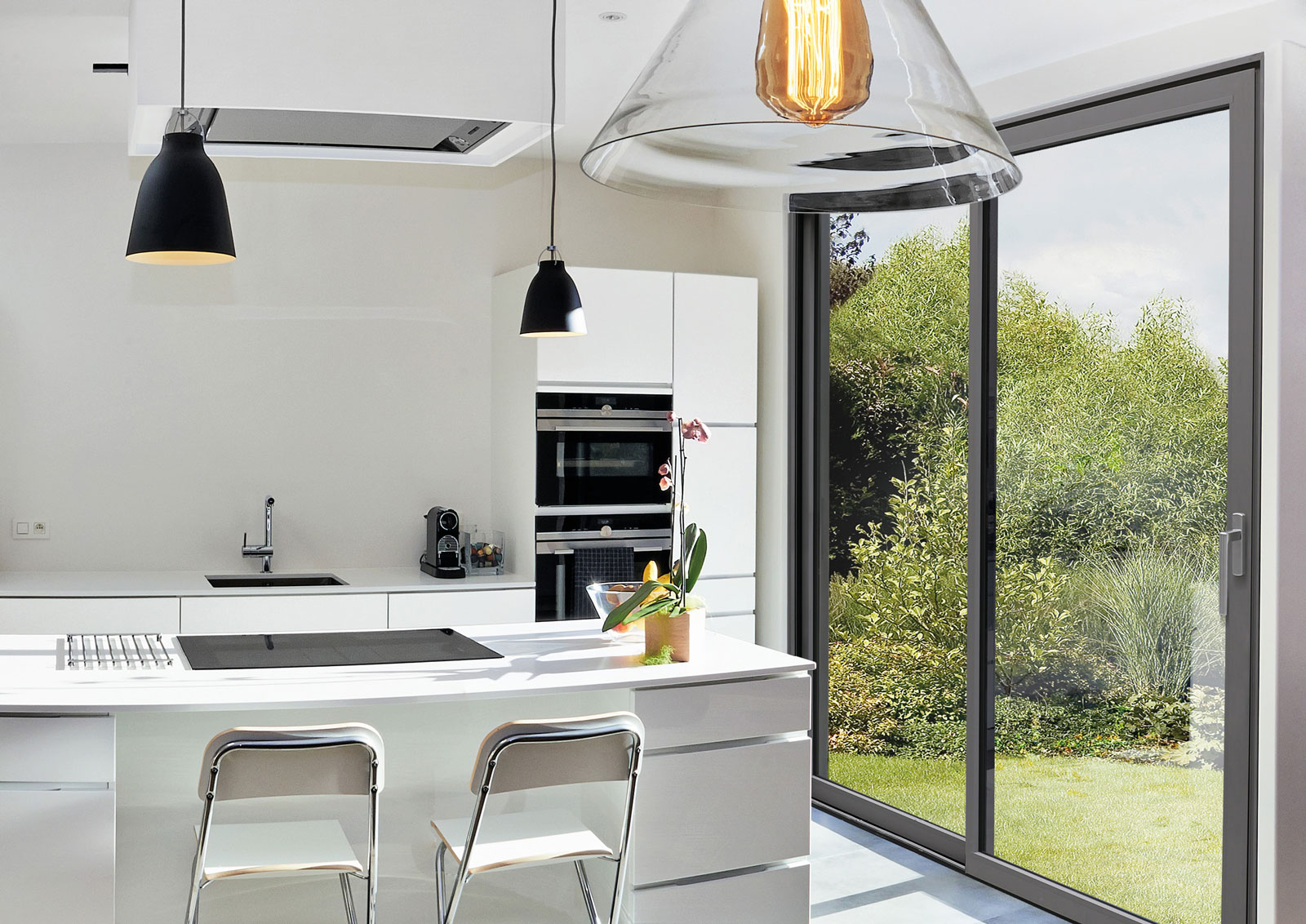 Weatherproofing
At Patio Sliders By Deceuninck, we test all our aluminium sliding door materials. We do this to ensure that we meet stringent British standards. Our aluminium sliding doors include an air permeability rating of Class 4, watertightness rating of E2250 and wind resisting rating of Class C5.
You won't have to worry about replacing your sliding doors every few years. We make sure our products have superior weather performance. The aluminium sliding doors are also low maintenance making them a great investment.
Aluminium Sliding Doors Prices Sunderland
Do you want aluminium sliding doors for your Sunderland property? Then get in touch with our team today. They'll be more than happy to help assist you.
And help has never been easier. Follow the links below to get in touch with your local installer. All you'll need to do is enter your postcode, and from there, you will be able to find a qualified professional installer.
We work closely with professional fabricators and installers all across the country. With us, you will always receive high-quality results and products. We look forward to hearing from you.
Find an Installer
FAQs
Explore More
Are your aluminium sliding doors safe?
Yes, they are! We use advanced locking systems within our doors that comply with PAS 24.
Why choose your aluminium sliding doors?
We are the leading manufacturer of aluminium sliding doors. Every detail is considered with our products.
Is there a guarantee with your doors?
Yes, there is a ten-year guarantee with all of our aluminium sliding doors.
You can learn more about our aluminium sliding doors by downloading our brochures. You can also get in touch with our team to find out more or find your local installer.
Explore More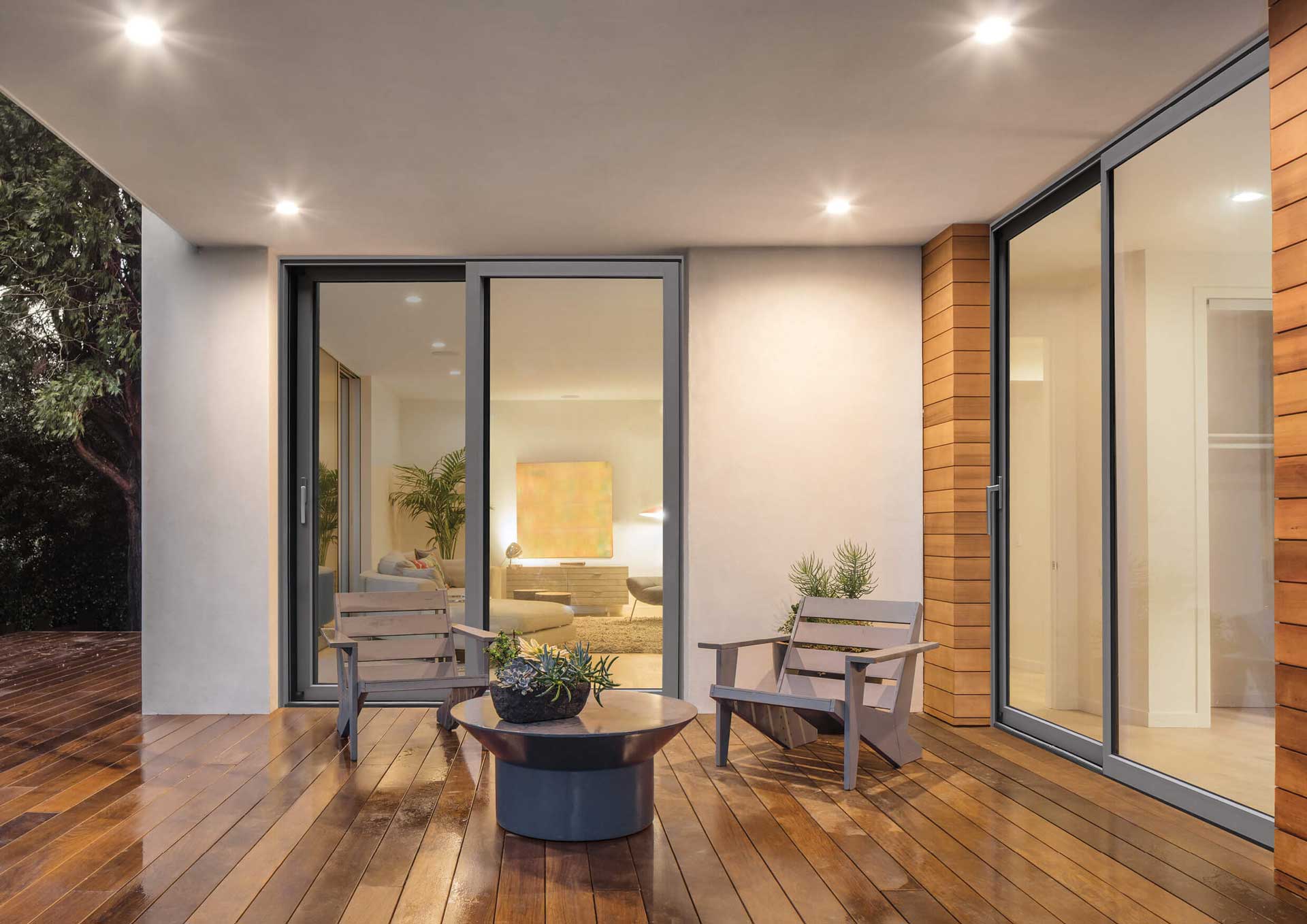 uPVC Sliding Doors
Slider24