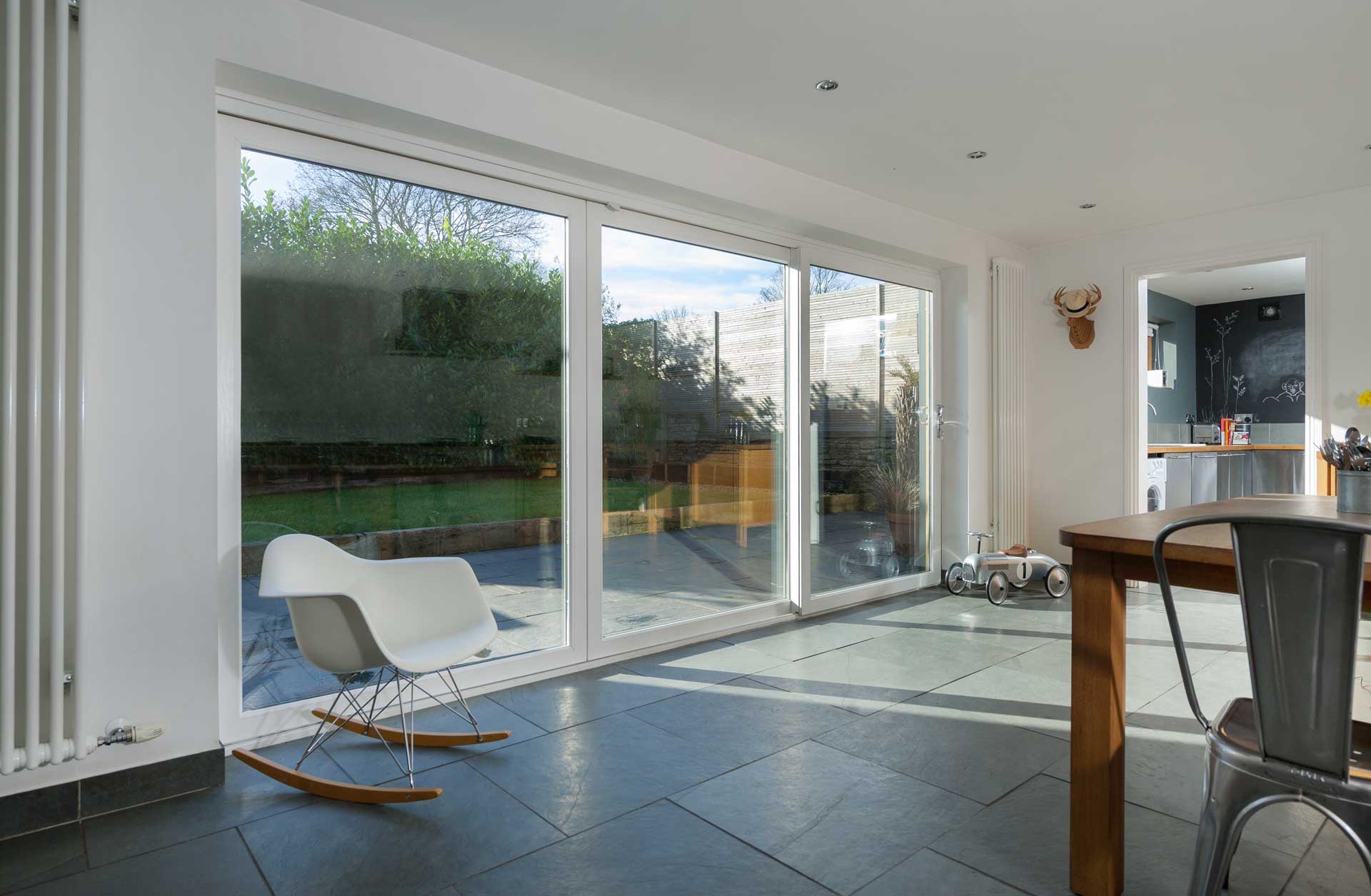 Sleek & Stylish
uPVC Sliding Doors Leeds
Deceuninck is a chief fabricator of uPVC sliding doors in Leeds and across the UK. Find a certified installer or learn more about our wide range of colours and features.
Superb uPVC Sliding Doors
One of the reasons our customers appreciate our uPVC sliding doors is that they allow more natural light into their living space. Especially during darker winter months in Leeds, patio sliders by Deceuninck can improve the natural light in any room. We all know that getting more natural light helps our mental and physical health.
We like to think we can brighten up your day, here at Deceuninck. Choose from our many colour options for your supply uPVC sliding doors. Whether it's White, Anthracite Grey, or Rosewood, we have the colours to match any Leeds home.
However, we provide more than just colourful character. Deceuninck uPVC sliding doors are energy efficient and weatherproof against even Leeds weather. In fact, the Slider24 is best in class in weather performance, up to three times more air and watertight than our competition.
Not to mention, that we offer incredibly strong protection against intrusion. We're proud of our lock and the security and peace of mind that it brings. We offer colour, comfort and utility. So choose patio sliders by Deceuninck and contact us today.
Key Features

Widest Colour Spectrum
30 Colourways from Stock

Secured by Design
Highest security credentials

Superior Weather Resistance

Lower U-values
As low as 1.0 W/m2K

Greater Accessibility
Lowered thresholds

Suites with Heritage 2800 Windows
Start Selling Slider24
If you're in the trade, looking for a supplier of patio sliders by Deceuninck, get in touch with our team today. We supply uPVC sliding doors nationally, so our team can supply your Leeds business in no time. Just look through our brochures for more technical information about uPVC sliding doors.
Find a Fabricator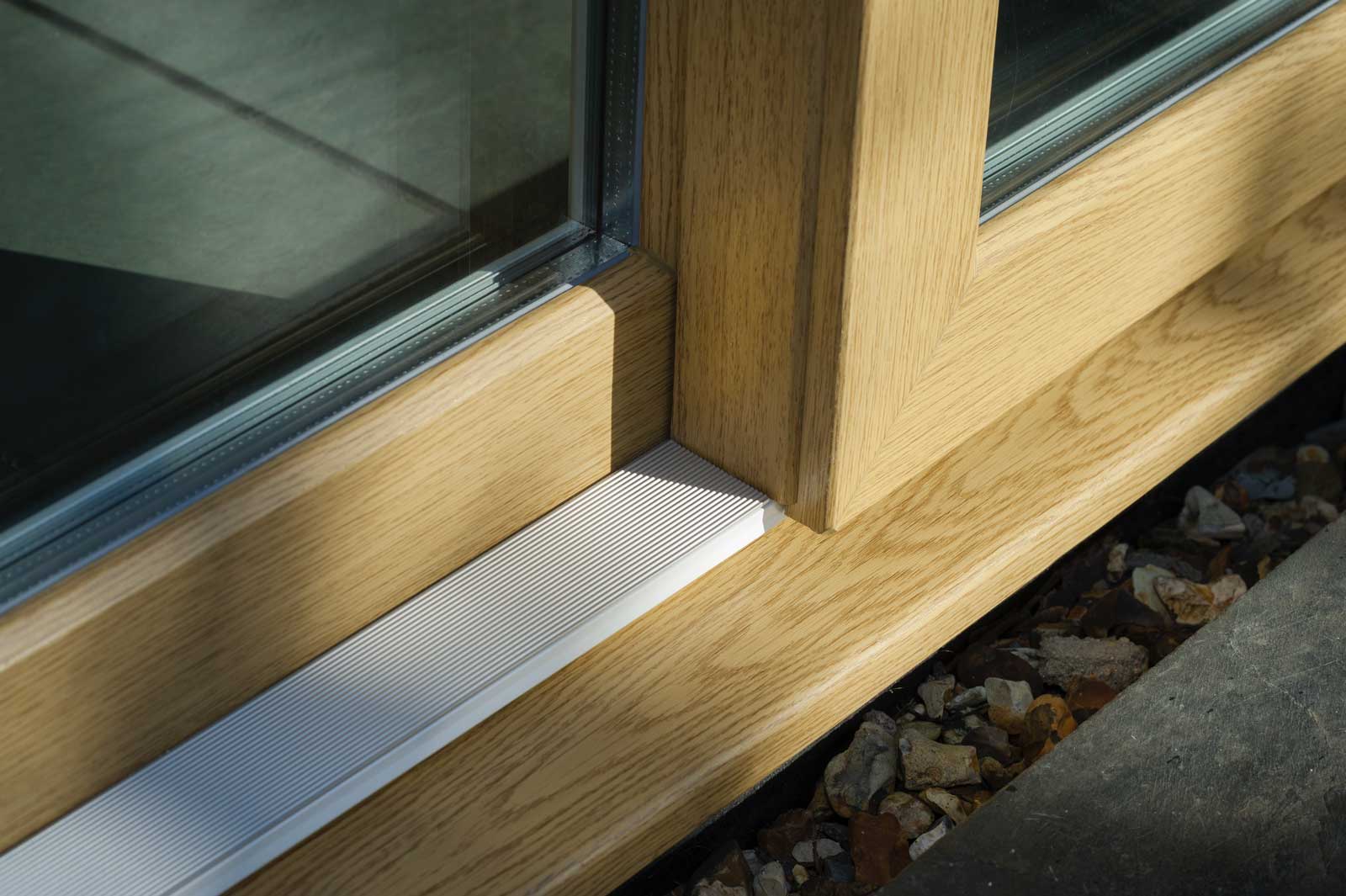 Lend Some Colour to Sliding Doors
30 Colours Available from Stock*
As we mentioned, Deceuninck truly is the most colourful option available. We believe that colour is the way to our customers' hearts. Which is why we have 30 colour options for you to choose from.
This year we recently researched which colours are our customers' favourites. While White is still very popular, we know how much our customers like Anthracite Grey and even Rosewood. So whether you're looking for a smooth matt finish or a woodgrain foil, get in touch with our team.
uPVC Sliding Door Configurations
One of the best things about the uPVC sliding doors that Deceuninck offers is that homeowners can choose whether they want two, three or four panes for their Leeds home. Our customers appreciate being offered multiple styling options.
Look at our minimum sash sizes of 1500mm x 1750mm (WxH) for our two pane option. Or our maximum sash size of 5900mm x 2400mm for our four pane option. The different configurations range from side sliding or a central opening. Find the best way to match Leeds homes.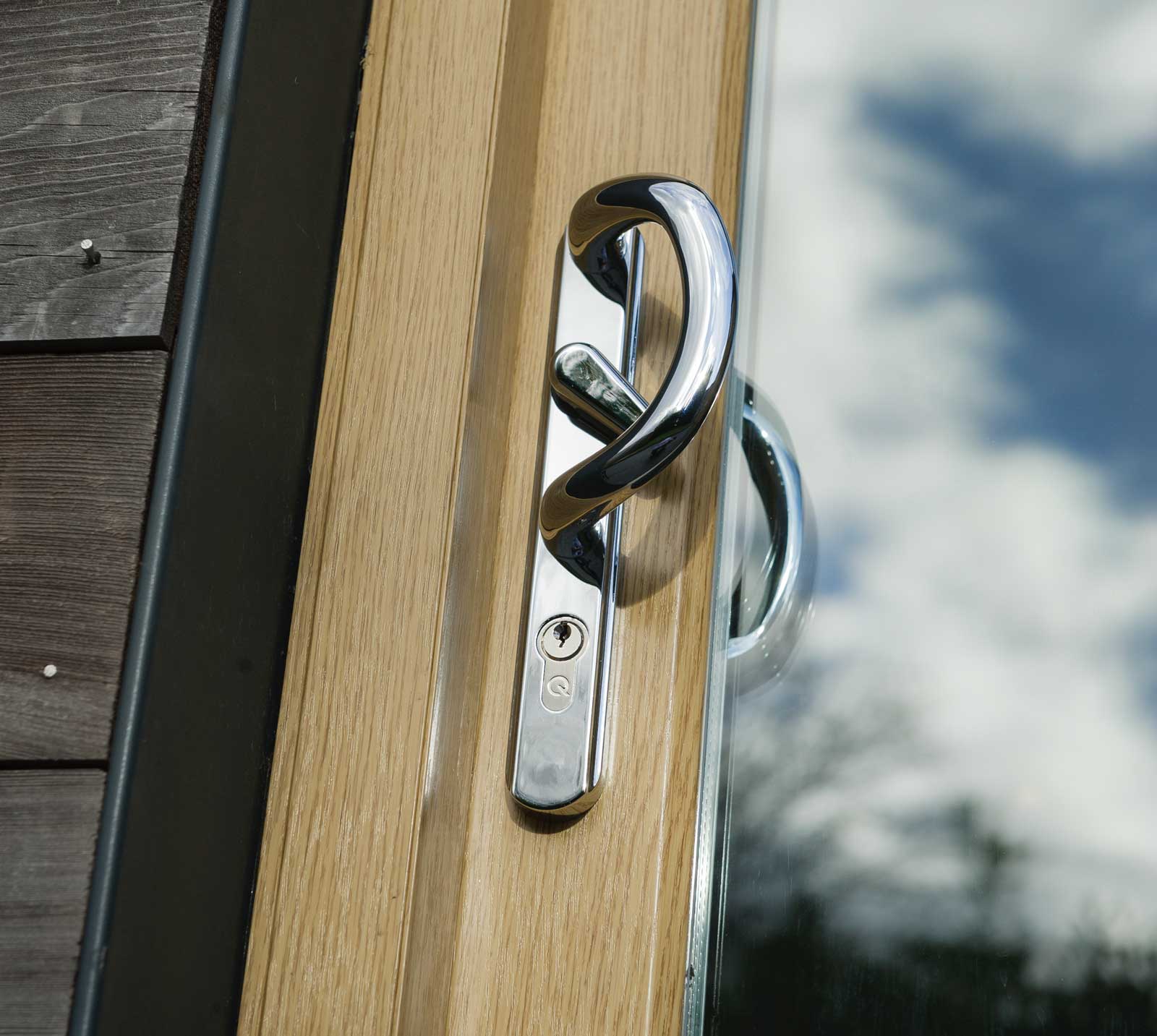 Security Systems
All of our uPVC sliding doors come standard with our six point locking system and forged brass hooks. They also have a bi directional hook throw for additional security against jemmying. We try to make sure that every patio door has a strong standard of security.
When homeowners choose our PAS 24 Corner Drive and Keep Upgrade Kit, they'll have a 12 point locking system and anti lift device. Plus, our uPVC sliding doors come with our Invincible Cylinder. Reinforced with five times more metal and six high security pins, it's Kitemark approved and meets Secured by Design standards.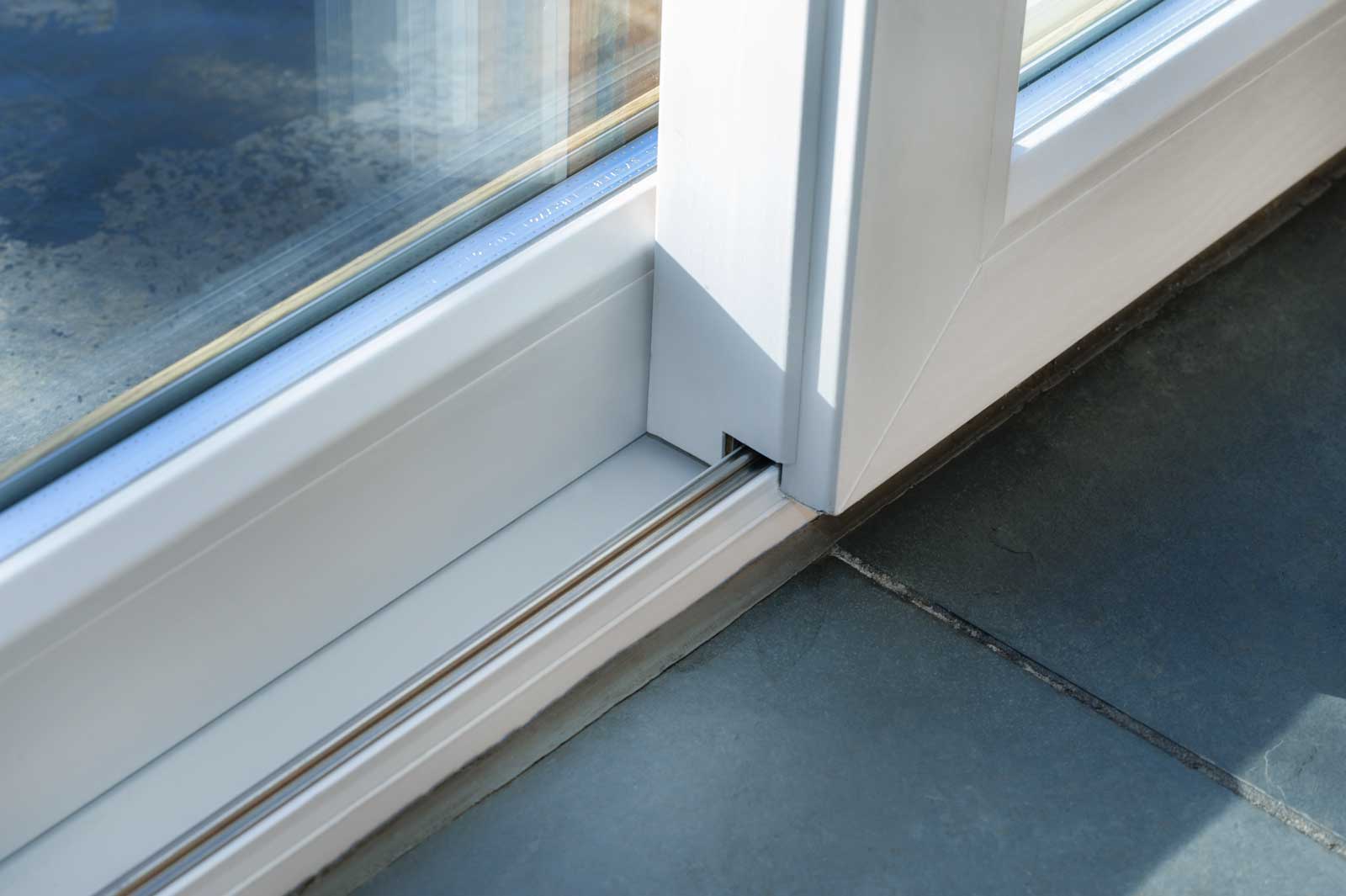 Incredible Thermal Efficiency
We know that our customers are looking for energy efficient uPVC sliding doors. Which is why our door frames come with Argon filled gas. This harmless gas creates a thermal 'break' between the building materials to reduce heat transfer away from the home.
It's one reason we can achieve U-values as low as 1.0 W/m2K. That's above and beyond government standards of 1.4 W/m2K. Which is why we think these uPVC sliding doors are so perfect for Leeds homes.
Find an Installer
Homeowners in Leeds can get in contact today. We'll help you find an installer for your new uPVC sliding doors. Let us know if you need more information on patio sliders by Deceuninck.
Find an Installer
Why Choose Patio Sliders by Deceuninck?
Patio Sliders by Deceuninck offers innovative design and energy efficiency to guarantee long-life performance. We provide the greatest variety for every home with our wide spectrum of colours. With lasting designs and easily customisable doors, we create the best aesthetic choice for patio sliders. Plus, with extra security and configurations, we think you'll love our stunning sliding doors as much as we do.
There are many reasons to choose Patio Sliders by Deceuninck. One of which is that we believe in creating an ethical brand and responsible company. It's part of why we've won the RoSPA Award and earned the Investors In People Silver accreditation. We invest in our workers to ensure that they have learning opportunities so that we're creating an environment of constant innovation.
That innovation shows. 2020 saw the construction industry faced with unprecedented circumstances, and our solution was investing in our new Luna R. This state of the art lamination machine makes it even easier for us to get the colours that you want. With lower lead times than ever before, Patio Sliders by Deceuninck overcame obstacles with flying colours. Nothing outperforms Deceuninck's sliding doors.
FAQs
Explore More
Can you paint uPVC sliding doors?
No. Not only is uPVC resistant to most paints, but the oils in uPVC can also cause the paint to peel in extremely unattractive ways. That's why we offer such a range of colours. Read our brochures for more information about our blacks, greys, creams and woodgrain finishes.
What is the weather rating of Deceuninck's uPVC sliding doors?
Our patio doors are weather tested to rigorous British and international standards to maintain the highest weather performance. We have been rated to:
• Air permeability Class A4 / Rating 600 Pa (for both full frame and low threshold options)
• Water tightness Class E8A / Rating 450 Pa*
• Wind Resistance Class A3/ Rating 1200 Pa
*The lowered threshold option achieves a water tightness class of E5A/Rating 200 Pa
How are uPVC sliding doors made?
Molten uPVC is poured into a mould to create the frames and is then almost immediately cooled down. The moulds then get cut into a more precise shape and are welded together. Once that happens, the frames are laminated with one of our attractive colour options. Afterwards, the glass is inserted. Finally one of our certified fitters installs it.
Do you offer triple glazing?
We create frames that can support both double and triple glazing to improve the energy efficiency of the uPVC sliding doors. Customers can choose between 28mm and 36mm glass options.
Explore More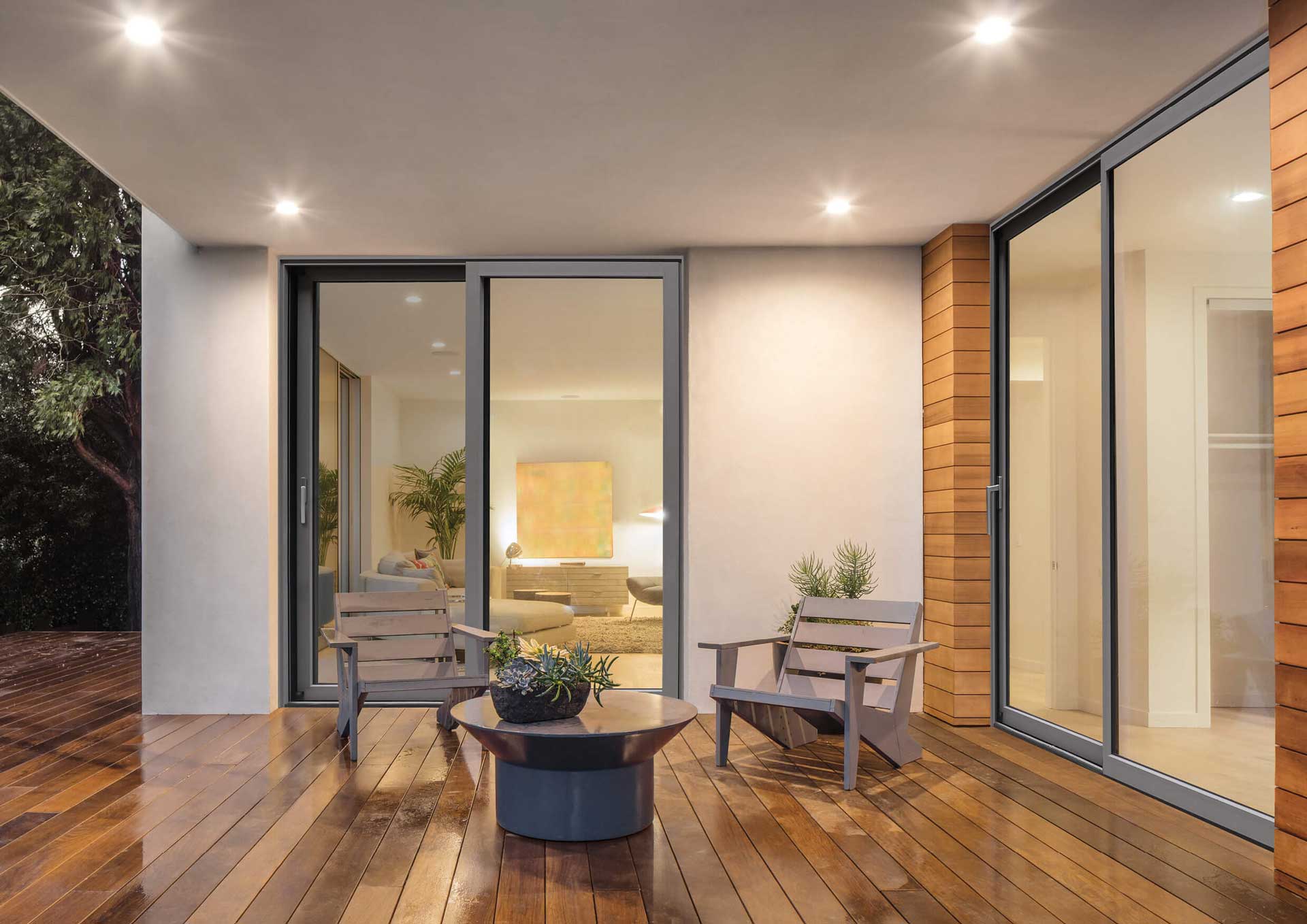 Aluminium Sliding Doors
Decalu88