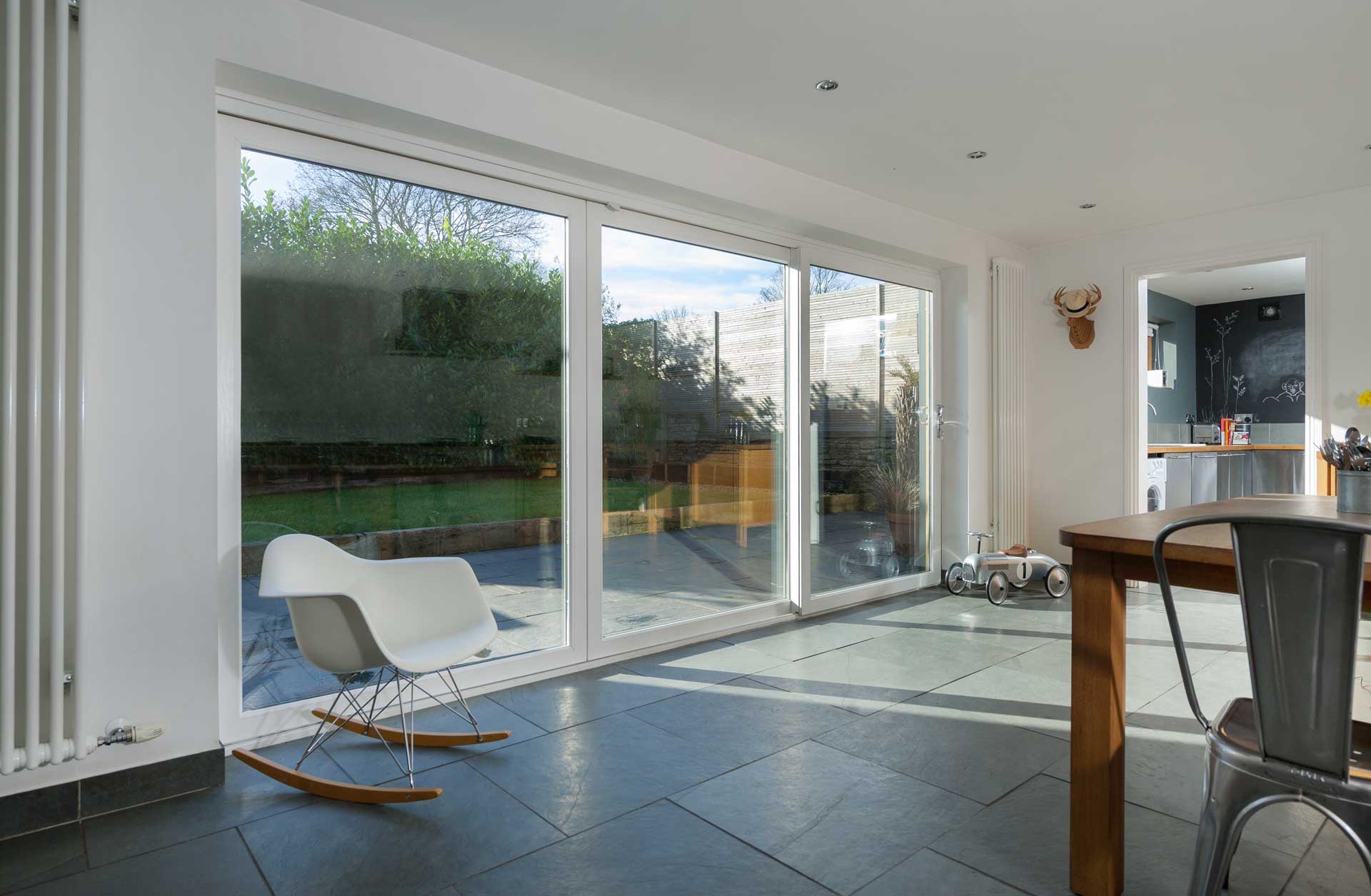 Unrivalled Design & Performance
uPVC Sliding Doors Sheffield
Deceuninck is a leading manufacturer of uPVC sliding doors in Sheffield. We supply patio doors across the UK, so don't hesitate to learn more or find an installer today.
Stunning Sheffield uPVC Sliding Doors
At Deceuninck, we know how important it is to buy a quality product that can last. With our Slider24 uPVC sliding door, you can ensure that homeowners are getting just that. Look at the weatherproofing, hardware options and the wide variety of colours for patio sliders by Deceuninck.
Just look through our options for lowered thresholds and improved accessibility. As the government begin to initiate wheelchair accessible standards in homes, choosing lowered thresholds for uPVC sliding doors just makes sense. It can improve the Sheffield property value along with reducing tripping hazards.
Speaking of kerb appeal, our many attractive colours are appreciated by our customers. We can offer matt or wood foils in Anthracite Grey and other appealing colour options to match the overall aesthetic of Sheffield properties. Just let us know which colours you need.
We're more than flash in the pan. At Deceuninck we believe in our company, our legacy and our responsibility. As we offer improved ways of recycling uPVC sliding doors, to help create a circular economy and reduce waste. We're a responsible and ethical company with attractive door profiles. Choose patio sliders by Deceuninck.
Key Features

Classic Colours
30 Colourways from Stock

Significant Locks
6 & 12 Point Locking Systems

Outstanding Weather Performance

Lower U-Values
A+ - A++ Ratings

Low Threshold
Disabled access and easy mobility

Sustainable Material
Made of recyclable uPVC
Start Selling Slider24
If you're in the trade looking for patio sliders by Deceuninck, find a fabricator today. Deceuninck boasts the best colour ranges on the market. You can help your Sheffield customers with their next installation when you get uPVC sliding doors with low lead times.
Find a Fabricator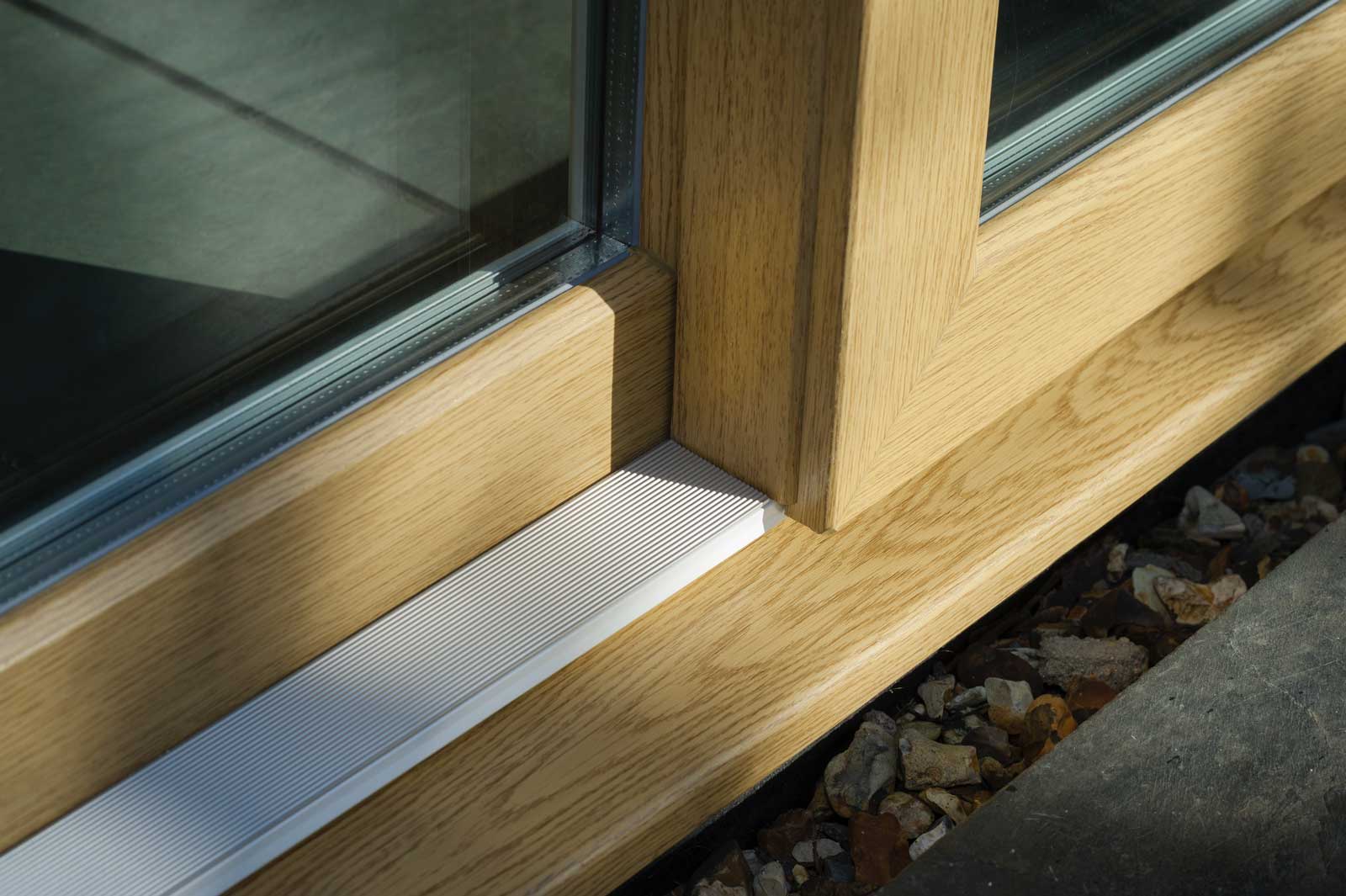 30 True Colours
Natural Wood Like Finishes
Matches Heritage 2800 Windows
Homeowners love our wide range of colours, and installers love low lead times. So we've invested in new cutting edge lamination technology which means that we can offer 30 colours off the shelf, like our Heritage Colour Collection.
With the Heritage Colour Collection, homeowners can choose a variety of woodgrain foils for uPVC sliding patio doors, like Rosewood, English Oak and Golden Oak.
We also offer grain finishes in our Chartwell Green, Anthracite Grey and Agate Grey. Plus, for premium colours like Anthracite Grey, homeowners can find patio doors in smooth or matt finishes.
Bespoke Sliding Door Configurations
When you look through our uPVC sliding doors, you'll be able to find multiple sash sizes and configuration options. While we offer minimum frame sizes of 1500mm x 1750mm (WxH) for our two pane sliding doors, we can offer even larger frames for our four paned doors.
Plus, homeowners get to choose whether they're looking for a three paned sliding door with a central slider or end slider. Or a four paned door that separates from the middle.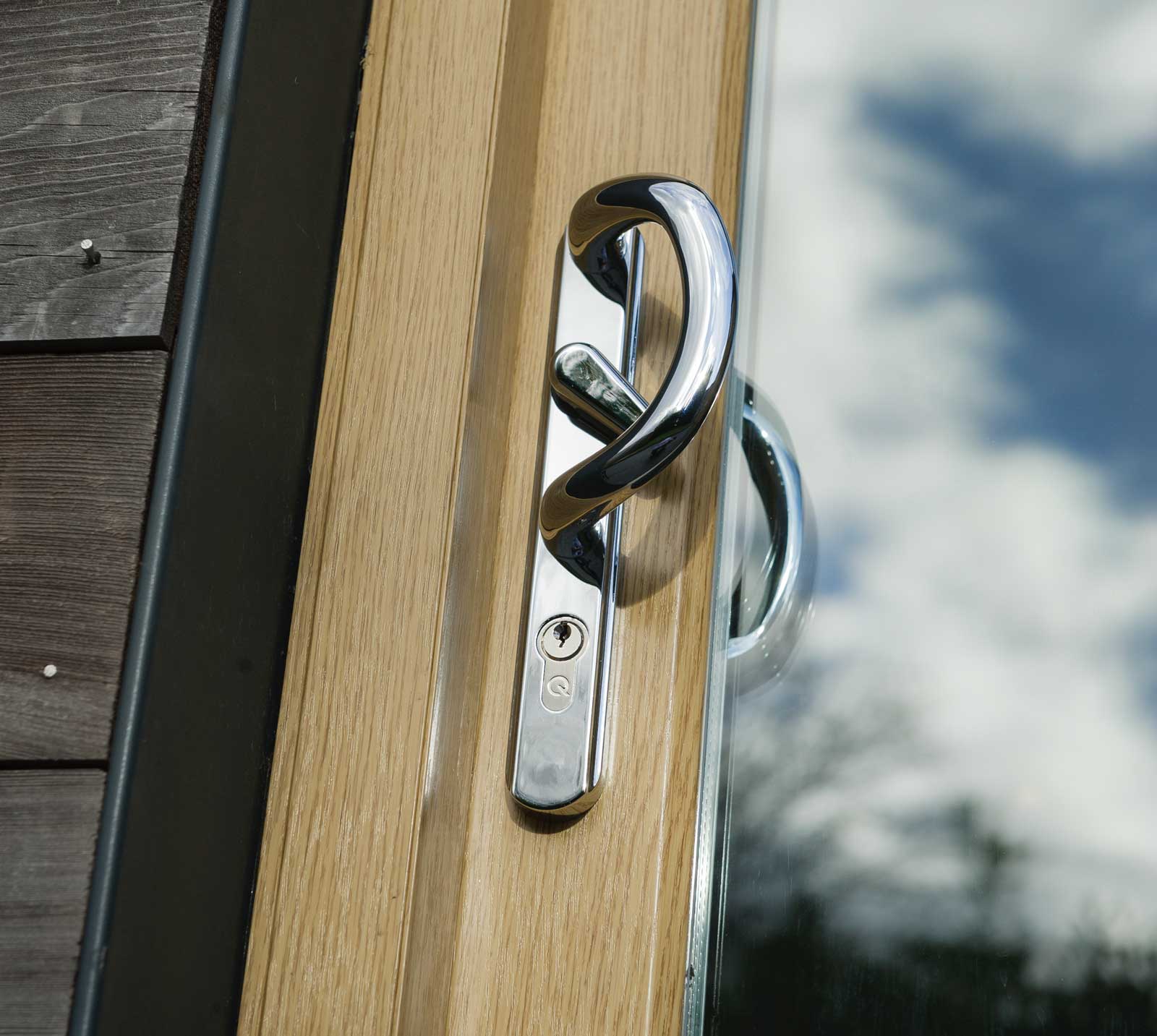 Advanced Sliding Door Security
Deceuninck uses innovative designs for its uPVC sliding doors so that Sheffield properties will be secure. All of our uPVC sliding doors come with a standard six point locking system with forged brass hooks and a bi directional hook through to prevent jemmying.
When homeowners choose our PAS 24 Corner Drive and Keep Upgrade Kit, they're choosing the ultimate protection. With a 12 point locking system and anti lift device, these doors withstood PAS 24 testing against hard impacts, mechanical manipulation, crowbars and more.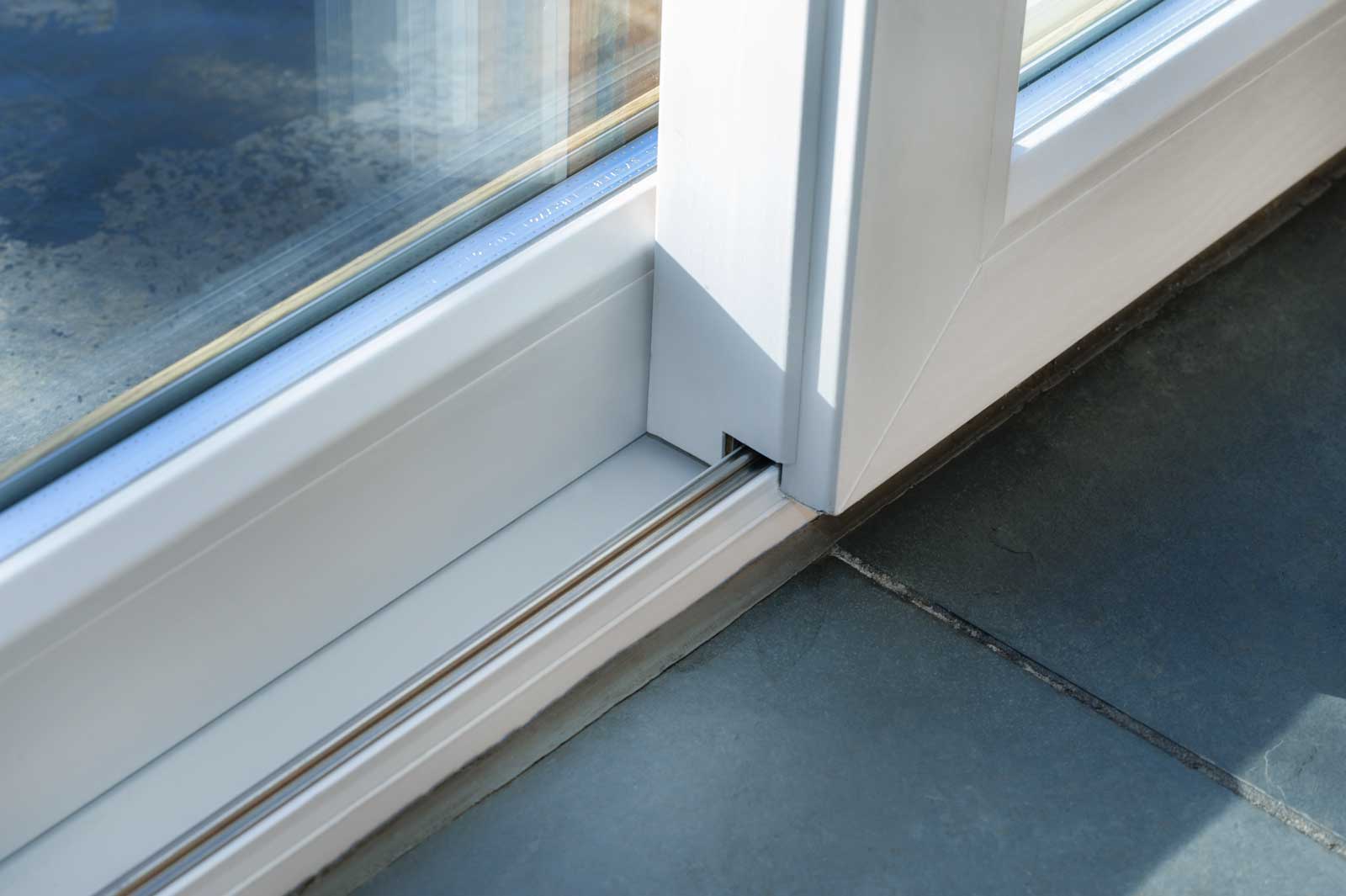 Unparalleled Efficiency
When installing a uPVC sliding door in Sheffield, it's important to make sure that it can withstand cold weather. That's why these patio doors offer U-values as low as 1.4-1.0 W/m2K. That's above and beyond government standards.
Ultimately, energy efficiency ensures that homeowners don't have such costly energy bills. As part of Britain's Net Zero policy, energy efficiency will only become more important in the future. Now, Sheffield properties with these uPVC sliding doors can improve their WER.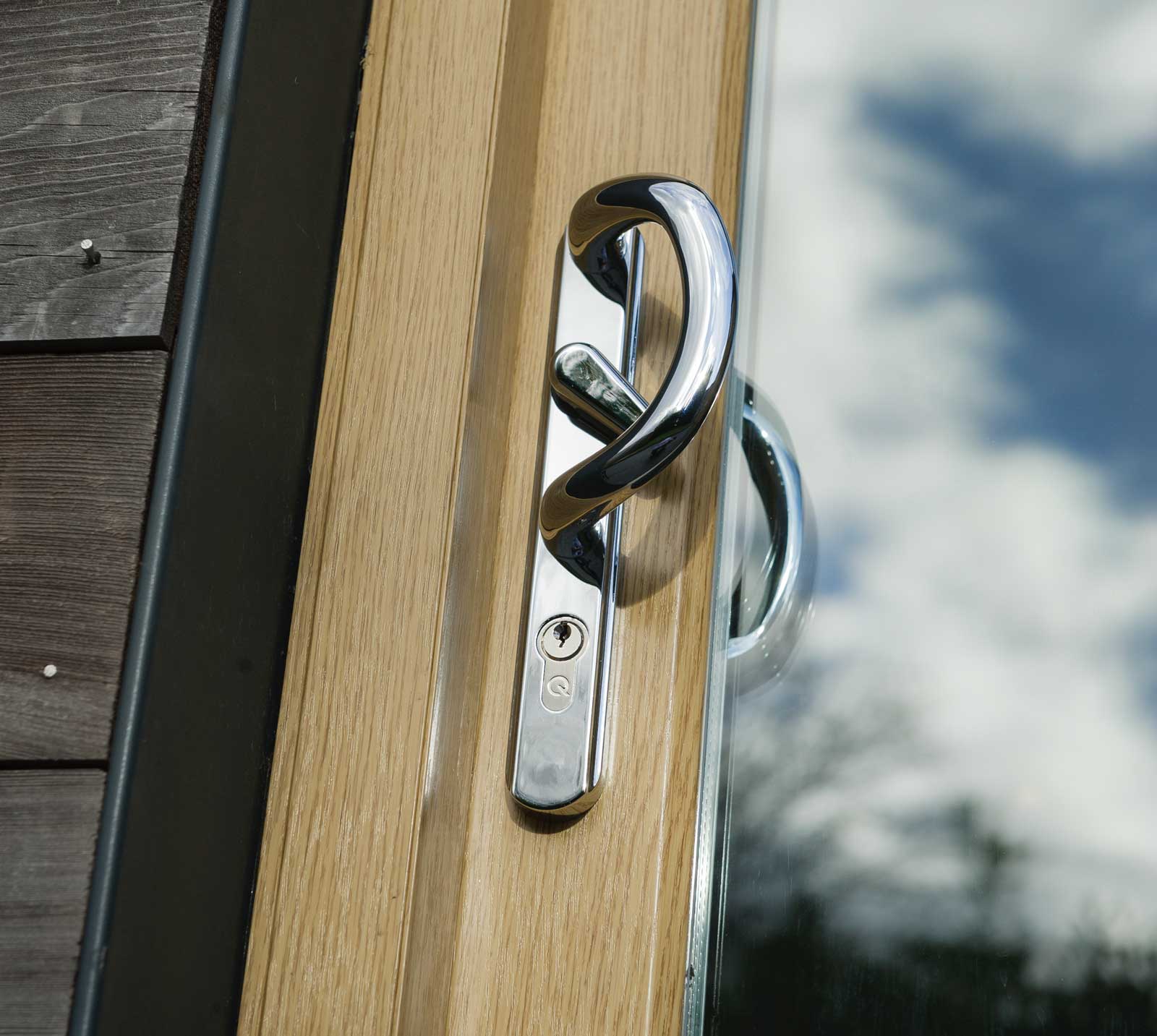 Attractive & Durable Glass
Homeowners often are unaware that by simply improving the glass in their uPVC sliding doors, they can improve their home's insulation and energy efficiency. That's why we offer uPVC sliding door frames that can hold glass thicknesses between 28mm and 36mm for triple glazing options.
Not to mention our bevelled and decorative bead glazing options. When you contact one of our Sheffield dealers, we'll be able to ensure that you get the uPVC sliding doors that you need. Talk to us more about our glazing options.
Find an Installer
If you're a homeowner looking for patio sliders by Deceuninck, use our handy online tool to find an installer today. We can make sure that you find a qualified installer for your next uPVC sliding door.
Find an Installer
Why Choose Patio Sliders by Deceuninck?
Patio Sliders by Deceuninck offers innovative design and energy efficiency to guarantee long-life performance. We provide the greatest variety for every home with our wide spectrum of colours. With lasting designs and easily customisable doors, we create the best aesthetic choice for patio sliders. Plus, with extra security and configurations, we think you'll love our stunning sliding doors as much as we do.
There are many reasons to choose Patio Sliders by Deceuninck. One of which is that we believe in creating an ethical brand and responsible company. It's part of why we've won the RoSPA Award and earned the Investors In People Silver accreditation. We invest in our workers to ensure that they have learning opportunities so that we're creating an environment of constant innovation.
That innovation shows. 2020 saw the construction industry faced with unprecedented circumstances, and our solution was investing in our new Luna R. This state of the art lamination machine makes it even easier for us to get the colours that you want. With lower lead times than ever before, Patio Sliders by Deceuninck overcame obstacles with flying colours. Nothing outperforms Deceuninck's sliding doors.
FAQs
Explore More
Can I paint my uPVC sliding doors?
With Deceuninck, you don't have to! We offer a huge range of colours for uPVC sliding doors, from woodgrain finishes to contemporary matt greys.
While we understand that some people are 'DIYers', it's important to note that uPVC is a material that is extremely resistant to house paints, especially if it's a new door. Just let us know what you're looking for so that we can help you.
How are uPVC sliding doors made?
The molten polyvinyl chloride is poured into a mould. It is then cooled almost immediately. The moulded polyvinyl is cut to fit specifications. Afterwards, it gets laminated into one of our many colours, and finally, the glass systems are added.
What does uPVC stand for?
uPVC stands for 'unplasticized Polyvinyl Chloride', which is a material used throughout the construction industry. It's sometimes known as 'rigid PVC'. One of the reasons it makes such a good building material is that it is weatherproof and resistant to acids, salts, bases, fats and alcohols.
Do you offer dual colour options for sliding doors?
Yes. Most of our dual colour options are matt or woodgrain finish on the exterior, with a white or White Grain interior. But take a look at our Anthracite Grey and Rosewood options.
Explore More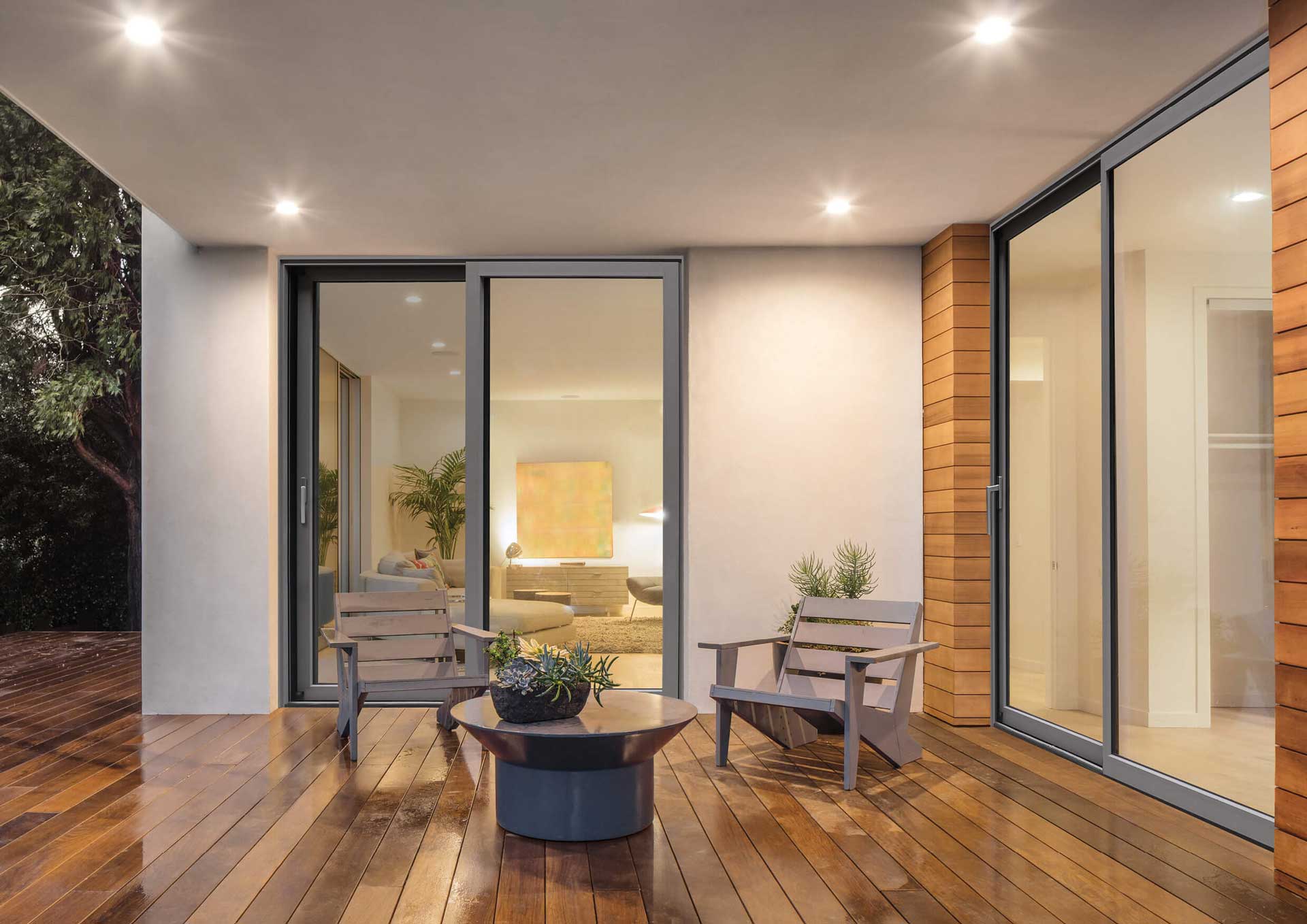 Aluminium Sliding Doors
Decalu88