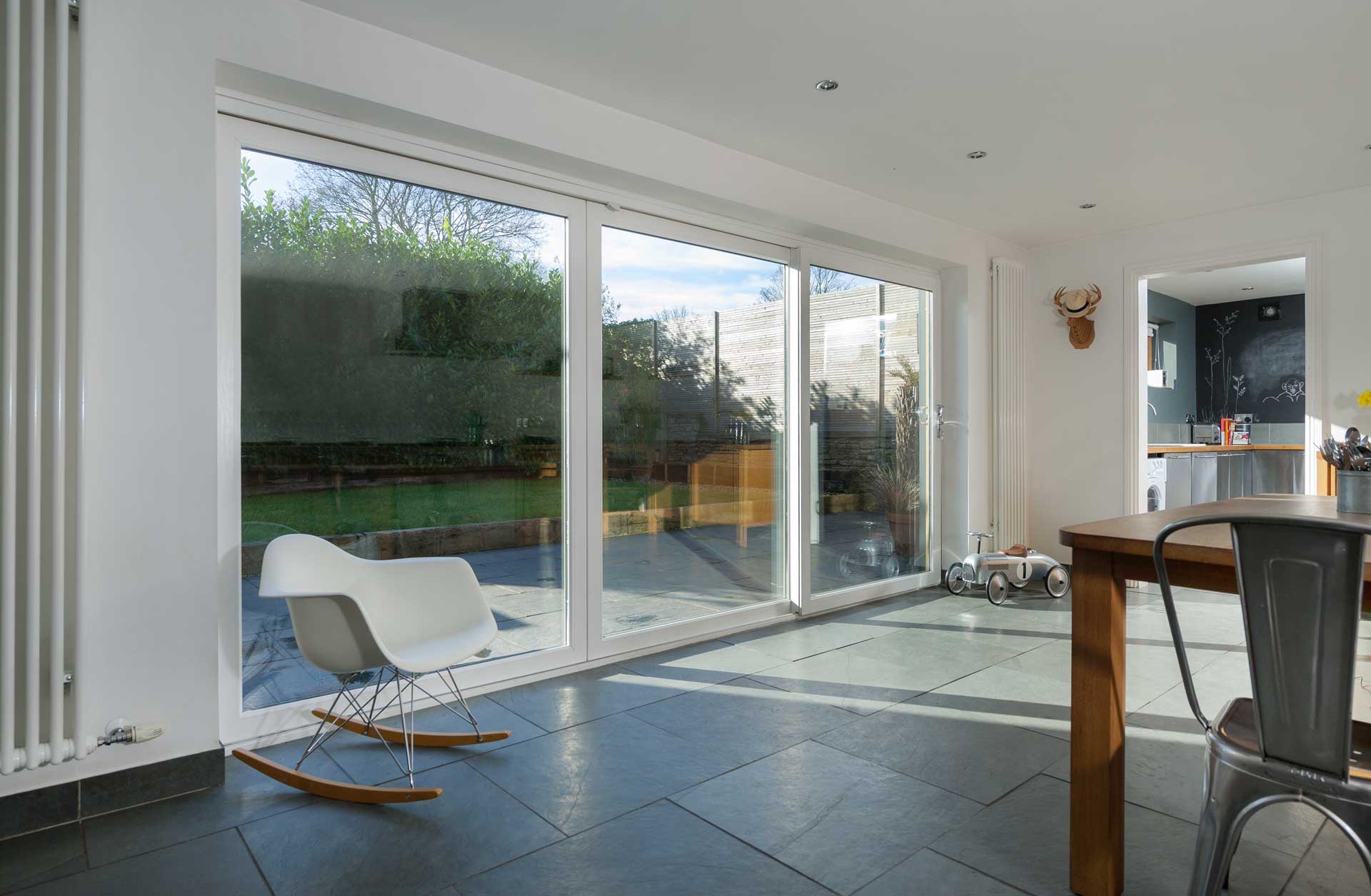 Exceptional Performance & Style
uPVC Sliding Doors Sunderland
Deceuninck is a chief manufacturer of uPVC sliding doors in Sunderland. Learn more about our colour options and find an installer today.
Reliable uPVC Patio Doors
When looking for uPVC sliding doors in Sunderland, make sure you're considering Deceuninck. We work hard to make sure that we provide the most thermally efficient, secure and accessible options for patio doors.
Plus, when you choose us, we can offer the best colour options on the market. As part of our investment in customer choices, we've researched which colours our customers prefer. So whether you're looking for White, Anthracite Grey, or Rosewood, let us know.
Additionally, our uPVC sliding doors have some of the best weatherproof ratings on the market. At Deceuninck, we want to ensure that uPVC sliding doors can withstand all the wind and rain that Sunderland provides.
Most importantly, we believes in our legacy. We continually strive to improve our methods and processes. It's why we've invested in the Luna R lamination system, for lower lead times and a state of the art recycling facility. We believe in our future together. Choose Deceuninck.
Key Features

Great Colour Range
30 standard colourways

State of the Art Locks
6 or 12 point locking systems

Outstanding Weather Performance

Energy Savings
With an A+ rating

Low Threshold
Disabled access and easy mobility

Suites with Heritage 2800 Windows
Start Selling Slider24
If you're in the trade looking for a uPVC sliding door supplier in Sunderland, find a fabricator with our online tool. We supply nationally and can easily manage your requests, big or small. Look through our brochures to read up on our technical information.
Find a Fabricator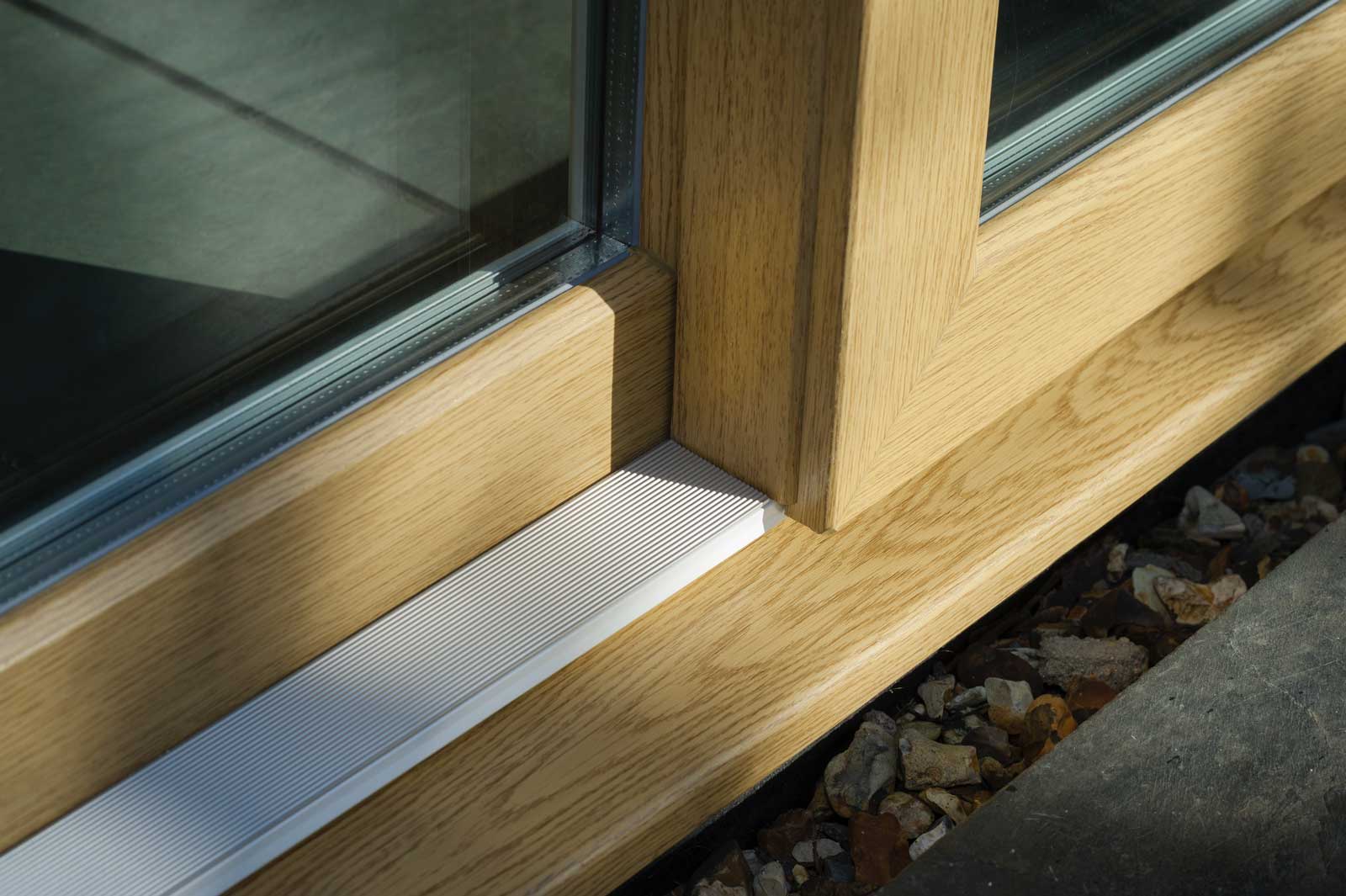 An Expansive Range of Contemporary Colours
Modern & Traditional Foils
Matching Ancillaries, Trims & Accessories
30 Colours Available from Stock*
Why choose just plain white when you could have more? We're dedicated to ensuring that homeowners have numerous options. That's why we've invested in our Luna R to help ensure that we can provide custom colours as quickly as possible. So that they can have 30 colourways from stock.
Whether they're looking for something classic like Rosewood or more modern like a matt Anthracite Grey, we provide the options for them. Speak with our team, or read our whitepaper on what colour customers value and the colours we plan on seeing rise in the future.
Lowered Thresholds for uPVC Sliding Doors
Our uPVC sliding doors meet Document M and Q guidelines. That means that Deceuninck offers uPVC sliding doors with lowered thresholds for those with reduced mobility. Removing tripping hazards from Sunderland homes will become more important in the future as government standards rise.
Furthermore, our Pembroke Invincible Handle has a longer lever to ease operation. It's designed to suit our Invincible cylinder perfectly. Now, Deceuninck offers it in White, Black, Chrome and Graphite. Look through our two, three and four pane patio door options.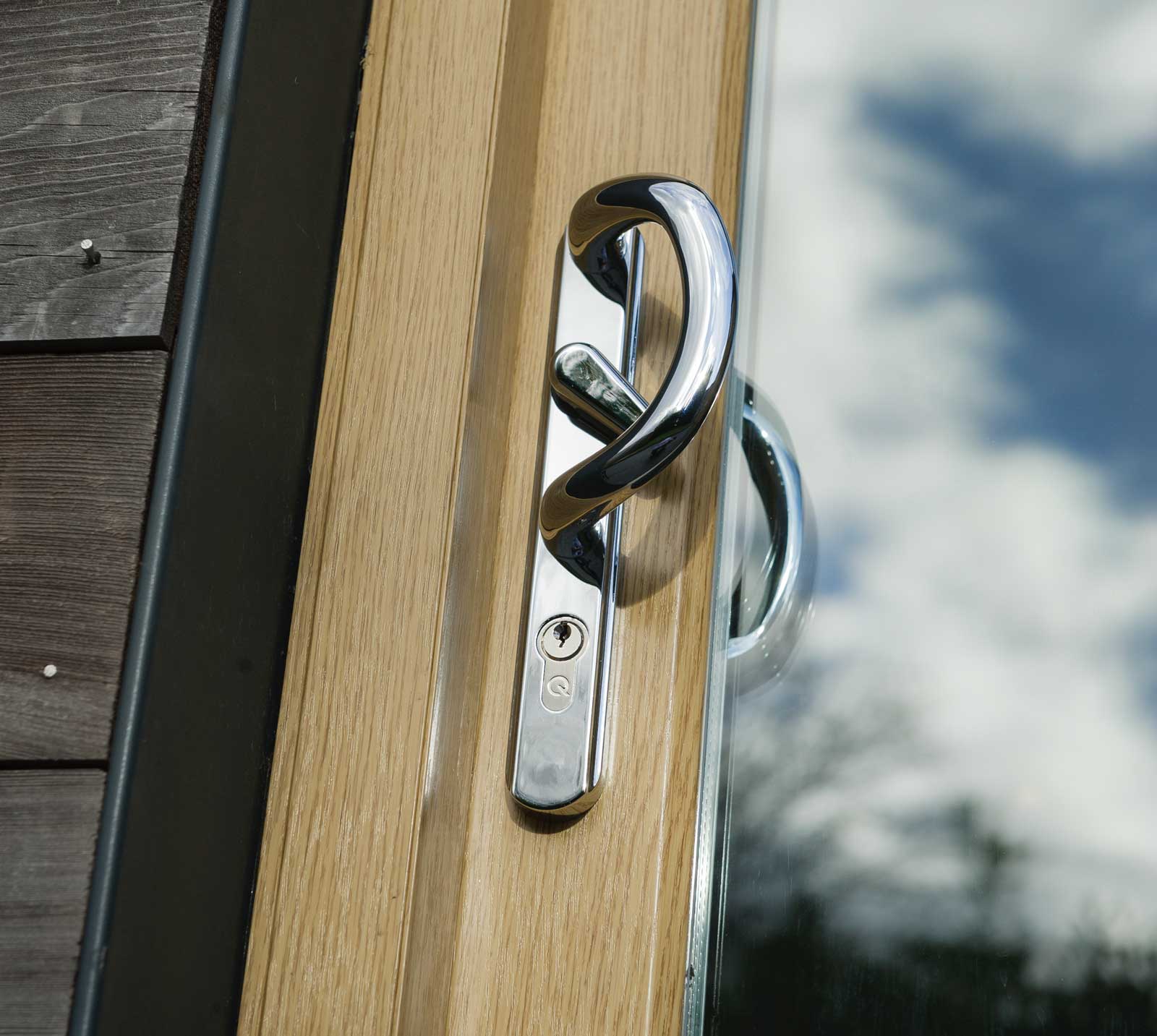 Secure Slider Styles
Talk to us about our Invincible cylinder. With five times more metal, six hardened high security pins and a robust shape, it provides the ultimate protection against picking, drilling and bumping. Not to mention, it meets Kitemark and Secured by Design standards.
While all of our uPVC sliding doors come with a six point locking mechanism and forged brass hooks, when homeowners upgrade to our PAS 24 Kit, they can get an improved 12 point locking system and anti lift device.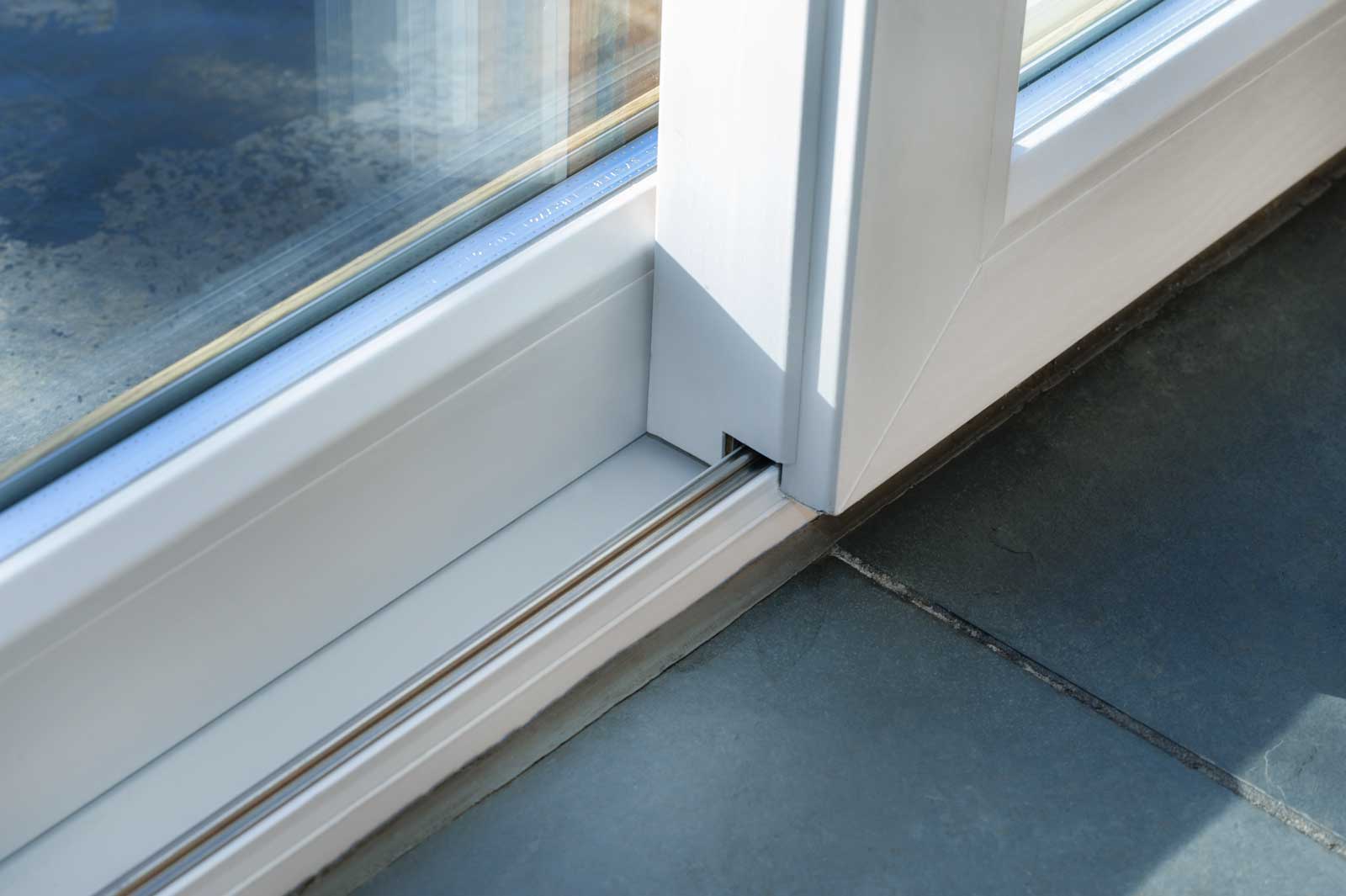 Thermally Efficient uPVC Sliding Doors
We know that Sunderland property owners want the most thermally efficient uPVC sliding doors with rising energy prices. That's why we go to such extraordinary lengths to provide thermal efficiency. Our profiles have 'thermal breaks' to 'break' or reduce heat transfer away from homes.
Which is why our uPVC sliding doors can have U-values as low as 1.0 W/m2K. With our argon filled chamber profile and weather resistant uPVC, these patio doors are perfect for Sunderland homes. Choose the smart option.
Find an Installer
If you're a Sunderland homeowner and you're looking for new or replacement uPVC sliding doors, try our useful online tool today. We can make sure that you find a registered installer in your area.
Find an Installer
Why Choose Patio Sliders by Deceuninck?
Patio Sliders by Deceuninck offers innovative design and energy efficiency to guarantee long-life performance. We provide the greatest variety for every home with our wide spectrum of colours. With lasting designs and easily customisable doors, we create the best aesthetic choice for patio sliders. Plus, with extra security and configurations, we think you'll love our stunning sliding doors as much as we do.
There are many reasons to choose Patio Sliders by Deceuninck. One of which is that we believe in creating an ethical brand and responsible company. It's part of why we've won the RoSPA Award and earned the Investors In People Silver accreditation. We invest in our workers to ensure that they have learning opportunities so that we're creating an environment of constant innovation.
That innovation shows. 2020 saw the construction industry faced with unprecedented circumstances, and our solution was investing in our new Luna R. This state of the art lamination machine makes it even easier for us to get the colours that you want. With lower lead times than ever before, Patio Sliders by Deceuninck overcame obstacles with flying colours. Nothing outperforms Deceuninck's sliding doors.
FAQs
Explore More
Where can I buy uPVC sliding doors in Sunderland?
When you use our online tool, we'll be able to provide you with the names of our registered installers. We believe in ensuring that our installers can provide good customer service and a quality installation. Alternatively, you can contact one of our professional team members for more information.
What is the weather rating of the Slider24?
We believe in a high degree of quality control. So these uPVC sliding doors are weather tested to rigorous British standards and have achieved ratings of:
• Air permeability Class A4 / Rating 600 Pa (for both full frame and low threshold options)
• Water tightness Class E8A / Rating 450 Pa*
• Wind Resistance Class A3/ Rating 1200 Pa
*The lowered threshold option achieves a water tightness class of E5A/Rating 200 Pa
Do you offer dual colour options for sliding doors?
Yes! You can get these uPVC sliding doors with White or White Grain interiors and matt or woodgrain foil exteriors. That way, homeowners need never worry about matching uPVC sliding doors to the aesthetics of their Sunderland property.
Can you offer lower lead times?
Yes. In fact, with our state of the art lamination technology, the Luna R, we're able to produce our range of colours in just 15 days. We know that lead times were high throughout 2020 and 2021, which is why we've invested in new technology to make our manufacturing line go more quickly. We can process over one million linear metres of product in a single month.
What are Deceuninck's most popular colours?
Aside from White, Anthracite Grey is and remains a very popular option for many homeowners. If you're a tradesperson looking for more information, just read our white paper, which includes market trends.
Explore More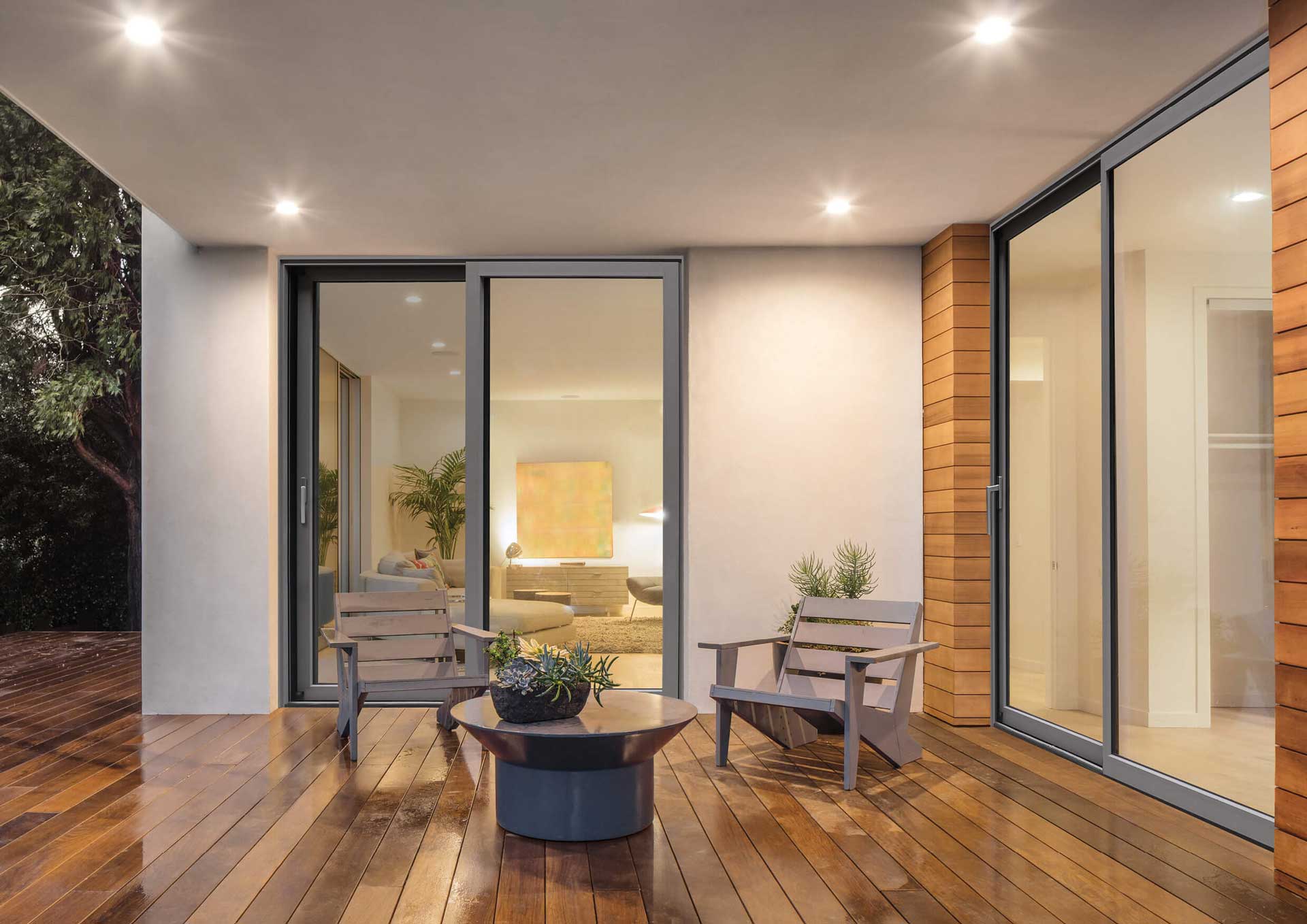 Aluminium Sliding Doors
Decalu88